It's the time of year to give back to those who need it most, that's why we're putting together a community foodbank.
The teams across mustard jobs are planning to rustle up as many long-life food, hygiene and sanitary products as possible. Last year's foodbank donation was impressive, but this year we want to make it even bigger, that's why we are enlisting the help of our local community.
So how can you get involved?
We're making this donation as easy as possible for anyone who is interested in taking part. Just pop to the mustard jobs office with your donations, we'll list the address details at the bottom of this page. Then, we'll put it in one of our collection box for safe keeping, until we do the big drop off at the foodbank. We'll get everything delivered to the foodbank by our mustard team, so there is no stress for you or your team.
Whether you've got a little or a lot, anything will help.
Recommended items:
We have a great relationship with the St Nicholas of Tolentino Foodbank and they've let us know what they need the most.
Long-life food: Tins, Pasta, Tinned Vegetables (sweetcorn, carrots), Tinned Meat, Tinned Vegetarian Meals
Hygiene Products: Shower Gel, Soaps, Shampoos, Conditioners, Deodorant
Female Hygiene Products: Sanitary Towels, Tampons
Nappies
Toilet Roll
Washing Up Liquid
Long-life jars: Jam, Pasta Sauces
It's time to step up and support those who find themselves in crisis this winter. If you'd like to donate, please deliver your donations to:
mustard jobs
The Tramshed, 25 Lower Park Row,
Bristol
BS1 5BN
If you have any questions or queries, feel free to reach out to the team on [email protected] | 0117 929 6060
Thank you.
Moonraker VFX, a Bristol-based Visual Effects Studio, took part in the RTS Futures Festival yesterday, offering valuable insights, advice and information to aspiring individuals seeking a career in the television industry.

The free event took place at M Shed on Bristol's Harbourside and drew over 400 young attendees, where a range of the city's media organisations were on hand to give careers advice.

Hosted by the Royal Television Society, the RTS Futures Festival provided a platform for industry professionals to connect with graduates and students, guiding them through the complexities of the modern broadcasting landscape.

Moonraker—known for its groundbreaking work in Natural History programming including the BBC's recent Earth series—engaged with attendees, sharing knowledge and experiences to inspire the next generation of talent.
Simon Clarke, Creative Director at Moonraker, commented, "Participating in the RTS Futures Festival was a fantastic opportunity for us to connect with the bright minds set to become future leaders of the television industry in the decades to come. Moonraker's presence at the event underscores the studio's commitment to fostering talent and contributing to the growth of the sector."
RTS Futures aims to help graduates and those in the early stages of their career to progress and learn about different areas of television. It has an ongoing calendar of events, learn more: https://rts.org.uk/rts-futures
Chancellor Jeremy Hunt delivered the government's 2023 Autumn Statement on 22 November. Here's a round-up of measures and announcements relevant to businesses in the creative industries.
If you're a Bristol Creative Industries member and you'd like to share your view on Autumn Statement 2023, email Dan.
In the full Autumn Statement document released after the speech, the government says:
"The UK has world-leading creative industries at the heart of an increasingly digital world. The sector grew at over one and a half times the rate of the wider economy between 2010 and 2019,73 contributing £126 billion in GVA in 2022.

"In June 2023, the government published its sector vision which set ambitions to grow the creative industries by £50 billion and deliver a creative careers promise to support a million more jobs by 2030. This included £77 million in new government spending, bringing the total announced since the 2021 Spending Review to £310 million. The sector also continues to be supported by significant tax reliefs, which were worth £1.66 billion in the year ending 2022."
Autumn Statement 2023 measures for creative industries
In terms of specific announcements for the creative sector, the Autumn Statement included the following:
Plans to boost tax reliefs for visual effects
In his speech, Jeremy Hunt said:
"Our creative industries already support Europe's largest film and TV sector. This year's all-Californian blockbuster Barbie was filmed in the constituency of the Hon Member for Watford, where the sun always shines.

"I know that even more could be invested in visual effects if we increased the generosity of the film and high-end TV tax credits, so I will today launch a call for evidence on how to make that happen."
In the consultation document published after the speech, the chancellor says:
"I can confirm that we will provide more additional tax relief for expenditure on visual effects, to boost the international competitiveness of the UK's offer. This call for evidence takes the first, crucial step towards this, as it will provide the government with the depth of understanding it needs to develop targeted proposals that best serve the needs of the visual effects industry."
The call for evidence follows the announcement in the government's March Budget that audio-visual tax reliefs are being reformed into expenditure credits with a higher rate of relief than under the current system. The new expenditure credits can be claimed from 1 January 2024.
The government is looking for comments on how the new Audio-Visual Expenditure Credit can provide more generous tax relief for visual effects by 3 January 2024.
Neil Hatton, CEO of UK Screen Alliance, said:
"Very often clients will say, 'We love your creativity, your innovation and reliability to deliver. We love your people and we love working in the UK, but your VFX incentive doesn't meet what is available elsewhere in the world'. Either that or, 'We are capped out'.

"This consultation and the promise of a more competitive incentive should aim to position the UK as the first choice destination for VFX production for international film and TV. We are focused on capturing a larger market share as global demand for VFX recovers, following the US actors' strike, and we aim to play a full part in growing the UK's creative industries towards the government's 2030 targets."
Funding for film and high-end TV
The government said it will provide £2.1 million of new funding next year for the British Film Commission and the British Film Institute Certification Unit "to support the production of film and high-end TV across the UK".
The unit certifies films, animation, television programmes and video games as British or as an official co-production in order to be eligible for the UK's creative sector tax reliefs. The BFI has previously said that it lacks funding to adequately adminster the certification.
Review of public investment in R&D spending
The government said it will review public investment in R&D spending for the creative industries "to a Spending Review timeframe".
Business rates
The 75% business rates relief for hospitality, retail and leisure businesses up to a rateable value of £110,000 has been extended until 2024-25, and the small business rates multiplier has been frozen at 49.9p.
The standard multiplier (paid by properties with a rateable value of £51,000 or more) will be uprated by September's CPI next April (6.7%). This will mean an increase from 51.2p to 54.6p.
Clarifications of rules for cultural tax reliefs
At the Spring Budget, the government extended the temporary higher rates of relief of three corporation tax reliefs that are collectively known as the 'cultural reliefs':
Theatre Tax Relief (TTR)
Orchestra Tax Relief (OTR)
Museums and Galleries Exhibition Tax Relief (MGETR)
In a policy paper published alongside the Autumn Statement, HM Revenue & Customs said "the government is taking the opportunity to clarify some of the relief rules, including what is eligible for relief" in order to "provide clarity to the industry and ensure the fairness and success of the cultural reliefs".
Administrative changes to creative industry tax reliefs
In a policy paper published alongside the Autumn Statement, the government said companies claiming tax relief for films, high-end TV, animated TV, children's TV, video games, theatrical productions, orchestral concerts and museum and gallery exhibitions will be required to complete and submit an online information form.
This include claims made for the new expenditure credits: the Audio-Visual Expenditure Credit (AVEC) and the Video Games Expenditure Credit (VGEC). It also includes the cultural tax reliefs: Theatre Tax Relief (TTR), Orchestra Tax Relief (OTR) and Museums and Galleries Exhibition Tax Relief (MGETR).
The reason given is as follows:
"It is expected that these changes will streamline the process of making a claim and assist companies in transitioning to the new regimes. The completion and submission of the online information form will make it easier to tackle abuse and will reduce the administrative burden on HMRC, allowing claims to be processed faster."
For AVEC and VGEC, the measure will take effect from 1 January 2024. For the cultural reliefs, it be introduced from 1 April 2024.
National Insurance
Freelancers make up a third of the creative industries so these measures are very relevant to the sector.
From 6 April 2024, self-employed people with profits above £12,570 will no longer be required to pay Class 2 National Insurance Contributions, while the main rate of Class 4 self-employed NICs will be cut from 9% to 8%.
The government said the changes will benefit around two million self-employed people with the average person earning £28,200 seeing a saving of £350 in 2024-25.
AI compute
Compute powers the development of AI models.
The goverment will invest £500 million in further UK based compute over the next two financial years "so that universities, scientists and start-ups have access to the compute power they need to help make the UK an AI powerhouse". This brings the total planned investment in compute to more than £1.5 billion.
General measures of interest to the creative industries
The following are announcements not specific to the creative industries but are of interest to businesses in the sector.
Full expensing
Full expensing allows companies to claim 100% capital allowances on qualifying plant and machinery investments and write off the cost of investment in one go. For every pound a company invests, their taxes are cut by up to 25p.
The measure was due to end in March 2026 but the Autumn Statement announces that it has been made permanent.
The government said it worth over £10 billion a year and "the biggest business tax cut in modern British history".
Late payment
Alongside the Autumn Statement, the government published the report from its Prompt Payment and Cash Flow Review.
Measures aimed at tackling the impact of late payment on small businesses include:
Firms bidding for large central government contracts worth over £5m need to demonstrate they pay their own suppliers within an average of 55 days from April 2024, with an aim to tighten this to 45 days from April 2025 and 30 days "in the coming years".
Broadening the powers of the Small Business Commissioner, who helps small businesses tackle overdue contracts, by enabling it to undertake investigations and publish reports on the basis of anonymous intelligence.
Funding for high growth businesses
The government will establish a Growth Fund within the British Business Bank to provide a permanent capital base of over £7 billion "to give pension funds access to investment opportunities in the UK' s most promising businesses".
Exentions of the British Business Bank's Future Fund: Breakthrough programme with at least £50 million additional investment in "the UK's most promising R&D intensive companies".
A new Venture Capital Fellowship will be set up with the aim of "producing the next generation of world-leading investors in the UK's renowned venture capital funds to support investment into the UK's most innovative high-growth companies".
A new £20 million cross-disciplinary proof-of-concept research fund to boost spin-out businesses in universities.
Research and development tax relief
The existing Research and Development Expenditure (RDEC) and SME schemes will be merged for expenditure incurred in accounting periods beginning on or after 1 April 2024. The notional tax rate applied to loss-makers in the merged scheme will be lowered from 25%
as per the current RDEC scheme, to 19%.
The intensity threshold in the additional support for R&D intensive loss-making SMEs will be reduced from 40% to 30%, which the government says brings around 5,000 more R&D intensive SMEs into scope of the relief.
A one year grace period will be introduced so that companies that dip under the 30% qualifying R&D expenditure threshold will continue to receive relief for one year.
National Living Wage and National Minimum Wage
From April 2024, the National Living Wage (NLW) will increase by 9.8% to £11.44 with the age threshold lowered from 23 to 21 years old. The government said it represents a rise of over £1,800 to the annual earnings of a full-time worker on the NLW.
There are also changes in the National Minimum Wage: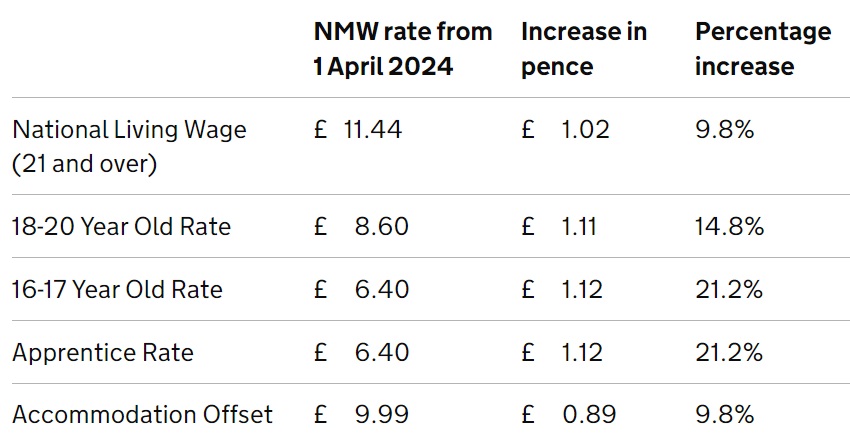 The Daily Disruptor Network is a free community of tech founders, startups and small businesses, which helps people to get advice and solve problems faster. Our network connects and supports people running technology companies, giving them access to genuinely useful content, events, advisors and more. The network has been running for a few years now, but has some exciting things in the pipeline upcoming for members. Membership is free and offers you instant access to the network's Slack group, as well as the email newsletter which shares heaps of useful insights and industry knowledge. You can find out more about the community here.
This webinar is the first webinar the network has run for its members and is the first in a long line of new benefits being launched. Join the network today to stay in the know with what's coming next.
About the webinar
The new year comes with new opportunities to generate the growth and traction your business needs to succeed. Whether you are a brand new startup or a scale-up that is further along its growth journey, using the end of the year to reset, recalibrate and gain insights from your peers allows you to set the foundation for a fantastic 2024.
Book your place
Join us for this free 1-hour power session on improving the likelihood of 2024 being your best year yet. We'll be covering how to:
Achieve the sales velocity you need to hit your financial targets

Identify your ideal customers and understand what will make them buy from you

Set the goals and objectives that will get you closer to your dream

Create a culture of progress to take your business towards your goals
Book your place to join the webinar
About our host
Yiuwin Tsang has been working in sales and business development for more than 15 years. With a broad range of clients from big 4 consulting firms to independent abstract artists, he has seen how having the right value positioning, new business systems and robust sales processes can have a transformational effect on the commercial performance of an organisation.
Founder and CEO of Disruptive Thinking, a B2B marketing and business development consultancy, Yiuwin will be sharing his vast expertise and knowledge throughout the programme and help you supercharge your revenue potential.
If you have any questions or a project you'd like to discuss, please contact; [email protected].
Short-form social media video content is short, snappy, informative, or humorous videos that are posted on social media by brands and businesses to gain the attention of their target audience. The ideal sweet spot is somewhere between 30 – 60 seconds.
So why is it important to utilise this type of video content as a business on social media?
It's a proven way to reach new audiences by incorporating it into a multi-media social media strategy. Plus, it's a cheaper way to reach new audiences if you are currently operating on a limited budget and can't yet afford to outsource to an agency or hire a marketing team. Whilst it may not promise the same reach and consistent results as running correctly optimised ads, these ads rely on a solid foundation of organic social media content to be successful- and this content will benefit from short-form video content!
But as great as that all sounds, what if you are a time-short business owner, or just have limited experience when it comes to social media content creation?
We've compiled our top 3 favourite video and reel / TikTok editing apps to help you create post-worthy content whilst saving time. They are all affordable and easy to use, with plenty of features and video templates to use.
#Video editing app 1 – Capcut
Pros:
Simple and easy to use
Variety of ready-to-use templates
3D zoom feature
Variety of languages to choose from
100% free app
Share directly to social media feature
No ads or watermarks
Desktop feature
Has its own AI features
Cons:
No option to make landscape videos (although portrait is optimum for social)
Only suitable for basic video editing
Unavailable in some countries
Can crash when attempting to edit large videos
Doesn't support image editing
#Video editing app 2 – Splice
Pros:
Simple and easy to use
Ability to integrate with iTunes to add music
No limits to the video length
No watermarks
Offers more transition options
Share directly to social media feature
Real-time recorder and voice-over option
Can import still photos
Crop / trim to focus on highlights feature
Has its own AI features
Supports image editing
Cons:
Some ads
Potential copyright problems when using their own music library
Slightly less editing options
No desktop feature
1-week trial, then $12.99 per month
#Video editing app 3 – InShot
Pros:
Professional feature to make video editing easier and more enjoyable
Still easy to use but slightly more complex than CapCut or Splice
Up to 4k video sharing and video resizing support
Supports image editing
Ability to add filters, text, and effects
Cons:
Stickers library does not have a search option
Doesn't let you zoom in or out of pictures
Ads appear in the free version
Adds a watermark when exporting videos in free version
Doesn't support AI features
Difficult to work on multiple projects at a time
Limited features in free version, full feature access is $3.99 per month
So which is right for you?
If you are just starting out and need an app for some basic video editing, it probably won't make a difference which one you use. They are all fairly cheap, and CapCut is completely free. Once you become more confident and decide to replicate specific social media trends or look for specific video editing features, transitions, or filters, it's likely you will find one of the above suits your business better.
Thankfully, they all at least offer a free version or free trial to test out the app before investing in a monthly subscription.
Are you looking for support with consistent and professional content creation for your business?
Trusty Social is a social media marketing and management agency. We work with busy businesses to improve their online presence through social media, while positively impacting the world and donating 3% of our profits to social justice initiatives each year. Find out more by visiting here and get in touch with us here!
Bristol Academy of Voice Acting (BRAVA) today announces their support of the world premiere of Shakespeare's Women; a new play by playwright Lorien Haynes – performed at the Sam Wanamaker Playhouse, Shakespeare's Globe, London, on 7 January, 2024. BRAVA has pledged its financial support.
The piece is set in modern-day London and shines a light on ten of Shakespeare's female characters who meet in a domestic abuse recovery group. Centuries have passed, yet nothing has changed and while they eat biscuits and talk they reveal their darkest secrets. Funny, hard-hitting and prescient, the play allows the women to survive their men and their narratives and finds out what they would have to say today.
All profits from the event will be donated by the producers to Refuge, the largest domestic abuse organisation in the UK.
Melissa Thom, Founder and CEO of BRAVA, said:
"Lorien is passionate about amplifying women's voices – particularly those not easily heard or silenced. At BRAVA, we align with this and are keen to support women's stories that go untold. It's a privilege to help bring this performance to life. We are proud to support Refuge in this way and to add our voice to raising awareness and funds for this hugely important cause."
Lorien Haynes, playwright and author of Shakespeare's Women, said:
"It's fantastic to team up with BRAVA, who are kindly helping us bring this new piece to its first audience. The themes that come up in the play are shocking, yet common. One in four women experience domestic abuse and one in three sexual violence in their lifetime. Our aim is to raise awareness and funds for Refuge, who work tirelessly 24/7 to support those who experience domestic abuse."
To support Refuge and purchase tickets to this performance of Shakespeare's Women on 7 January 2024, click here: https://www.shakespearesglobe.com/whats-on/shakespeares-women/
BRAVA offers personalised training in the art and business of voiceover and is aimed at professionals who are interested in adding voice acting to their skillset.
ENDS
Notes to editors:
Refuge
All profits will be donated to Refuge. Refuge is the largest specialist domestic abuse organisation in the UK. On any given day Refuge services support thousands of survivors, helping them overcome the physical, emotional, financial and logistical impacts of abuse and rebuild their lives — free from fear.
Refuge helpline no:  0808 2000 247
Tickets: https://www.shakespearesglobe.com/whats-on/shakespeares-women/
About BRAVA
Founded by experienced voice actor and communications consultant, Melissa Thom, BRAVA brings together acting and voice experts from the UK & US to deliver best in class training and advice about the industry.
Training is offered as personalised sessions and cover a wide range of topics, including Getting Started in VO, Corporate, Commercial and Narration, Characters, Audiobooks, Performance Techniques, Home Studio, Marketing, Vocal Health, Acting, VO & Shakespeare, Voice, Presence, Impact, Presentation Skills and more.
Find out more at www.brava.uk.com
Bristol Academy of Voice Acting (BRAVA), is thrilled to announce the appointment of Fern Dunn as social media and community manager, who joins from globally renowned British animation studio, Aardman.
Fern is a communications specialist with nearly a decade of experience working across the creative industries in Bristol, including the independent multi-arts venue and cinema, Watershed. With a degree in Graphic Design and an MA in Curating from UWE, Bristol, Fern has a passion for all things communications – from social media to web design, to copywriting and print design.
Fern brings her wealth of communications and social media knowledge to the BRAVA team to continue to help them realise their growth ambitions.
She also runs the Cary Comes Home Festival, a biannual film festival that celebrates the Bristol roots of the iconic Hollywood star, Cary Grant. Fern has hosted events at the Hippodrome, Trinity Centre and St Mary Redcliffe Church – and even Hannover, Germany, bringing the magic of vintage cinema to all.
Fern Dunn said: "The voiceover world is fascinating, full of talented people and amazing stories. I can't wait to delve in and start creating content to showcase BRAVA and the breadth of work of its Talent."
Melissa Thom, Founder and CEO of BRAVA said: "It's brilliant to have Fern on board, she has fantastic creative skills across a multitude of areas. She will drive the strategy and implementation for our social channels, ensuring our community of professional voice actors is targeted with relevant and inspirational content."
BRAVA offers personalised training in the art and business of voiceover and is aimed at professionals who are interested in adding voice acting to their skillset or for those who wish to work on voice, impact and presence in the workplace and beyond.
About BRAVA
Founded by experienced voice actor and communications consultant, Melissa Thom, BRAVA brings together acting and voice experts from the UK & US to deliver best in class training and advice about the industry.
At BRAVA, all learning is done online, meaning students can learn at their own pace, wherever they are. Training is offered as personalised 1-1's or group sessions and covers a wide range of topics, including Getting Started in VO, Corporate, Commercial and Narration, Characters, Audiobooks, Performance Techniques, Home Studio, Marketing, Vocal Health, VO & Shakespeare, Voice, Presence, Impact, Presentation Skills and more.
Find out more at www.brava.uk.com
Recent research from the CMI Good Management Report states that 52% of managers do not hold any management qualifications and 82% of managers who enter leadership roles have not had any formal training. As such they become 'accidental manager's'. We know that ineffective managers have a deep impact on employees including motivation loss, below par satisfaction, and more probability of staff wanting to leave their role.
*NEW for 2024 is Weston College's new funded training programme, 'Step up to Lead' which is suitable for any team members and businesses that may be looking to or are on route to progress leadership/team manager roles. Weston College will be delivering funded training to business in Bristol.
The training will challenge these statistics and implement a pipeline of trained, talented managers into your organisation. It is underpinned by the Leadership and Management diploma but has been condensed to a 6-month certificate programme to respond to business need for shorter training options that yield effective results.
If you are keen to explore any of the above further, please reach out to start your next generation of leaders on the right track.
Happy Global Entrepreneurship Week!
The UK's creative industries are jam-packed with small businesses and self-employed individuals.
Government data shows 95% of the sector's companies are micro-businesses, while self-employment accounts for 32% of employment, compared to 16% for the economy more broadly.
With that in mind, Dan Martin asked individual and startup members of Bristol Creative Industries to share their tips for running a successful freelance or small business. We received some brilliant responses which we've highlighted below.
Become an individual and startup member of Bristol Creative Industries for only £4.95 a month or £49+VAT a year and enjoy many business-boosting benefits. Sign up here.
To meet fellow freelancers and companies that employ them, join our freelancer networking drinks on 23 November at the Square Club in Bristol. It's free including a complimentary drink if you're a member.
How to run a successful freelance or small business
Bristol Creative Industries members share their tips below. Click their BCI profile links to find out more about them and to see if there are opportunities for collaboration. We love to see members working together!
---
Build a network
Working for yourself can be a solitary pursuit and the idea of networking can be intimidating. But it starts with making friendly connections. That can create the basis for future partnerships, referrals and support.
We're lucky to be spoilt for choice with a wonderful community in Bristol and the South West and Bristol Creative Industries is at the heart of that. I've enjoyed every minute of making like-minded connections and friends in the process.
Sell yourself with confidence
Don't be shy. Remind people of your experience and expertise – don't assume they know that already. Make it an easy choice for them to buy your services. If you keep it authentic and make a personal connection, selling doesn't have to feel awkward.
Take time to contract with a clear brief
Over the years I have been eager to make it as easy as possible to get started on a scope of work by writing a proposal from a loose verbal brief. That means doing a lot of the scoping myself which, as well as a lot of time and effort unpicking the client's needs, can leave room for (mis)interpretation.  I find the most successful partnerships involve the client putting an equal amount of work in up front to shape a really clear brief.
—
Having a good support network is key. In my experience, this goes beyond family and friends. Of course, you need people around who love you unconditionally. You also need those people who, being self-employed, just get it. People who understand the ups, as well as the downs, and who can give you a boost with some sage words of advice. You never know when you might need to call on those freelance friends – whether it's celebrating a big win or simply asking, 'How do I do that thing on Mailchimp, again?!' Don't go it alone, you'll travel farther with trusted, supportive people at your side.
—
The freelance life is full of many highs and lows, and it can be easy to focus on the negative, worries and stresses. When things have felt stressful or a bit bleak, which I know it has done for the freelance community over the last 6 months or so (everyone is feeling it, it's not just you!), then put the work in, get your head down, send out the emails, chase the leads, get back in touch with previous clients and trust the process. It works. Work comes in, clients get back in touch, and those invoices (finally!) come through.
Being part of a community of likeminded freelancers and solo workers really helps. I created a Slack community for freelance and solo workers in the South West, which has been a great place for us to share briefs, get advice. We also share the wins. It feels great to celebrate your milestones with others as they know the importance of them too!
—
Work out who you are before you offer services
The creative industry is becoming more and more specialised, so we (as companies or individuals) need to move with that trend ourselves. It's good to have multiple offerings and skills but you open yourself up to more competition. So when it comes to marketing yourself, it's better to be amazing at a couple of things than being 'just good' at too many things. Maybe you focus on editorial design or you might be an illustrator in the sports sector. This doesn't mean turning away work that doesn't suit your marketing; it's just simply good to have a focus. This makes branding your company far less complicated and helps with consistency.
Create a content strategy
It's important to show up to work. If you don't, you get fired. The same thing happens if you're freelance or a small business but instead, the clients forget about you. Building a consistent content strategy keeps you at the forefront of your audiences' minds. Write short blogs about your sector, interact with your audience by having competitions or you could even do peer shout-outs. Just make it relevant and consistent.
—
Invest in your own brand
There are so many businesses out there doing the same or similar to you, so make sure you are really clear about who you are. Not just your services, but really what makes you tick, what makes your business individual and why clients should come to you. Look at what you are incredibly skilled at, knowledgeable about, understand and enjoy. Then build on it.
Keep moving forward
Stay relevant, understand the market, keep talking to people to learn more.  Just don't get caught up in the jargon and hype. Your customers and clients won't understand it, or care.
Be inspired by your own creativity
It's your business so you should be excited by it. If you're not then you're probably on the wrong path. Look for the type of work you want to do and reflect it in your work. Talk to businesses that hold similar values. Follow people, brands and businesses on social media that give you fire in your belly. 
Care about what you do
Actually give a damn. Care if you get back to someone, care if it is right, care if you think it could be better. Care about what you do and others will too.
Face reality
Running your own show isn't easy. Always be ready to change the plan, surround yourself with people that are genuinely on your side and want you to succeed. Above all, have the right mindset, stay positive and believe in your own ability. Then just when you're about to give up, that's when you need to push even harder.
Give back
It may be a portfolio review, your time, your advice, your energy, but give back when you can and do it genuinely and generously.
—
Find yourself an accountability partner. When you're running your own small business it's important to have someone to talk to. When you don't have a team of your own, find someone that understand's the highs and lows of running a similar business. I have a weekly Friday afternoon Zoom call with another marketing consultant and we use it to share what we've been working on, what we've seen on social media and what we're planning to work on next. Setting this up during Covid lockdowns, and continuing it since, has been one of the most valuable things I've ever done for my business and me personally.
—
Actively and regularly seek out your ideal clients
Sometimes money can overrule your decisions, whether on a practical basis of needing more of it, a big project that sounds too good to be true or it doesn't quite feel like the right fit with your values and expertise. Working when you feel any kind of conflict (internally) can be really hard work for all involved. Don't underestimate the strength of a long-term client that you align with and have trust and respect on both sides. Working with the career mentoring charity Ablaze for five years has been my biggest reward in terms of the value of the work they do and I support them with, and in being so consistent long-term.
Be alive to all opportunities
You never know what opportunities are behind someone's ask for help on social media such as LinkedIn. I stepped in to some really interesting research work with Projects by IF through answering a last minute call for help when a team member got Covid. Plus chatting to a client via an introduction (thanks Constance Fleuriot!) at the Data Science Conference last year turned out they wanted help with a project researching the mental health ecosystem for their mental health app. Keep exploring and don't miss opportunities on your own doorstep.
Helen Farmer, diversity, inclusion and social mobility consultant
Visit Helen's BCI profile here
—
Climate/environment: Often an overlooked part of the business, it is important for you and your team to know where you stand. We are not talking about addressing global climate change, but rather what approach your business takes. Using something like the UN Global Sustainable Goals (SDGs) can be a useful tool to measure and monitor on-going improvement. Delegate this to one of your team who is passionate about climate and the environment.
Finance: Keep a close eye on financial health. Are you equipmed to do this yourself or should you delegate this and get someone to oversee this for you? Regularly analyse cash flow, manage expenses, and invest wisely to maintain stability and fuel growth.
IT/tech/web: Embrace technology to improve productivity and customer experience. An effective online presence and streamlined IT systems can enhance efficiency. Again, this can often be delegated to specialist that will advise, set up and keep your system safe. Don't wait for the headache, scam, fraud, breach to hit you – anticipate and get an expert in to set you up.
Marketing: Develop a targeted marketing strategy to reach your ideal customers. Will you do this? Will one of your team? You know your business best, but are you best equipped to deliver this? Focus on cost-effective digital marketing channels that yield a high return on investment and consider whether you should do this internally or delegate it.
Mindset/culture/vision: This is so important and your team (and partners/freelancers) should be fully briefed on this. Keep an eye on it and cultivate a growth mindset and a clear vision for the business to share across your business, peers and clients.
Sales: Nurture a strong sales team and develop effective sales strategies. Consistent revenue generation is vital for business sustainability and expansion, and, a with ops and delivery, this is key to business growth. But should you be doing sales, or one of your team or outsource this? Only you can decide.
—
Be true to yourself, and be authentic. Take small steps if needed, celebrate all your successes, and try not to compare yourself to others. Set realistic goals, build a support network, and consider finding an accountability partner – someone who will listen impartially, remind you of your goals, and help you stay on track.
—
The key to doing what I love and building great creative relationships is forging a true connection at a personal level – getting as close as possible is where I do my best work because then I'm fully invested in both head and heart.
Time and time again it's over a coffee or a wine that the no holds barred honesty chats happen and reveal the truth of what is on the table and why you are the best person to help bring it to life. People love to talk so offering them the opportunity to be heard is where the magic happens. I've often thought I should list in my proposals: two, three, four hour coffee chats as a key stage in the creative process.
As human beings we love to find connections and then tell a story about how that relates to us – and as designers that's how we create beautiful solutions by listening, understanding and simplifying the story to make it easier to understand.
—
Always deliver on time or slightly early.
Be clear and proactive with the client, especially about what they said they would do/by when. If their lateness impacts you, say so right away – in writing.
Always assume there will be some fallow months. Take out money that you need not what you want!
Build a nest egg – the bigger the better.
If buying in services, such as print, get payment from the client upfront. Always mark up such services.
Keep personal drawings and money separate from business revenue – they are not the same.
Always keep money in the business account for a rainy day – cash flow is king/queen and the tax authorities will need paying!
Consider a limited company but understand the differences versus self employed.
—-
If you come up with a great name for your creative business, you must do due diligence to make sure it's available. Check on Google, check domain names, check Companies House and, most importantly, check at the Intellectual Property Office as a trademarked name trumps a limited company name. If it is available, trademark it.
—-
Become an individual and startup member of Bristol Creative Industries from only £4.95 a month and enjoy many business-boosting benefits. Sign up here.
To meet fellow freelancers and companies that employ them, join our freelancer networking drinks on 23 November at the Square Club in Bristol. It's free including a complimentary drink if you're a member.
Facebook
Instagram
Twitter
Threads
YouTube
Pinterest
TikTok
First, why use social media for your business in the first place?
There are many pros to using social media to promote your business, with few cons. If you are just starting out, establishing a presence on the platforms can be completely free if you are doing it yourself. Once your business grows, investing more in your social media presence is a good idea. This could be by outsourcing this aspect of your business to a social media agency, or by having a marketing team take them over.
#1 Communicate with customers.
Businesses with better customer service tend to see better customer loyalty. Responding to direct messages on social media or comments on posts is a way to speedily and efficiently provide customer service.
#2 Grow your mailing list.
Email marketing is currently one of the most successful ways to convert leads into customers. If you have the budget to run social media ads and promote lead magnets, this is a great way to grow your mailing list.
So how can your business use each social media platform to get the most out of it…
#Facebook
Facebook is one of the oldest and most established social media platforms, therefore it is important to ensure you have a business presence on this platform. It also has the most social media users at just over 3 billion, out of those on this list. Depending on your business industry and your budget, it will depend on the success you see on this platform and how is best to use it.
Organic reach on Facebook is difficult and most businesses utilise social paid advertising or post boosting on Facebook. (This is then shown on both Facebook and Instagram as the platforms are connected and both owned by Meta).
But if your budget is limited, one way to still make the most of Facebook is to set up a group instead of a page and drive people to join this group. This will act as a concentrated space to nurture the group members.
#Instagram
Firstly, ensure your profile is set to 'professional' status rather than just 'personal'. This feature gives you access to support, analytics, and tools that a personal account doesn't.
Instagram is all about optimisation. It has a wide range of features, which is great! But it's especially important on this platform they haven't been half-hearted, and they have been optimised.
This includes optimising your bio and profile, the links in your bio, your Instagram shop, and any direct messages or automated messages page visitors might receive.
#Twitter
If you already have an established presence on Twitter – great! If not, now might not be the best time to start a new account. With the change in ownership when it comes to Twitter, it has undergone a lot of changes. Furthermore, with the new verified paid structure the platform is prioritising the content of accounts that pay to use the platform rather than those that don't.
If you want to set up a new Twitter account, why not consider Threads…
#Threads
If you also use Instagram and are looking for a Twitter alternative, Threads could be the answer. The latest Threads stats show the platform now has 130 million users (that's a lot). Despite being a fairly new platform, it's showing no sign of slowing down or users changing their minds and closing their accounts.
Compared to Twitter, Threads also has a more generous 500-character count, compared to the smaller 280 offered by Twitter. Plus you can post videos up to 5 minutes long.
#YouTube
YouTube is often referred to as the second largest search engine after Google. It has the second most users after Facebook. Therefore given its high user rate, it's an excellent place to promote your business. Short-form video content you post on your social media can be turned into long-form video content for your YouTube channels, providing customers with a more in-depth, exclusive insight into your business.
There are lots of SEO features and opportunities on YouTube your business can utilise which can assist in driving more traffic to your website.
#Pinterest
Most users use Pinterest as a vision board or a source for ideas and inspiration. There's nothing stopping you from using Pinterest if you have the means and resources to create content for this platform; but it is ideal for businesses to 'showcase' e.g. interior design businesses, fashion designers, virtual assistant tips and advice, home improvement businesses or planning a vacation and hiring a travel agent, just to name a few.
Anything related to showcasing, ideas creation, products, or just mood boarding, is ideal on Pinterest.
#TikTok
Last but by no means least – TikTok. The good thing with this platform is you can repost your Instagram reels onto TikTok, and vice versa, meaning you can appear on both platforms without having to create brand-new content for each!
This platform is an excellent place to partner with influencers (as well as on Instagram), showcase your products or services through catchy and fun short-form video content, and make the most of user-generated content (this is content created by your customers on their experience with your service or product).
___________
Trusty Social is a social media marketing and management agency. We aim to improve the online presence of busy businesses through social media while positively impacting the world and donating 3% of our profits to social justice initiatives. Find out more by visiting here and get in touch with us here!