Are content creators destined to spend their careers fixing the toothpaste robot that stole our jobs?
And would that be a bad thing?
(For context: what are you talking about?)
---
I'm not worried about AI stealing my job as a content writer. I'm excited about how it will evolve.
AI tools have sky-rocketed my productivity, re-ignited my excitement for work and made me a better writer. Turns out, my pain points were never about a lack of inspiration or creativity. It was the lack of efficiency.
My boss always says, "Just break the white page, get something down and you've done the hardest part."
Also known in the industry as the 'SFD' – shitty first draft.
Now, and preferably, forever, AI does the hardest part for me.
Bringing it back to my analogy…
Mr Bucket's original job screwing caps onto toothpaste tubes is content writing before AI.
I think this quote from the film sums up what that was like quite nicely…
"The hours were long, the pay was terrible, and occasionally, there were unexpected surprises."
In the end, Mr Bucket gets a more interesting, better-paid role at the factory. Fixing and maintaining the robot that took his job.
I much prefer my new job of fixing and maintaining the metaphorical AI toothpaste robot.
Research is easier and more thorough. Article outlines are done for me, giving me an SEO-optimised structure which hits (and improves) my client's briefs. I have an editor, PA, proofreader, sense-checker, and idea-suggestor, for free, whenever I need them. And we make a damn good team.
So if it can do all that, why am I not worried about it replacing me?
AI-written text can be good, but it's not great. We all know its technical limitations, but its biggest flaw, through no fault of its own, is that it doesn't care.
It doesn't build relationships, collaborate with others, or get excited about what you're trying to achieve. There's no 'above and beyond' with AI.
It's an out-of-the-box solution for a skill that's anything but.
Maybe one day it will take my job. But I think the day humans stop writing is the day humans stop reading. In which case we're all screwed anyway.
AI Oath🤚📕
I solemnly swear I did not open a single AI tool while writing this article. 
But I probably should have. It might have told me it's not as funny as I think it is. And I wouldn't have spent half an hour deep-diving the Willy Wonka fandom.
---
FAQs
Why did Mr Bucket lose his job at the toothpaste factory?
In Charlie and the Chocolate Factory, Charlie's dad (William Bucket) lost his job because a new robot did his job more efficiently – and for less money.
We're delighted that our hospitality design of Apprentice Winner, Harpreet Kaur's Oh So Yum! dessert parlour has been recognised by the London Design Awards.
Phoenix Wharf created a candy-coloured fantasia at the Bradford site. The hospitality outlet was funded by investment from the show's host, Lord Sugar, now also a partner in the business. The 144 sq m, 55-cover, sit-down 'Oh So Yum!' dessert parlour is the flagship for the brand, set to 'take over the dessert world'. The immersive, 'wow factor' space, is inspired by Harpreet's desire for a clean-lined, Willy Wonka-style interior experience.
Content Marketing Strategy… what's right for your business?
Content marketing has become an essential strategy for business growth. But with so many options available, how do you choose the right content formats to achieve your goals?
This comes down to a question of, what do you want to achieve. Because not all content marketing is made equal.
Before you've even made a piece of content, let alone published it. You need to consider a number of factors, from your audience and prospective customers, buyer journeys, timeframes and what you want to achieve from your content marketing efforts.
The most successful content marketing examples are built and grounded in this strategic understanding of a business's audiences and objectives.
Understanding the Buyer's Journey
Your content strategy should map to your audience's buyer journey.
Understanding the different stages and how different content marketing formats and types fit within each stage will allow you to make the most of your content marketing strategies.
Awareness Stage
At this point, content should inform, entertain and engage. The purpose is to hook potential customers, not to sell to them.
Blog posts, whitepapers, and social media help raise awareness of a problem your product solves. Focus on educating your audience at this stage. This isn't the place for hard sales and conversion CTAs.
Consideration Stage
This is where things start to get more information and detail-driven. At this point, a potential customer will be more serious and considered about their purchasing. They may not be quite there with a final purchasing decision, so this is the time to start dialling up the informative and story-driven content.
Videos, email marketing, and social media posts can showcase your product benefits and competitive advantages. Make your content informative and story-driven.
Decision Stage
We're at the the end of the funnel now. Buyers are tooled up and informed. Now you have to give them a real reason, and incentive, to buy.
Free trials, coupons, case studies address final questions and objections. Give decision-makers an incentive to choose you over competitors.
Multi-Channel Content
The more versatile your content, the more effective and efficient it will be.
You should not be making content solely exclusive to one channel or output. When you're planning and putting together your content strategy. Consider how you can 'sweat your assets' and create a versatile multi-channel content strategy.
As for what adaptable content is, this can really vary. Hero video content can be broken down into smaller pieces of shareable snippets. This can then be used across all of your owned channels.
White papers and reports can be broken up into blog content and multi-channel social media campaigns.
Don't put the blinkers on your content strategy. Repurpose, reuse and re-engage.
Shareable Content
To ensure your content is shareable, ask yourself if the content gives you a reason to be shared.
Does it offer insight into an issue, concern or problem? Does it ignite the imagination and inspire ideas? Or does it show impact and results that really wow?
Then ask yourself, would I share this personally?
Unfortunately, there isn't a one size fits all approach to creating shareable content. There is no one winning formula. Every business, every audience and every industry is different.
But fundementally, shareable content is interesting content. So prioritize creating content that is interesting.
Goal Orientated Content
Your content strategy should but tuned to your business goals. What is the purpose of your content? What output is it aligned too?
Is it brand awareness, pushing certain products or services, or are you looking for lead generation or driving conversations and engagement?
Don't just create your content and then try to tack activation and strategy on at the point of delivery. Create content to match the desired outcome.
Test and Refine Your Approach
Analyze performance data to see what content resonates best with your audience. Refine your strategy based on insights.
AB test your content, to trial combinations of copy and creative. Take what's working, remove what isn't and learn from your analytics. A data-driven approach helps create a content marketing flywheel, where you continually optimize content for impact.
Remember, timing is everything.
Even the most creative and insightful piece of content marketing can be brought low by bad timing.
Whether this is trying to come in with a hard-line sales message too early in the incubation period, or being unaware of how external factors, such as news agendas, sector-specific or even global issues, may have impacts on your content… external factors can and will impact your content marketing strategy. So there has to be a certain level of pliability in your approach.
From a funnel perspective. The 95-5 rule tells us that 95% of an audience will be 'out of market' and AirBnB learned the hard way, how external events can impact your content marketing.
In Summary
Content creation is so much more than just pumping out images and videos to the world.
Effective content creation and content marketing strategies are built around goals and outcomes. Simply making content, for the sake of making content, will not give you the ROI you desire. So it's really important to know your audiences and what kinds of content they are most reactive and receptive to.
You also don't have to have Hollywood-level production, to create content. In fact, in many instances, a more stripped-back production value is more beneficial than something slick and expensive looking… an iPhone can be a content marketer's best friend.
But, the most important thing to note… make interesting content.
Everyone is looking for reach, shares and engagement. You won't get any of this with uninteresting content. You can force all the messaging and calls to action you can in there, but if the crux of your content is boring to your audience, it isn't going to work.
So, the next time you're in a content planning session, or strategising for the year ahead before you've shot a frame. Think about about what you want to get out of this content, and what would be the most interesting way to achieve this.
Moonraker VFX, a Bristol-based Visual Effects Studio, took part in the RTS Futures Festival yesterday, offering valuable insights, advice and information to aspiring individuals seeking a career in the television industry.

The free event took place at M Shed on Bristol's Harbourside and drew over 400 young attendees, where a range of the city's media organisations were on hand to give careers advice.

Hosted by the Royal Television Society, the RTS Futures Festival provided a platform for industry professionals to connect with graduates and students, guiding them through the complexities of the modern broadcasting landscape.

Moonraker—known for its groundbreaking work in Natural History programming including the BBC's recent Earth series—engaged with attendees, sharing knowledge and experiences to inspire the next generation of talent.
Simon Clarke, Creative Director at Moonraker, commented, "Participating in the RTS Futures Festival was a fantastic opportunity for us to connect with the bright minds set to become future leaders of the television industry in the decades to come. Moonraker's presence at the event underscores the studio's commitment to fostering talent and contributing to the growth of the sector."
RTS Futures aims to help graduates and those in the early stages of their career to progress and learn about different areas of television. It has an ongoing calendar of events, learn more: https://rts.org.uk/rts-futures
It has been a big year for artificial intelligence; so much so that Collins Dictionary made AI the most notable word of 2023. 
AI has actually been around for several decades, but since ChatGPT burst on the scene in November 2022 it has been a huge global topic of conversation.
Developments in the technology are moving fast and businesses around the world are using AI tools for various tasks. But there are also ethical concerns around bias, privacy, plagiarism and accuracy. And what does it mean for sectors like ours which has a bit focus on human creativity?
Dan Martin asked members of Bristol Creative Industries to tell us how they are using AI, the tools that are most useful, any concerns they have about the technology and what impact they think it will have on the creative industries. 
---
"In the field of design, AI has emerged not as a threat but as a formidable ally. It serves as a creative collaborator, an ever-available helping hand that can assist designers in unleashing their true potential and the potential of their ideas.
"AI algorithms can analyse vast datasets, identify trends, and provide inspiration that might have eluded humans. It extends the possibilities of what we can create, helping us push the boundaries of design. However, it's crucial to recognise that AI doesn't replace creativity – it's an enhancer – part of a unique and collaborative team that will do great things together.
"As we embrace AI in design, we must tread carefully regarding ethics. AI's capacity to mimic styles, artists, and writers raises important questions about originality, plagiarism, and intellectual property.
"We must recognise the ethical implications of using AI and we should establish guidelines and standards to ensure AI is directed fairly and honestly to constantly check ourselves and each other, always questioning the work we produce. Integrating AI into agencies is inevitable and holds tremendous promise. When used with integrity, it is a transformative force that can elevate our creativity, efficiency, and impact.
AI tools we use regularly include Chat GPT, Midjourney, Dalle and Vizcom. We are currently looking for the best opportunities to use Loops and Boords.
---
"There is one tool that is showing promise and potential; Claude. We're finding it more of a helpful tool than say ChatGPT because it allows you to attach files. It's also good for breaking up documents and summarising. It's in beta, so it's pretty rough and ready, but we've done things like ask it to create shot lists from video storyboards and it does a fairly good first job.
"Dalle3 has been put into Bing, and that's a fun tool. It can create nice pictures in just one prompt. It's been handy for stock image creation, but it's limited. For example, it can't create anything beyond a 1×1 ratio.
"Whereas Midjourney is a much more powerful image generator, but you've got to put a lot more into the prompts and variance tweaking. They are interesting, but I don't see them replacing a creative function. You still need the creative vision to make them work.
"As an agency, we're carefully exploring the risks and ethics of such tools in our sector. The Daily Telegraph and The Guardian are two examples where a cautious approach to AI is being taken and we anticipate that other publishers will follow suit. The Daily Telegraph has recently issued guidelines to staff prohibiting publishing AI-generated text except in limited cases with legal approval and The Guardian is vying to maintain transparency around human-produced journalism.
"We're mindful that we're still in the infancy of AI and advancement is bubbling away. As they stand, they're not replacing anything or anyone, more that they are a string to the bow. It still feels like there's a long way to go with AI tools but we're excited to see what's to come."
---
"As a video production team, we're really receptive to AI based tools that improve our editing workflow. We were early adopters of the beta version of Adobe Premiere Pro's text based editing tools, which really speeds up sync selection when dealing with multiple talking heads. We also use the enhance speech function to improve audio quality when location recording sound is compromised; this has varying degrees of success, but it's good to see the capability evolving.
"An enthusiasm for exploring AI was an important factor in hiring our two newest members of staff and we try to make time for them to try out new applications.
"So far AI has been a positive experience for us, especially where it speeds up mundane tasks. We welcome it as a tool to further human creativity rather than undermine it. However we do appreciate this may be influenced by our team members requiring multiple skills rather than focusing on a specialised area of post-production."
---
"We want to position AI as a complementary tool, rather than a replacement for strategic communications and copywriting. We are using specialist applications like Jasper and ChatGPT to add speed and scale to parts of the content creation process. We've focused this year on building our own internal experience and knowledge but there have already been a few projects where we have been able to show our expertise.
"Generative AI is like having a really inexperienced intern. It needs to be provided with the right information, instructions and tasks to get the best results. And because its responses are based on already existing content, the answers AI provides are always generic. While it might give us a starting point to add our own creative and strategic thinking to – it is nowhere near being able to create something we'd be happy to send to clients.
"As an agency and an industry, we must make sure this technology doesn't replace actual human interns. That's why we are continuing to take on interns from local universities next year. We want to help people gain the experience they need to build rewarding careers in the creative industries.
---
"Generative AI has felt a bit like discovering the internet for the first time; it truly is magic. When it comes to the practical business benefits, it has started to automate some simple tasks. We can edit podcast episodes and the accompanying social clips easily on Riverside.fm, do some image manipulation and we've started to experiment with its ability to write social media posts.
"There's likely to be a big opportunity for creative businesses, if you embrace what's possible and think about how it's going to impact the way you work. We just need to be careful that we're still supporting the development of people joining the industry — it's the tasks they do that are being taken over — and that marketing focuses on quality and community. There's going to be a lot more content created, so you'll need to work harder to stand out!"
---
We recognise that the pace of change of technology is accelerating exponentially. By becoming comfortable with that and working within guardrails that support this change, we can identify and take advantage of areas of opportunity for our clients as well as for our own business.
With a focus on human centricity, our strategy is broken down into a couple of key areas. It all starts with open dialogue and conversation, from board level and across the organisation. We have AI champions from each part of our business, who are busy identifying the key challenges and opportunities within their own specialisms, from motion to finance. This allows the prioritisation for areas of focus, so that new tools that may not be in use already can be tested.
"We're also putting in place a clear vision statement that aims to set boundaries within which innovation can flourish. For any concerns that may arise when using a tool, we're setting up a bias council, so that these can be raised and explored to avoid the discrimination."
---
"I think it would be foolish for us to deny the potential held by artificial intelligence. When it comes to research, data collection, analysis and reporting etc, AI tools are brimming with potential. They've certainly helped us streamline processes and massively improve overall efficiency.
"However, there are certain processes that simply cannot (at the moment), and should not, be replicated by computers.
"Be it copywriting, content creation, web design or strategy, we strongly believe in the value of creative human input across all our work. AI is unable to capture the essence of brands, clients and individuals, no matter how hard it tries.
"Yes, these tools will continue to evolve and improve, but our focus will remain on the knowledge and experience of people, not machines. They'll help our people be more productive and reduce time spent on monotonous tasks but they lack that spontaneous and creative flare.
In terms of tools we use, it's all ChatGPT at the moment. The plan is to create unique GPT models catered to all of our clients and work types. This will allow us to train models based on client-specific documentation like style guides, landing pages and SEO best-practice docs.
"We have previously been combining third-party plugins, such as Browser OP and Webpilot, with specifically engineered prompts. As GPT is improving at a rapid pace though, third party browser plug-ins are becoming less important and these features are becoming native within GPT."
---
"AI cannot innovate, only replicate – at least in its current form. AI tools like the infamous ChatGPT are able to create things based on existing data that they have been shown. This inability to produce something from nothing, or to create an entirely new direction for a web service like development or design, means it is unlikely to serve a threat to the industry.
"That doesn't mean we shouldn't use it, however. AI is an incredibly useful tool in oiling up the creative process, making certain aspects like research and insights go much faster. However, it probably won't replace traditional creative practices for companies that want something bespoke.
"For web design, and websites in general, most organisations want to speak to humans. That's because they're led by humans, and the services they offer are invariably for humans. This common factor means that human-led design is the most logical thing to do, both now and in the future.
"There will be organisations that embrace AI to the extremes, even creating full AI websites. The impact of this is most likely to be seen in entry level projects for people that want a site quickly such start-ups.
"There are indications that Google penalises websites that utilise full AI content. Furthermore, as AI is in its infancy, we've yet to see how it will evolve both legally and functionally – restrictions on things like use of content and copyright laws could come into play down the line.
"For now, it's best to think about the good that comes from AI – the speedy research, the ideas generation, and the surface-level insight into a topic – rather than assume it'll replace jobs or the creative industry as a whole."
---
"We have integrated many video production based workflow enhancements using various AI tools, and have regular meetings to discuss its wider impact. Many conversations conclude with, "It's good, but not great, and not yet ready" or "It feels like AI" etc, but the fact is that with AI's exponential growth curve, it will be ready and soon!
"The level of disruption AI poses to business is both exhilarating and overwhelming, and we're hoping that the benefits will balance the effort, money and time it takes to stay up to date with fast paced change, to test what's right for each business and to integrate it successfully into better workflows."
---
"AI in one form or another is used pretty frequently to support our team. I use the word 'support' intentionally.
"ChatGPT came with a lot of hype, but after the initial novelty wore off, we found that the majority of use-cases are typically rephrasing meeting notes or making email notes more concise – though creating approaches and frameworks for ideas has been more valuable.
"Voice AI is looking promising as a low-cost solution for social media assets, though it certainly doesn't replace a voice over artist (yet). Again something we are experimenting with and will likely make more use of in the near future.
"Text-to-image tools are interesting. Photoshop has some half-decent inbuilt generative tools now, but in more powerful scenarios we've been able to build environments using MidJourney to support our creative. Notice the use of 'support' again? It's not perfect, but it does help rule out what's not working.
"Finally, and perhaps the most unusual use for us so far, was collaboratively working to set up an online chat-game for Conan the Barbarian. We worked in partnership with a text prompt engineer to craft a framework for a text based adventure game called 'Tavern of Treachery'. Reviewed by PC Gamer, the campaign ran for the first two weeks of launch and generated over 3,000 unique AI encounters with Conan."
---
"Like many teams, we used AI before ChatGPT burst onto the scene. Spending time on it has helped us find ways to bolster our work. Some of these findings will be shared in the chapter of a book called #PRStack, which is due out later this month.
"In our team meetings, AI chatbots record discussions and outline actions. A close friend's creation, parker.ai, promises to enhance this.
"We're also looking at how AI can manage tasks like analysing engagement feedback efficiently, allowing us to dedicate more time to strategic, high-value work.
"There's no doubt it's a game-changer, but I'm apprehensive about two things and irritated by a third.
"Firstly, like with social media, I worry that optimism bias will stop us from collectively recognising the potential for bad actors to wreak terrible harm. There is an important role for regulators here to ensure the right controls are in place.
"My second fear is that we fail to grasp the opportunities AI presents.
"My third concern comes from a long-standing bugbear: that the landscape between organisations and the public becomes even more littered with bad tech 'solutions' (chatbots and 'convenience' parking, I'm looking at you).
"That's why I'm convinced that the AI success stories will be the ones who integrate it into their work while keeping people at the heart of what they do."
---
"Performing initial discovery can be a time-consuming process, and even briefing it to someone else can seem like a chore. While it still requires a knowledgeable eye to read and verify responses, ChatGPT 3.5 has been a good tool for researching business sectors, personas, and helping to draft workflows. This has helped to cut down time on the tedious tasks in order to be able to focus on the fun ones.
"But AI isn't a magic bullet (not yet, at least) as the results you get from these tools are only as good as the prompts you give them, much like the benefit of writing a good brief.
"Within early stage concepting especially AI assisted workflows are all about maximising your time and output. It goes without saying Photoshop's Generative Fill has been a gamechanger – beyond that we are also using generative AI models like Stable Diffusion to help bring our ideas to life.
"The benefit of AI for people within the creative industries feels vast. For any concerns about its negative impacts, we can only look to other historical comparisons. Maybe the impact of the letterpress on calligraphy in the mid-15th century? Or the democratisation of the personal computer and home printer through the late-20th century? For now, these are all just tools and as long as we take care to use them appropriately, we can keep our excitement to use them!"
---
"Our first exploration of AI began with using early deepfake technology to recreate a young Ian Wright, for an Adidas 90s apparel re-launch project. AI has since become a key part of our workflow, e.g. in upscaling renders and adding in-between frames. This was essential for a 10 minute projection mapping project requiring 8K renders at 50fps, an impossible task without the AI tool Topaz Labs Video AI.
"We utilise the evolving AI features in tools such as DaVinci Resolve for tasks such as object removal, rotoscoping and denoising. We've enhanced efficiency and precision, making processes quicker and more streamlined.
LLMs like Bard and Chat GTP provide workflow advice on complex VFX challenges in software like Houdini, accelerating R&D and discovering more effective solutions.
"We're also exploring AI for early-stage ideation and generating visual elements, a shift from traditional reliance on stock imagery.
"From our experience, there is no doubt AI will play a significant role in VFX and asset development. Although AI hasn't yet perfected executing vision, its contribution to creativity and ideation is undeniable.
"Nuance, especially when iterating with clients and artists, means a production process where people have ultimate control is still essential."
---
"We predict that AI will be disruptive but not fatal. We have been integrating AI into our work flows in a way which benefits our clients and as our business is all about SEO, is in line with Google's guidelines. We believe, and the results from our clients show, that the core principles of good SEO will remain the same, even if the tools we use to deliver those results will evolve.
"It's about strategy, and how to use it. A bit like when steam engines were invented, and everyone panicked about their impact. The ones that succeeded were the ones that learnt how to use the steam engine to their benefit rather than ignore it or try and stop them. Therefore, it will not change the core pillars of SEO, but it's a tool that can be used to assist us in helping to make our clients visible online.
"One area to keep an eye on in search marketing, is that we are noting some of the biggest visual updates to Google SERPs that we've seen in some time – with Google's Generative AI-powered Search Experience (SGE). Context will be carried over from question to question, to help you more naturally continue your exploration and these AI generated search results are very different from what we're used to seeing. We expect more growth and development within SGE, over the coming months."
---
"We're getting great results when it comes to brand messaging. Copywriting at the branding stage can be like picking apart a plate of tangled thoughts, ideas and content, and then putting them into a coherent order.
"AI offers us strands to pull at sooner, giving us developed phrases that we can adapt and shape and link to. Yes, most of the output is cliché or inappropriate or wildly off-tone, but it's a much better starting point than a blank page, a blinking cursor and a looming deadline."
---
"We've been working on AI related-projects for our clients since 2019. We view AI integration as largely beneficial; embedding AI and machine learning in products and workflows offers advantages such as enhanced efficiency, superior decision-making, and enriched customer journeys.
"Understandably, skilled individuals across the creative industries may have concerns. Yet in my 20+ years in digital media, I've found new technology always requires time to find its place. I consider it a new toolkit that should ultimately liberate us to focus on the really smart stuff that relies on human creativity, curiosity, heart, soul and intuition."
Short-form social media video content is short, snappy, informative, or humorous videos that are posted on social media by brands and businesses to gain the attention of their target audience. The ideal sweet spot is somewhere between 30 – 60 seconds.
So why is it important to utilise this type of video content as a business on social media?
It's a proven way to reach new audiences by incorporating it into a multi-media social media strategy. Plus, it's a cheaper way to reach new audiences if you are currently operating on a limited budget and can't yet afford to outsource to an agency or hire a marketing team. Whilst it may not promise the same reach and consistent results as running correctly optimised ads, these ads rely on a solid foundation of organic social media content to be successful- and this content will benefit from short-form video content!
But as great as that all sounds, what if you are a time-short business owner, or just have limited experience when it comes to social media content creation?
We've compiled our top 3 favourite video and reel / TikTok editing apps to help you create post-worthy content whilst saving time. They are all affordable and easy to use, with plenty of features and video templates to use.
#Video editing app 1 – Capcut
Pros:
Simple and easy to use
Variety of ready-to-use templates
3D zoom feature
Variety of languages to choose from
100% free app
Share directly to social media feature
No ads or watermarks
Desktop feature
Has its own AI features
Cons:
No option to make landscape videos (although portrait is optimum for social)
Only suitable for basic video editing
Unavailable in some countries
Can crash when attempting to edit large videos
Doesn't support image editing
#Video editing app 2 – Splice
Pros:
Simple and easy to use
Ability to integrate with iTunes to add music
No limits to the video length
No watermarks
Offers more transition options
Share directly to social media feature
Real-time recorder and voice-over option
Can import still photos
Crop / trim to focus on highlights feature
Has its own AI features
Supports image editing
Cons:
Some ads
Potential copyright problems when using their own music library
Slightly less editing options
No desktop feature
1-week trial, then $12.99 per month
#Video editing app 3 – InShot
Pros:
Professional feature to make video editing easier and more enjoyable
Still easy to use but slightly more complex than CapCut or Splice
Up to 4k video sharing and video resizing support
Supports image editing
Ability to add filters, text, and effects
Cons:
Stickers library does not have a search option
Doesn't let you zoom in or out of pictures
Ads appear in the free version
Adds a watermark when exporting videos in free version
Doesn't support AI features
Difficult to work on multiple projects at a time
Limited features in free version, full feature access is $3.99 per month
So which is right for you?
If you are just starting out and need an app for some basic video editing, it probably won't make a difference which one you use. They are all fairly cheap, and CapCut is completely free. Once you become more confident and decide to replicate specific social media trends or look for specific video editing features, transitions, or filters, it's likely you will find one of the above suits your business better.
Thankfully, they all at least offer a free version or free trial to test out the app before investing in a monthly subscription.
Are you looking for support with consistent and professional content creation for your business?
Trusty Social is a social media marketing and management agency. We work with busy businesses to improve their online presence through social media, while positively impacting the world and donating 3% of our profits to social justice initiatives each year. Find out more by visiting here and get in touch with us here!
Hey, I'm Mitch, Senior Designer, Creative and Artworker. I go under the alias of SmallStudio, because I'm exactly that. A one-man studio offering graphic design and creative support as a freelancer. SmallStudio, big thinking.

I've got some availability coming up in mid-November and December. If you, your agency, business or big idea need any creative support, drop me an email at [email protected]. It would be great to talk.
JonesMillbank, Bristol-based video production company, has won a competitive pitch to work with I heart Wines on their 2024 TV ad campaign.
The wine with a big heart has chosen the production company that connects brands to people to reach and resonate with their loyal customers and new converts alike.
The campaign will align with a brand refresh that comes 13 years after launch.
"The win is a fantastic opportunity to work with an exciting brand that's bubbling with personality, sass, confidence and authenticity."
"When we were invited to pitch we knew we had to go for it. We're incredibly proud that the pitch was led by our 26-year-old in-house creative and director Abbie Howes. She completely embodied the brief and their audience."
"Our concepts hit all the right notes and we're delighted to have been chosen to work directly with Freixenet Copestick".
Emma Fogerty, Senior Brand Manager at Freixenet Copestick said "we are absolutely thrilled to announce that we have chosen JonesMilbank to be our creative partner in producing our new TV ad. We're excited to embark on this journey together to bring our ideas to life and see the creative vision take shape."
***
JonesMillbank are a full-service video production company.
They work in-house with a talented team of multi-disciplined creatives, telling authentic stories for a range of clients such as Delivery Hero, IDLES, SOHO Coffee Co and University of Bristol.
jonesmillbank.com | 01173706372 | [email protected]
Bristol West MP and shadow culture secretary Thangam Debbonaire has unveiled how a future Labour government would support the creative industries.

"Culture should be for everyone, no matter who you are or where you live", Debbonaire said during a speech at the Labour Party Conference in Liverpool.
The former professional cellist, who was appointed as Keir Starmer's shadow culture, media and sport secretary in his Shadow Cabinet reshuffle in September, added:
"Creative businesses can revitalise our communities and our high streets. They boost brand Britain, selling our talent and originality around the world."
To support the sector and "fire up the engines of the creative economy", Debbonaire, who has been MP for Bristol West since 2015, announced that if it wins power in the next election, Labour would introduce 'Spaces to Create', "the first national cultural infrastructure plan", to boost creative spaces across the UK.
It will include a map that can be used by local leaders, businesses and philanthropists to "spot cultural spaces at risks and opportunities for investment and development", while Spaces to Create teams will provide "guidance, training, learning and networking to get creative businesses on a strong footing".
Skills and diversity in the creative industries
Debbonaire also discussed skills in the creative industries. She said:
"Successful creative industries are crucial to growing our economy. They will provide the great jobs of the future. But to do them, our children will need the necessary skills.

"So I'm working with [shadow education secretary] Bridget Phillipson on Labour's creative curriculum to bring the best music, art, sport and drama to every child because every child's talent matters."
On diversity, the Bristol politician said "we're all better off when we draw on everyone's talents", so champions of the creative industries need to tackle "tough questions" such as:
"How do we all share in the joy and the jobs? Where are the women? Where are the people of colour? Where are the people from working-class communities?"
An example of an initiative tackling skills and diversity in the creative sector is the Bristol Creative Industries Internship Programme which is providing paid placements at creative businesses for young people from under-represented groups.
Labour's announcement follows the publication earlier this year of the government's creative sector vision with plans to add £50bn and one million more jobs by 2030.
Share your views on support for the creative industries
What do you think about Labour's ideas? What are your views on the current government's support for the creative industries? What do you think the next government, whatever party is in power, should do to support creative businesses?
Email Dan Martin with your opinions, ideas and suggestions. 
Related content
Until recently, the menopause was something that was not understood and not talked about in equal measure. But after several celebs spoke about their experiences, it became something of a hot topic, with many 'experts' appearing to offer help, like tips for a 'menopause diet'.
We needed to cut through this noise when we created the Hartwell brand. This was different: its founder Natasha Hartwell was a nutritional therapist who based her work on science and evidence-based results, and made real-world, practical suggestions. This was a real expert who could actually help with the symptoms of menopause, and help people feel like themselves.
Hartwell's approach was a fantastic differentiator and a great place to start, so we began the process of building the brand around this strong core idea.
Hartwell Nutrition vs menopause diet
As with any branding, whether we're creating a brand or refreshing one, we need to understand what makes it unique, what makes it tick and what makes other people care.
We started a deep dive into Hartwell's way of working, including how it does it, what it values and its ambitions. The answers to these big questions would help define the new brand's values and personality, which would lead us towards how the brand should look and feel.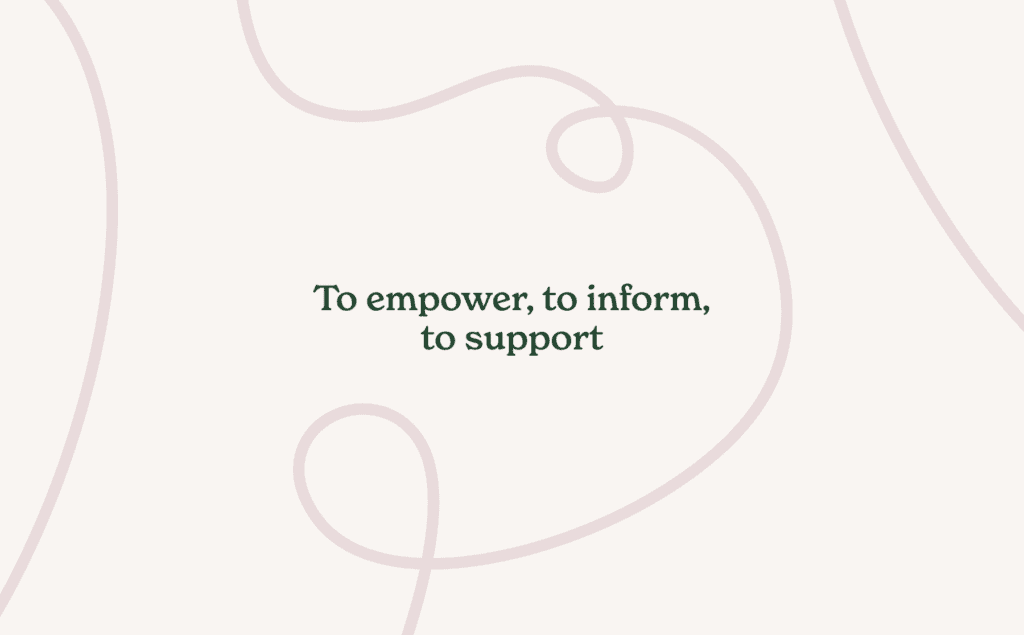 Understanding the menopause landscape
Hand in hand with that, we also carried out an audit of the busy world Hartwell would be entering, specifically focusing on the menopause diet market. What were existing competitors doing? And was any of it working? We discovered an ocean of word salad, bland imagery and 'mumsiness', with very few examples of brands who really knew how to communicate what they were doing.
We held a focus group for people going through menopause, to find out about their general experience and if they had tried menopause diets. It was clear that they felt unseen and unsupported, and were suffering emotionally as well as physically.
Bringing the brand together
Our research showed us that to reach as many people as possible, Hartwell had to be very clear with its messaging, putting its unique science-based approach front and centre. But to connect emotionally, this clarity had to feel personal. As a result, we made the decision that the voice of Hartwell would be Natasha, so it would be all written in first person, and talking directly to the target audience – just as it would be in a one-to-one consultation.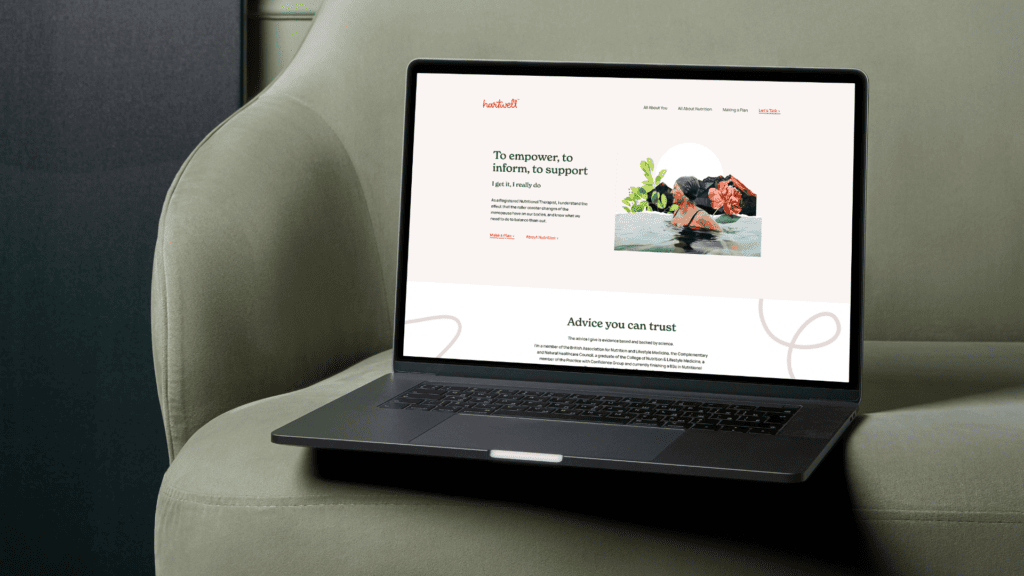 Visual identity – logo
This connected perfectly with the decision to use Natasha's surname as the name of the brand (her name, her voice) and also helped to complete the circle with the logo, which feels like a signature.
This hand-drawn logotype not only gives the brand a personal, human appeal, it also shows that Natasha is not afraid to sign her name to her work. The brand's confident because its work is based on evidence – Natasha knows that she can genuinely help her clients.
We created a stacked version of the logo too, primarily to work with social media and smaller spaces, but also with one eye on the future, where 'Eat well', 'Live well' and other variations could be used.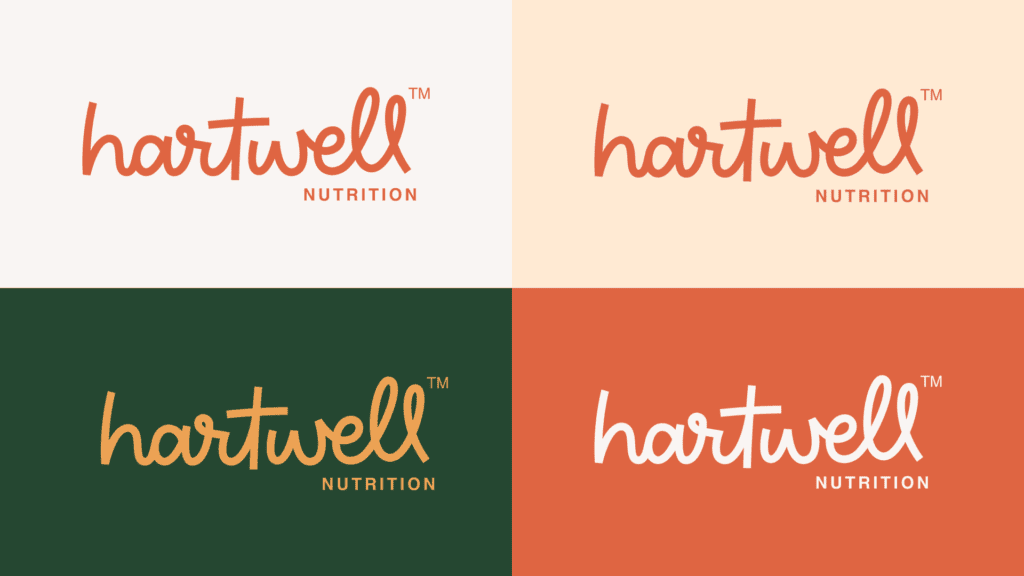 Brand elements
The logo had been developed as part of a stylescape. These are visual explorations of a brand driven by a core thought, and include everything from brand palettes and imagery through to typefaces. They're a great way to ensure everything is designed as a family, not in isolation, and to see the entire brand working together.
This particular stylescape was based on the idea of empowering clients, factual information, non-judgemental advice and friendly support. Those building blocks led us to a colour palette that was vibrant and earthy, warm and dignified. We purposefully kept away from a palette that was overtly feminine.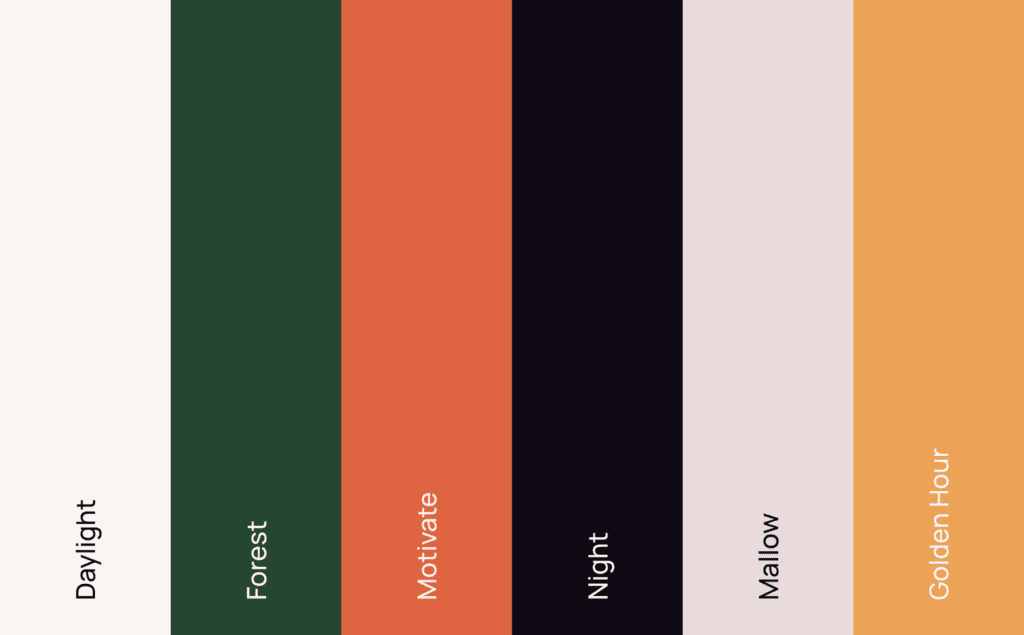 Brand imagery centred on collages which connected the way of life our audience wanted to get back to, with nature. The collage construction gave us the scope to tell infinite stories, while the connection to nature was a common theme throughout the work, coming both from Natasha's understanding of nutrition, and people's connection to cycles.
Finally, and developed from the hand-drawn logo, we introduced the squiggle. This graphical motif doesn't have a defined form, and instead is unique each time it's used, just like Hartwell's clients and the advice Natasha gives them. The squiggle device can be used  to frame text, create direction or simply bring some visual interest to a design, and helps to bring the whole visual identity together.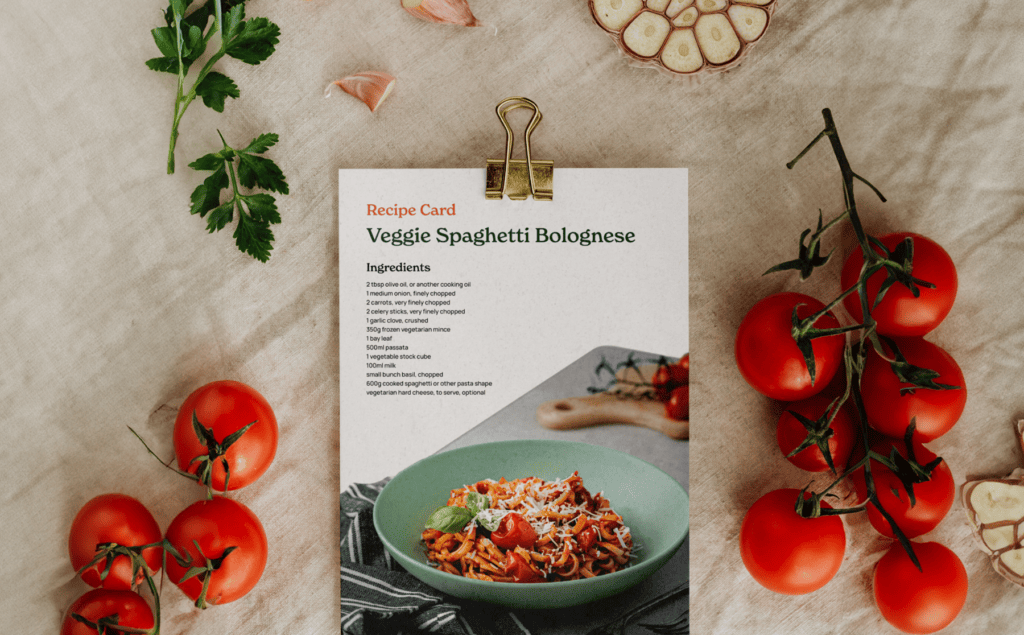 Not just another menopause diet website
As part of the brand launch, we designed and wrote the Hartwell website. We initially mapped out a number of user journeys so we could design the perfect UX for the busy audience. Our goal was to show enough to prove Hartwell's credentials, and then invite the audience to take the next step by getting in touch. Copy was therefore kept to a minimum, with the approach being to balance the warm, personal tone with the science that backed it up. This was helped by the brand fonts, the soft and warm New Spirit, paired with the strong and steady Elza Text.
The look of the site mirrored this balance, with a clean look punctuated with lifestyle/nature combination images that brought energy to every page. With minimal copy, the space in the design really helped to deliver a fresh experience, in contrast with nearly every one of Hartwell's competitors.
The finished brand feels like a modern lifestyle/health brand (not a faddy menopause diet plan), which has the confidence to show what it can do, without having to tell its audience everything it can do.
Find out more about Hartwell Nutrition here