An outstanding achievement and something we are very proud of.
Back in 2019, ADLIB Recruitment was one of the first recruitment businesses to certify as a B Corp with a score of 82.8. Our belief is that B Corp provides a structure and measurement to improve, certification is the start of the journey. We set out our intentions publicly through annual impact reports and set the bar high. This approach ensured we maintained the focus and accountability needed to make change happen.
Since our initial certification, we've held ourselves accountable to improve year on year. We've become a 100% employee-owned business, created a Trust Board, Employee Council and gifted each of our existing employees share options with a clear route to realisation.
We've donated many thousands of £ to charities and NFPs, including Feeding Bristol, Grassroots Activation Project, St Mungo's, Julian Trust and Forest of Avon Trust to name a few brilliant organisations.
Internally, we have created MotherBoard, a business charter, community and event series that drives tangible change for mums working in the tech industry. We've also vastly improved our maternity leave policy and delivered D,E&I training, lived out through a healthily balanced team. The team have played lead roles in advancing GreenTech South West and Tech Ethics meet up groups. And that's just for starters.
Today we celebrate the hard work that has gone into achieving our recertification. Focus will soon turn to our next recertification and setting the standards to a whole new level.
Young creatives in Bristol have until 16 December to apply for one of the most unique and cutting-edge creative industry courses found anywhere in the country.
Earlier this year, Access Creative College joined forces with Condense and LocalGlobe to create a fully funded Metaverse Development Scholarship Programme, with the aim of bringing more diversity into the tech industry.
With the last few places now available on this course, young Bristol creatives have until the application deadline on 16 December to be a part of a technological and cultural revolution that is changing the landscape of live events.
Within this programme, scholars will be given the knowledge and skills to allow them to create truly live events in real time, as 3D video (also known as video 3.0). This means that, with the aid of either a VR headset, smartphone, laptop, desktop or even augmented reality glasses, people could enjoy a much more immersive experience of, for example a music concert, from the comfort of their own home.
With content itself streamed into gaming engines such as Unity and Unreal, the potential now exists to create entirely new and engaging live experiences within augmented and virtual reality setting and redefine the parameters of live events.
Jason Beaumont, Access Creative College chief executive, said:
"We've seen examples, in recent years, of performances taking place within virtual settings, but these have all been essentially pre-recorded and pre-programmed. What we're talking about here is a revolution in the way we not only create live content within AR and VR, but the way that content is received by the public."
Condense believe that the ceiling for this kind of technology is truly limitless and that while performing artists are including virtual performances within tours, there are no technological limits to scaling up this proposition into major events such as entire festivals and even major sporting events.
James Tong, Condense's head of people, added:
"This kind of technology, and educational programmes like this, have the ability to open up the world of live events and culture to an even larger audience. Imagine the ability to attend something like Glastonbury or the World Cup without ever having to leave your home. Not to just watch a recording, but to be able to witness spectacular events and performances in real time, as if you were there.

"This really is a game-changing concept, its not about replacing live events with a virtual counterpart, far from it. In fact this is a means of making live events way more accessible and immersive and it gives event organisers and performers something new and different to think about when their planning tours and events."
The programme is open to anyone, regardless of their academic background, existing qualifications or experience in the tech industry. By attending this 12 week, intensive, and fully funded course, students will have the opportunity to harness this potential and be part of the bleeding edge of AR and VR technology.
Scholars will learn Digital Graphics; 3D modelling, photogrammetry and textures; Realtime VFX; Plugin integration, in game/ venue scaling and enhancing virtual worlds; Enriching virtual worlds; Interactions, spatial sound, player movement and networking basics.
Successful applicants will also receive a college accreditation and certificate, hands-on experience with the latest technologies and techniques, real world industry skills to support the next step in your career, high level of exposure to local employers, a potential career with Condense and £1500 bursary, dependent on learner performance.
Applications for the course are now open here.
We are proud to share the first annual impact report from MotherBoard – the non-profiting initiative that is powered by ADLIB and sponsored by Not On The High Street. MotherBoard is a Business Charter, Event Series and Community that is creating real long-term change for mums working in the tech industry.
Over the past 12 months the MotherBoard Community and Charter have offered a platform for people to connect and discuss taboo subjects, whilst our growing signatories have committed to, and achieved change. Topics include:
• Mentorship • Promotion & leadership • Coding courses & funding • Infertility • Pregnancy • Sexism • Racism • Parental bias • Miscarriage • Menopause • Toxic cultures • Still birth • Redundancy in pregnancy • NDAs
Within the report you will see the positive impact MotherBoard have achieved since launching in 2021, we are excited to see what the next year holds!
We hope you enjoy having a read, if you would like to hear more about MotherBoard please email the team at [email protected]
MotherBoard is a Business Charter, Community, Event Series, and Podcast driving tangible change for mums working in the tech & data industry. We are on a mission to transform the industry to be more inclusive of mothers by tackling stigmas and supporting employers who want to create real change.
In episode 13 of WithinDigital, Adapt's Nick Livermore is joined by Joel Strohmeier, Senior Accessibility Consultant at Bristol Strategic UX agency, Nomensa.
Together they discuss…
The fundamentals of website accessibility
Common misconceptions about website accessibility
The importance & impact of accessibility
How to get started making your website more accessible
Make the business case for website accessibility
In part 1 of this series, we looked at the power of brand storytelling in the wealth management sector. In this second part, we'll explore the first of the audience segments that winning brands need to address as an integral part of their story: women with wealth.
This has been a challenging audience for the male-dominated wealth management industry to address. But it is an increasingly important segment for wealth managers to address, both in their marketing, and as part of their business model. Here's why:
43% of the global high-net-worth population are women (Wealth-X World Ultra Wealth Report)
From 2016 to 2019, women accumulated wealth at a compound annual growth rate (CAGR) of 6.1%.Over the next four years, Boston Consulting Group predicts that rate will accelerate to 7.2%
Women, on average, are more attracted by a firm's brand reputation than men: 49% vs 43% (Ernst and Young)
(view image in blog here)
"…43% of the global high-net-worth population are women…"
This wealth is being generated by more women in leadership roles, female entrepreneurs and female-led businesses. There is also a growing proportion of intergenerational wealth being passed to women, and the statistics show that many of them inherit between the age of 25-35. (source: BCG Global Wealth)
(view image in blog here)
Across the board, Boston Consulting Group found that younger generations of women are taking control of their financial interests.
(view image in blog here)
However, only two out of five women say they are confident making financial decisions, despite evidence showing that when women are deciding on investments, they often spend more time researching and gathering information than men.
Despite this growing opportunity, according to Ernst and Young, 73% of UK women feel their adviser misunderstands their goals or cannot empathise with their lifestyle. Consequently, the research found that 62% of women are willing to consider switching to another adviser compared with 42% of men.
"…70% of widows sacked their adviser after their husband's death…"
The most profound of these statistics comes from Boston Consulting Group who found that 70% of widows sacked their adviser after their husband's death.
So why is this?
You'd be forgiven for thinking that these women might prefer a female advisor, but that's not necessarily the case.
Whilst wealth management is still a largely male-dominated sector (although this is changing slowly), according to a survey by Canada's Strategy Marketing consultancy, only 7% actually wanted a female adviser. Across the board, research studies show that women want advice that demonstrates an understanding of their approach and attitude to investing, as it is distinctly different to men.
"…73% of UK women feel their adviser misunderstands their goals…"
There's been a lot of research published over the last ten years about what women want from a wealth management service. So it's surprising to see how slow the industry has been in adopting its findings. Especially considering that the audience makes up 43% of the addressable market. Even more so, when you consider how relatively simple it is to understand and address their needs.
Fundamentally women, unlike men, are not interested in investment performance for its own sake. UBS reports that women are more interested in what the money is for, rather than how it is invested. For them, it's not a competitive pursuit in which data shows how much you're winning or losing. Investing, for the majority of women, is about achieving their own personal goals.
Boston Consulting Group research summarised these goals as:
     Caring for themselves and family
     Improving their lives
     Ensuring stability
The specifics of these goals will change at different points throughout their life.
An overwhelming majority of women want their investments to benefit people, society and the planet. The Center for Talent Innovation (now Coqual) report that 88% of women want to invest in organisations that promote social wellbeing.
Along with these specific goals and aims, women's mindsets are an important consideration. This means building trust is essential when advertising to women. The WealthyHer report found that:
     Women are not risk averse, they ask questions because they are risk aware
     Women are hungry for information and welcome investing education
     Women want clear, substantive and transparent advice
     Women value family meetings, including coaching children about financial matters
"…88% of women want to invest in organisations that promote social wellbeing…"
So how are wealth management brands reflecting these facts in their brand story? For us, there are two leaders.
First, let's look at UBS. They have applied a goal-orientated approach to their brand story, using the 'questions' narrative we discussed in Part 1 of this blog series across the customer journey. The photography gives a sense that they are talking to both men and women. The goals and questions raised feel like they apply naturally to anyone. It never feels forced, contrived or patronising.
(view image in blog here)
Having made their brand story broad and inclusive, they also create a specific journey for women. This includes advice services, online content, resources and communities aimed specifically at them.
(view images in blog here)
ABRDN is the second leader, in our opinion. Whilst UBS is subtle and understated in its application, ABRDN is incredibly direct and concise. First, with sustainable investment as its headline message, it taps into the zeitgeist, particularly for women, as the research shows.
But then, look at the body copy. The core points from the research are all addressed. Again, this never feels contrived, forced or patronising. The brand has achieved an egalitarian position, equally appealing to men and women, young and old.
(view images in blog here)
There are a growing number of niche wealth management companies aimed specifically at women, notably Independent Women, Wealth for Women, Women's Wealth, Eva Wealth in the UK.
However, with increasing competition in the market, we expect to see more brands adopt a more inclusive narrative in their brand stories. The big test will, of course, be whether the service they offer lives up to their brand promise. Walking the talk will definitely be more challenging than creating the story.
"…we expect to see more brands adopt a more inclusive narrative in their brand stories…"
While we can't necessarily help you practice what you preach consistently, we can certainly help you market to women. Our team of experts can advise you on inclusive storytelling, advertising campaigns and so much more. Get in touch by emailing [email protected]
And don't miss the next blog in our Wealth Management series, all about marketing to millennials.
Inclusive marketing has come a long way over the past few years. This is because for the consumers of today, creating a stellar product or providing a first-class service is not enough to convince them to buy from you.
Customers care about the ethics behind your brand more than ever before and will make purchase decisions based on factors like diversity and sustainability.
And while we are now firmly in the "Age of Diversity", many brands are still falling short.
We think it's time to change.
To that end, we've put together a new industry guide, "Digital Marketing: The Age of Diversity?" And you can download it free here >>> 
Digital Marketing: The Age of Diversity?
The guide addresses the discrimination that still exists across the digital marketing industry, and what we can do as an industry to champion diversity.
In essence, we want this guide to start these difficult conversations and help brands take those first steps towards creating content that is inclusive for all.
Sexism in AI & Advertising
The AI and advertising industries have a gender bias problem. And yes, while this bias may not be as obvious as it used to be, sexism still exists within these industries, and we could do a lot more to overcome these bias boundaries.
Discrimination in Advertising
When we look back at advertising from the mid-1950s, you'll notice that BIPOC, LGBTQIA+ communities, and people with disabilities were non-existent, and women were only depicted as domesticated goddesses, sexy, slim, with perfect hair and makeup.
You may think that these misrepresentations or lack of representation are a thing of the past… but that isn't the case.
Is the Internet Truly Accessible?
Billions of people every day use the internet to buy clothes, book holidays, play games, watch videos or search for random trivia.
For a lot of people around the world, navigating the world wide web can be done with a simple touch of a button. However, a huge proportion of the population can find this navigation process a lot more challenging.
The vast majority of websites today are "inaccessible", which prevents the world's one billion disabled people – 15% of the global population – from enjoying an easy online experience. So how can we change this?  
You can get a free copy of the guide here. And if you have any questions, feel free to drop us a message.
We are delighted to launch a major new report which highlights how creative businesses in Bristol and the south west region need more support than ever before to help them to compete on the global stage.
The 'Creative Force' study follows our commissioning of The Audience Agency to conduct research of Bristol Creative Industries members and the wider creative sector to understand how creative businesses in the region are faring and to determine the level of support they want and need as the industry continues to recover from the impact of COVID-19.
The report shows that:
– Accessing talent with the right skillsets is the biggest challenge facing more than a third (36%) of creative businesses in the south west.
– Increasing diversity and inclusion is a significant priority for six in 10 (59%) creative firms, but 21% admit that they are struggling to recruit talent from diverse backgrounds. Nearly half (48%) of creative businesses want more help finding diverse talent from under-represented groups.
– Most creative firms have embraced digital ways of working but research and development (R&D) spending throughout the region is low with 62% admitting to spending nothing on R&D. The take up of new, breakthrough technologies such as AI, 3D printing, and robotics is also minimal.
– Securing the funding needed to grow and develop is an issue for Bristol's creatives. The variety of business support programmes and financial grants available is creating confusion with many of the region's businesses unsure about what it is relevant to them and whether they are eligible.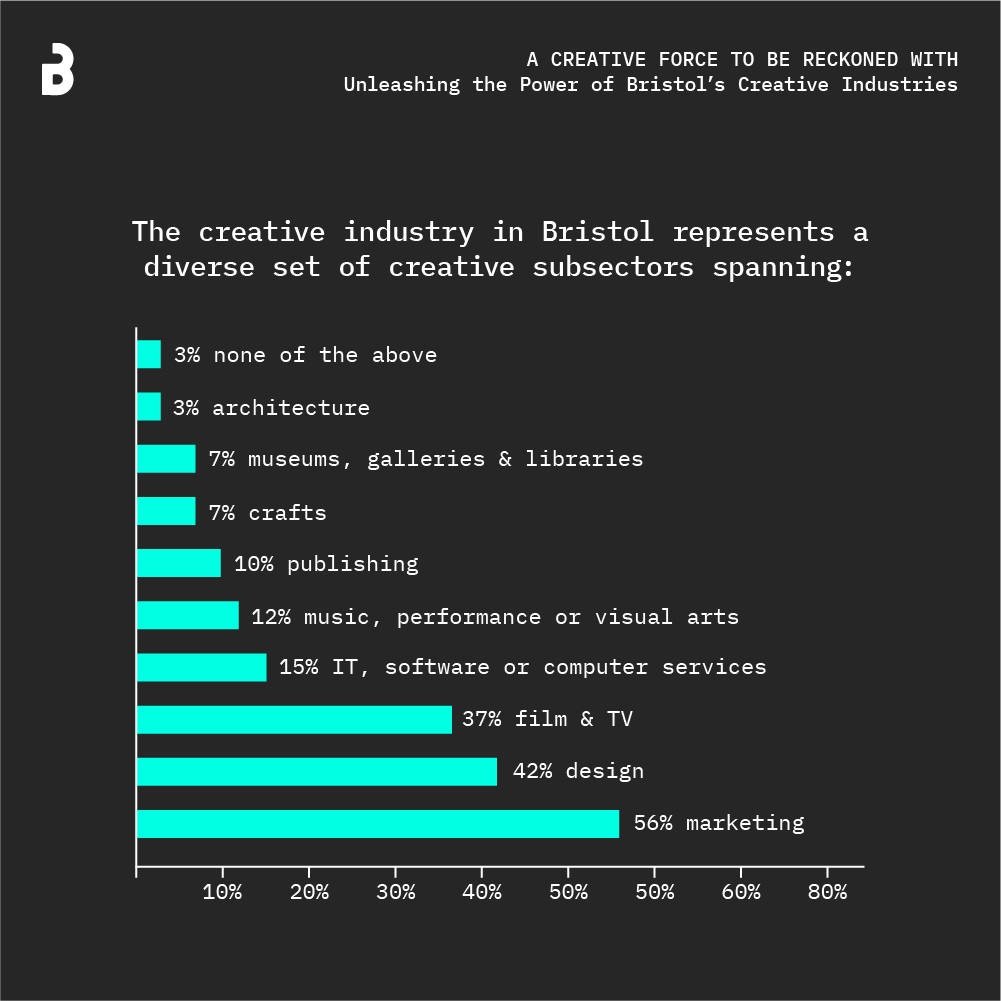 Creative businesses need help navigating funding options
Focus group surveys with local creative businesses and freelancers found that while there is no shortage of programmes and grants available to encourage innovation and business growth in Bristol and the wider area, the multiplicity of options can be overwhelming and there is a need for more help navigating the support available.
Chris Thurling, chair of Bristol Creative Industries, said: 
"The creative industry is an engine for driving economic growth and job creation throughout our region. After an incredibly challenging two years, creative businesses are bouncing back and the future looks bright, but our latest research shows that creative firms and freelancers need more targeted support than ever before to really scale up and take advantage of emerging growth opportunities in the wake of the pandemic.

"Bristol has long been considered a great place for businesses – after all, it is vibrant, dynamic, thriving, and multicultural – but our research shows that location is no longer considered the be all and end all for creatives. For them, place is neither an advantage nor a disadvantage. It begs the question 'has Bristol been resting on its laurels?'

"As we grapple with getting growth plans back on track at a time of economic and political uncertainty, there is no time for complacency. We all need to do more to support our creative and cultural businesses by working in partnership with city and combined local authorities, education providers and other business support organisations to ensure we create an environment where creative firms and freelancers can thrive."
The UK creative sector is a vital part of the UK economy which contributed £115.9bn to UK GDP before the pandemic[i]. It is now expected to grow 20% faster than the rest of the economy and has the potential to create 300,000 new jobs over the next three years, stimulating growth and recovery throughout the UK.
Responding to the Creative Force report, West of England Metro Mayor Dan Norris said:
"This report is timely and welcome. Bristol, Bath and the wider West of England is rich with creative talented people, but the pandemic hit many working in the sector hard.

"It's why under my leadership as Metro Mayor of the West of England Authority we have invested £3m to help over 700 freelancers – abandoned by the government during the pandemic – and creative businesses get back on their feet and face the future with a renewed confidence and purpose. I welcome the recommendations in this timely report.

"The West of England is a region of innovation and creativity, and I'm determined that the right support is in place to allow our region to flourish."
BCI's Creative Force report includes a comprehensive set of key recommendations for tackling the issues brought to light by the research findings and is intended to be used as a catalyst, convenor, and advocate for change and action to fuel the south west creative sector's development and growth.
The West of England's first-ever Good Employment Charter has been launched by Metro Mayor Dan Norris as part of a push to develop good jobs, deliver opportunities for workers to progress and help local and regional employers succeed.
First to sign up is the world famous, four times Academy Award winning animation studio Aardman. Others already pledging their support include Visit West as well as Bristol's Wake the Tiger, Bath's Storm and Stoke Gifford's Service Robotics.
The Charter has been designed by trade unions, employers and employees from across Bristol, Bath and South Gloucestershire.
Local firms big and small will be supported by the West of England Combined Authority, led by the Metro Mayor, to raise standards across a number of areas, including regarding recruitment and worker engagement, with a two-tier approach to help them progress.
Good Employment Charter
The two tiers of the West of England Good Employment Charter are:
Tier 1: Supporters – working with aspiring organisations to help them take steps to improve their own practices, including through a personalised action plan, workshops and other events, raising employment standards across the whole region, to meet the requirements of accreditation.
Tier 2: Membership – requiring employers to demonstrate excellent practice in key characteristics of employment practice. These are:
Secure work
Flexible work
A real living wage
Workplace engagement and voice
Excellent recruitment practices and progression
Excellent people management
A productive and healthy workplace
Businesses receiving funding through the West of England Combined Authority's investment funds will also now be required to become Charter supporters, confirmed the Metro Mayor.
Currently more than 15% of West of England workers take home less pay than the Real Living Wage, while an estimated 111,000 in the wider South West are on zero-hours contracts.
Metro Mayor Dan Norris said: "I'm delighted to see this manifesto pledge fulfilled. No matter what job you do, everyone deserves dignity at work, fair pay and secure work in a safe workplace with clear opportunities to progress and develop. I want to praise the brilliant employers we have in our region such as Aardman.
"Recognising those good employers and seeking to persuade everyone else to do the right thing is what this is all about. We know that employers who are best at properly supporting their employees are usually the most successful. So this a win-win for employers and employees. I welcome the employers ego have started the journey with us today, and I've no doubt that many, many more will join them soon."
Aardman Managing Director Sean Clarke said: "We're really pleased to support the Good Employment Charter and feel that improving employment standards is crucial for staff wellbeing, retention, engagement and productivity. Many policies such as the Real Living Wage and Secure Work have been in place for some time, which has already made a positive impact to the business.
"As an employee-owned business we are always looking to expand and improve engagement with the 'partners' in the studio and have various forums for partners to have a voice on the how the studio is managed and our business planning and priorities. Aardman is committed to providing a workplace where people and their ideas can really thrive.
"We believe that implementing these standards helps us to nurture our most important asset – our people – and ensures we are well placed to attract and retain our talent in an increasingly competitive talent market."
Employers interested in signing up to the West of England Good Employment Charter should email [email protected]
Access Creative College, Condense and LocalGlobe have teamed up to offer Bristol students a Metaverse Development Scholarship to bring more diversity to tech.
Access Creative College, the UK's leading games, music and media college, metaverse specialists Condense and venture capital fund LocalGlobe are offering up to eight fully funded scholarships to start in September.
To coincide with the launch, leading Bristol artists Lebo, Dread MC and Badliana were invited into Condense's cutting edge metaverse environment on 26 July to perform.
Using a state-of-the-art 360-degree camera rig constructed by Condense, the three artists each stepped into a virtual landscape to record their own performance. It is the creation of these virtual landscapes and their live-streaming capabilities which Access Creative College are now offering the chance for students to study.
Jackson Armstrong, executive head of marketing at Access Creative College, commented: "What better way to celebrate the launch of this new scholarship programme than by having some of Bristol's brightest upcoming artists perform in the metaverse, which our scholars will be working to produce."
Kicking off in September, successful scholars will learn how to stream live events into one of the world's most exciting new technologies, the metaverse. The successful applicants will take part in a 12-week programme, full of rich and intensive study, completely funded through the scholarship.
Jackson Armstrong continued: "When it comes to board positions within leading tech companies in the UK, the statistics are deeply concerning with the lack of gender split and those from ethnic minority backgrounds.
"We're excited at the prospect of helping to change that through this new scholarship programme and we're currently on the lookout for applicants to apply online."
Fully-funded intensive metaverse course
Scholars will learn digital graphics, 3D modelling, photogrammetry and textures, realtime VFX, plugin integration, in game/venue scaling and enhancing virtual worlds, enriching virtual worlds, interactions, spatial sound, player movement and networking basics.
James Tong, head of people at Condense, added: "You should apply for this scholarship because while everyone has a story to tell, not everyone has the same opportunities in life.
"This is an incredible opportunity to carve out a career in engineering and metaverse content creation. It's a 12 week fully-funded intensive course, so you will meet other people with similar interests and ambitions, and it could even lead to a permanent job with Condense."
Applications for the course are now open, and can be made through Access Creative College here.
Successful applicants will receive:
College accreditation and certificate
Hands-on experience with the latest technologies and techniques
Real world industry skills to support the next step in your career
High level of exposure to local employers
A potential career with Condense at the end of the 12 weeks
£1,500 bursary (dependent on learner performance)
Over the past few years, we've seen a departure from overtly sexist and misogynistic advertising.
The #MeToo movement and the rise of "fempowerment" are just some factors that have caused advertisers to look at their campaigns and adapt their content in order to show women in a more powerful and positive light.
That doesn't mean sexist advertising has ceased to exist.
Today, far too many brands are using outdated, harmful, and offensive female representations in their advertising. And yes, while we need to acknowledge that misogynistic marketing has improved, forms of sexism still exist in the marketing world.
And there's a new term for this form of subtle sexist advertising – sneaky sexism.
What Is Sneaky Sexism?
Jane Cunningham and Philippa Roberts – former members of the leadership teams at Ogilvy and DDB, London, and now founders of PrettyLittleHead (PLH) – coined the term.
In their book 'Brandsplaining: Why Marketing is (Still) Sexist and How to Fix It', they explain that sneaky sexism is a form of "brandsplaining".
For those unfamiliar with this term, brandsplaining occurs when brands believe they are in the driver's seat when it comes to the relationship between themselves and their customers.
Essentially, it's when brands feel they are in control of their customers' needs and desires.
When it comes to sneaky sexism, Cunningham and Roberts define it as a type of sexism that is subtly added to advertising in a way that avoids offense and backlash from their audience.
Examples of Sneaky Sexism in Advertising
As the name suggests, sneaky sexism is more covert. For example, think back to when diet pills were first introduced.
You may think that these pills have been discontinued or fallen out of fashion due to the fact it pushed unhealthy ideals that women need to lose weight to be considered attractive. But these pills are still out there, but they're now advertised as "wellness" products.
Another key example to keep an eye on is the way brands phrase the "fix it" narrative.
Back in the early 1930s, brands would suggest women need to change their physical appearance to adhere to society's version of beauty. Today that narrative has changed, and women are now being instructed to change their characteristics.
Women are now told to be bold, confident, and love who they are. And while this may be a step in the right direction, this narrative still has negative connotations for women.
We are still telling women what they need to be like in order to be accepted by society. And if women don't fit certain then they are still viewed as failures.
Has Sexist Advertising Evolved?
Until the 21st century, most advertising targeting women was created through what is known as the male gaze. In essence, women were mainly sexualised and/or portrayed as inferior to men.
In many cases, female advertising was created using the perfectionist narrative. At its core, this narrative would suggest that women are not good enough and need to improve their looks or how they run their household and look after their families.
The perfectionist narrative stuck around throughout the 20th century, but the idea of the perfect woman changed with the times and turned into the "good girl" phenomenon.
But what attributes does the "good girl" possess? Well, she would need to be subservient, skinny, pretty, and white, and women who featured in ads back in the 20th century would predominantly fit this mould.
You may think that we have moved past forcing this ideal onto women… but we haven't. Today, 25% of ads that feature women are still sexualized, and 85% of these women adhere to the good girl phenomenon.
Why Are We Talking About This Now?
Unfortunately, sexism is still a pressing problem all over the world, including in marketing. Just look at the myriad examples of gender bias in AI…
Sexist advertising, in particular, can be incredibly impressionable and promotes harmful and misogynistic ideals for global audiences.
To prove the damaging impact of sexist advertising, Cunningham and Roberts spent 15 years researching and surveying 14,000 women in 14 countries across four continents to understand their thoughts on women in advertising.
And the results were telling…
Only 3% of ads displayed women as funny or doing something intellectual. Most women represented in ads were portrayed as "vacant and dumb".
63% of those surveyed believe modern advertising is in part to blame for the rise in body dysmorphia and eating disorders as they promote unrealistic and unattainable beauty standards.
Only 37% of those who appear in ads are women, and the ads that do feature women cast them in stereotypical roles.
Women speak around 7 times less than men in advertising, and 78% of ads feature men as the breadwinners.
In Conclusion
While we may have left the worst of overtly sexist marketing in the past, sexism still exists, and we need to do something about it.
As consumers become far more aware of overtly unethical and discriminatory practices in advertising and marketing, poor behaviour is quickly retreating to the verges, where it often continues to thrive. Just look at the persistence of "Rainbow-Washing" around Pride Month.
We need to create ads that women want, and ads that truly represent who they are on the inside. Now is the time to ditch this outdated depiction of women once and for all.