Originally posted to www.carnsight.com by Leigh-Ann Hewer
Being a PR can be really fun and exciting. That coverage buzz you get when you land a piece you worked really hard on is incredibly rewarding.
But it's also not an easy job.
It's an incredibly fast-paced industry and requires PRs to wear a lot of different hats. You have to be resilient and tenacious. You have to be great at writing and creative problem-solving. You have to be able to work with all kinds of different people.
The most challenging part by far, however, at least as far as I'm concerned, is learning how to balance the mental load.
As a PR, you have a lot of plates to keep spinning. You're working across a number of different accounts and likely have a number of projects on the go for each of them. If, like Carnsight, you work across different sectors, these accounts could be vastly different, requiring different processes and approaches on any given project. Any given day, even! Your tone of communication is likely to shift from one email to the next. You'll likely have to shift mental gears multiple times throughout the day.
Luckily, when you've had a bit of practice at it, it gets easier and easier until most of the time you don't have to think much about it at all.
But that can still take a mental toll. It's a lot of mental work. It's a lot to balance in your mind.
I definitely found that this balancing act was the trickiest thing to master when I joined the industry. In fact, I still struggle with it at times. Maybe no one ever does master it completely. But there are definitely things you can do to help yourself, and today I wanted to share some of my top tips for managing that mental load.
Write things down
It's paramount you don't try to keep everything stored in your brain. It's too much to ask of yourself to remember everything. Instead, write everything down. To do lists, notes, even little sketches. Get as much of the information out of your head and on to paper. It's much easier to manage when it's there.
Group tasks and to do lists
If all you have is one massive to do list then you're quickly going to become overwhelmed. Try to group tasks and to dos together in a way that makes most sense to you. Maybe it's by client, maybe it's by type. I usually go with the former but I've also tried batching tasks related to how long they'll take to complete as well eg. 5min tasks, 15min tasks, over an hour tasks.
Sometimes eat the frog, sometimes let yourself build momentum with quick wins – it's all about balance
The advice, eat the frog (or the elephant or whatever) first is great. But I do think there are times when the opposite might actually be helpful.
Eating the frog first is basically doing the hardest task on your to do list first. That way you might have the most energy for it and you'll get the big dreaded thing out of the way before anything else. I love this, an it can be a great way of ensuring your prioritising correctly and using your energy in the most efficient way.
However…
Some days, eating the frog is just too much. It's important to know how to check in with yourself and understand what your brain needs on any given day. Sometimes, on harder days, letting myself start by ticking off some nice and easy quick wins allows me to build a bit of confidence and momentum before getting stuck into the big hard task.
Know yourself well enough to know when you need to eat the frog and when you need to nibble away at a few side dishes first.
Understand when home and work bleed together
In an ideal world, our working lives and personal lives would remain entirely separate and sacred, but unfortunately our complex brains mean that regardless of how great our work-life balance is, one will usually impact the other.
This is especially the case when it comes to managing the mental load. If you're stressed and overwhelmed in your personal life, it's going to be very hard not to carry that into work. The same goes the other way around too.
In order to be your best self at work and at home, you have to get good at taking care of your own needs as well as rushing around after others. It's so much easier said than done, right? Many of you reading this might have children, be caring for someone or be working multiple jobs or balancing multiple projects. It's so much easier to give the advice than to take it. But it is worth bearing in mind.
Being your best self will look different every day, just like your needs both professionally and personally will change every day. Be as kind to yourself as possible and remember that it's nothing to be ashamed of if your work or personal life seems to be bleeding into the other. Just take note, take a deep breath, and ask yourself 'what's one small thing I can do today to feel more at peace in my work/home life?' (or in control, or happy, or fulfilled  – whichever feels most resonant to you).
Delegate and ask for help
Despite what society likes to tell women all the time (😜) no one can be perfect and no one can have it all and get it right 100% of the time. You must and I mean must know when to ask for help or delegate some of your overwhelming mental load to someone else.
This shows strength, maturity, self understanding, effective communication. The list goes on and on. Asking for support is vital. Find someone you feel secure asking, and if you can't find someone, well frankly reconsider who you keep close by – both professionally and personally. Everyone deserves a helping hand when they juggling a lot.
So there you have it, my quick tips for managing mental load at work. They're not anything ground breaking, I confess, but I hope if nothing else this serves as a reminder that if you're a PR struggling a bit with mental load at work, you're not alone.
Celebrate those coverage buzz wins, take breaks when you need and remember, you got this!
For more tips on mental health and productivity at work, check out my blog on managing stress in PR.
Bristol Academy of Voice Acting (BRAVA) today announces their support of the world premiere of Shakespeare's Women; a new play by playwright Lorien Haynes – performed at the Sam Wanamaker Playhouse, Shakespeare's Globe, London, on 7 January, 2024. BRAVA has pledged its financial support.
The piece is set in modern-day London and shines a light on ten of Shakespeare's female characters who meet in a domestic abuse recovery group. Centuries have passed, yet nothing has changed and while they eat biscuits and talk they reveal their darkest secrets. Funny, hard-hitting and prescient, the play allows the women to survive their men and their narratives and finds out what they would have to say today.
All profits from the event will be donated by the producers to Refuge, the largest domestic abuse organisation in the UK.
Melissa Thom, Founder and CEO of BRAVA, said:
"Lorien is passionate about amplifying women's voices – particularly those not easily heard or silenced. At BRAVA, we align with this and are keen to support women's stories that go untold. It's a privilege to help bring this performance to life. We are proud to support Refuge in this way and to add our voice to raising awareness and funds for this hugely important cause."
Lorien Haynes, playwright and author of Shakespeare's Women, said:
"It's fantastic to team up with BRAVA, who are kindly helping us bring this new piece to its first audience. The themes that come up in the play are shocking, yet common. One in four women experience domestic abuse and one in three sexual violence in their lifetime. Our aim is to raise awareness and funds for Refuge, who work tirelessly 24/7 to support those who experience domestic abuse."
To support Refuge and purchase tickets to this performance of Shakespeare's Women on 7 January 2024, click here: https://www.shakespearesglobe.com/whats-on/shakespeares-women/
BRAVA offers personalised training in the art and business of voiceover and is aimed at professionals who are interested in adding voice acting to their skillset.
ENDS
Notes to editors:
Refuge
All profits will be donated to Refuge. Refuge is the largest specialist domestic abuse organisation in the UK. On any given day Refuge services support thousands of survivors, helping them overcome the physical, emotional, financial and logistical impacts of abuse and rebuild their lives — free from fear.
Refuge helpline no:  0808 2000 247
Tickets: https://www.shakespearesglobe.com/whats-on/shakespeares-women/
About BRAVA
Founded by experienced voice actor and communications consultant, Melissa Thom, BRAVA brings together acting and voice experts from the UK & US to deliver best in class training and advice about the industry.
Training is offered as personalised sessions and cover a wide range of topics, including Getting Started in VO, Corporate, Commercial and Narration, Characters, Audiobooks, Performance Techniques, Home Studio, Marketing, Vocal Health, Acting, VO & Shakespeare, Voice, Presence, Impact, Presentation Skills and more.
Find out more at www.brava.uk.com
Join Weston College in the heart of Bristol to learn more about supporting the next generation of creatives! Are you looking at offering work placements? Internships?
Looking to grow your team?
Give back to a new generation through guest lecture and project work?
Want to find out more about Weston College? We may surprise you….
The Faculty of Creative Arts Employer Forum is designed to work alongside industry to deliver industry aligned curriculum, work experiences, progression and employment routes and pipeline talent. Courses covered at Weston College and University Centre Weston include:
Game & Animation
Creative and Digital Media
Broadcast, Journalism and Podcasts
Performing Arts and Theatre
Art and Design – including fashion, textiles and business
Photography
https://www.weston.ac.uk/what-can-i-study/creative-arts-and-design-courses-16-18-year-olds
Tuesday 7th November
6-8pm
Bristol Training Institute, 12 Colston Avenue, BS1 4ST
RSVP [email protected]
Bristol West MP and shadow culture secretary Thangam Debbonaire has unveiled how a future Labour government would support the creative industries.

"Culture should be for everyone, no matter who you are or where you live", Debbonaire said during a speech at the Labour Party Conference in Liverpool.
The former professional cellist, who was appointed as Keir Starmer's shadow culture, media and sport secretary in his Shadow Cabinet reshuffle in September, added:
"Creative businesses can revitalise our communities and our high streets. They boost brand Britain, selling our talent and originality around the world."
To support the sector and "fire up the engines of the creative economy", Debbonaire, who has been MP for Bristol West since 2015, announced that if it wins power in the next election, Labour would introduce 'Spaces to Create', "the first national cultural infrastructure plan", to boost creative spaces across the UK.
It will include a map that can be used by local leaders, businesses and philanthropists to "spot cultural spaces at risks and opportunities for investment and development", while Spaces to Create teams will provide "guidance, training, learning and networking to get creative businesses on a strong footing".
Skills and diversity in the creative industries
Debbonaire also discussed skills in the creative industries. She said:
"Successful creative industries are crucial to growing our economy. They will provide the great jobs of the future. But to do them, our children will need the necessary skills.

"So I'm working with [shadow education secretary] Bridget Phillipson on Labour's creative curriculum to bring the best music, art, sport and drama to every child because every child's talent matters."
On diversity, the Bristol politician said "we're all better off when we draw on everyone's talents", so champions of the creative industries need to tackle "tough questions" such as:
"How do we all share in the joy and the jobs? Where are the women? Where are the people of colour? Where are the people from working-class communities?"
An example of an initiative tackling skills and diversity in the creative sector is the Bristol Creative Industries Internship Programme which is providing paid placements at creative businesses for young people from under-represented groups.
Labour's announcement follows the publication earlier this year of the government's creative sector vision with plans to add £50bn and one million more jobs by 2030.
Share your views on support for the creative industries
What do you think about Labour's ideas? What are your views on the current government's support for the creative industries? What do you think the next government, whatever party is in power, should do to support creative businesses?
Email Dan Martin with your opinions, ideas and suggestions. 
Related content
Article by Caz Conneller at  https://www.cyclechic.co.uk
The fourth Role Model in our She's Electric campaign is Rebecca Crowder!
Tell us a bit about yourself? 
My name is Rebecca and I live in a rural village just a 15 minutes drive away from the beautiful city of Bath in the South West of England. I have two young energetic children,  both boys, the oldest is at school and the youngest is currently at pre-school.
I love spending time outdoors, and do a lot of hill walking, (we live in a very hilly area so any walk will consist of hills!) cycling and gardening. I am a product designer by profession, and own my own product design business called Blue Dots Design which  specialises in designing products for the cycling and outdoor adventure sports industries. I really love my job, and I consider myself very fortunate to collaborate with well known global brands on their projects.
What e-bike do you ride? 
I ride a Tabasco red Tern GSD, which is an electric cargo bike. I have a front rack which I use for bags/coats/drinks/snacks etc etc, two rear seats and safety rails as my particular set up. I did use a Thule Yepp seat for a year before my youngest son outgrew it.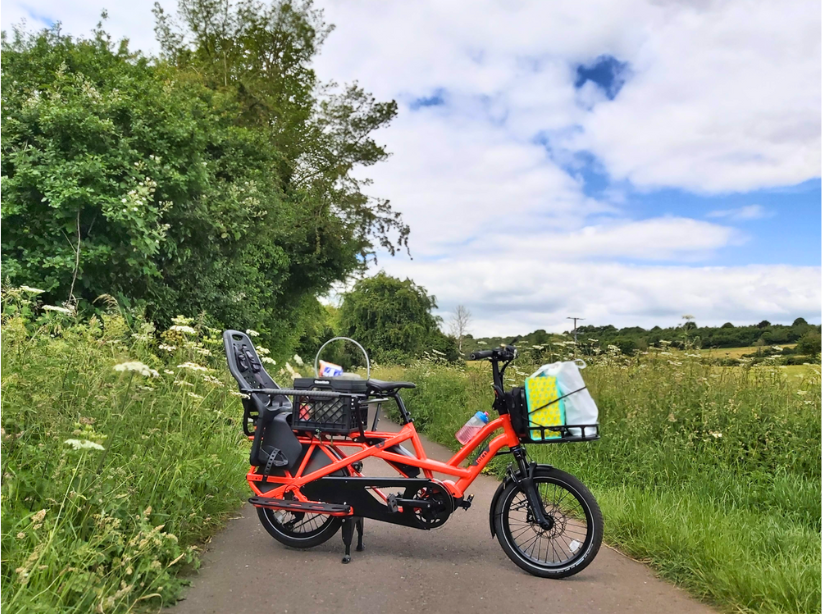 How did you get started on an e-bike and what was the experience like? 
I actually started off being given a Tern GSD by a client to try for 6 months. I was working on an e-bike accessories project with them, and they wanted me to be riding one daily and testing out the bike along with the product prototypes I designed for them.
To start with I wasn't bought into it at all and couldn't see myself riding it. I hadn't seen many of them around and felt a bit self conscious. After a day or two however I was completely hooked. I loved it! It was so smooth to ride, easy to use, really easy to climb on and off in whatever clothes I chose to wore that day (jeans, trousers, leggings and a pinafore etc) the children loved it and I just found it so damn useful! I really enjoyed using it as a car replacement for short local journeys to school, charity shop drop-offs and soon I stared to go further afield to the supermarket or riding out just for fun on my lunch break.
The low centre of gravity makes it super stable, so it feels completely safe for the children to climb on and off – under supervision of course. It also means when it is fully loaded with luggage it doesn't feel awkward to ride.
I was genuinely gutted when the client asked for it back, and I felt quite low for a good week or so. I left it a couple of months before I ordered my own, and that was long enough to be without one.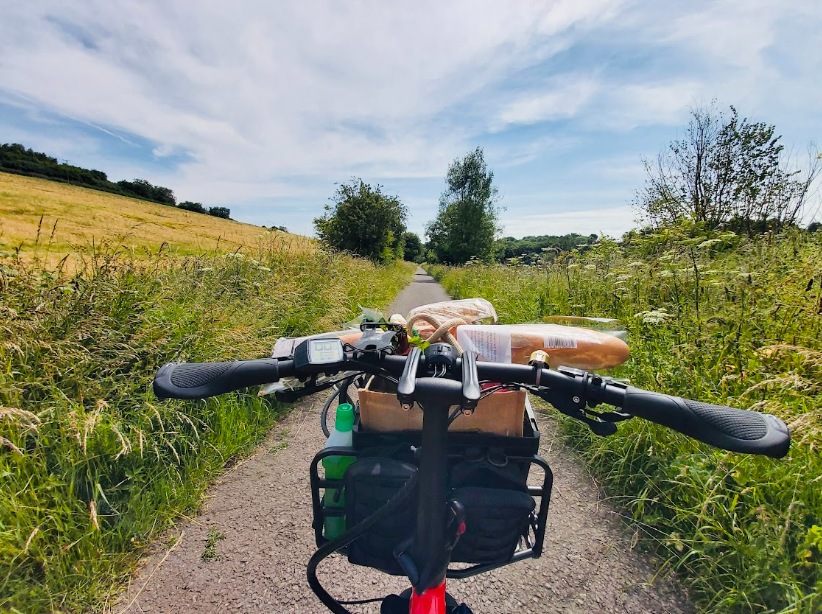 How does your e-bike benefit your life?
In so many ways. I have noticed my fitness has improved since using the bike for journeys rather than the car. Knowing it's there, I make an effort to use it for journeys that would have otherwise have been driven.
I love being out in the fresh air on it too, and living in a rural area I get to see so much more of the countryside and nature that you just don't notice from being in a car. I use it to cycle into Bath or Frome too for client meetings, or days out shopping. It takes longer to cycle into Bath than it does to drive, but using the cycling infrastructure round us makes it so safe. It's also free to lock up a bike in the city centre so avoids paying parking charges or bus fares. It is easier and quicker to get off and lock up a bike in a city centre, than to find a parking space and walk to the shops. With the bike I can stop right outside. The same applies to school runs too. It takes me less time to cycle the boys to school, get off and drop them both off and cycle home again than it does to drive. Because by the time I have parked  the car, wrestled the boys out or their carseats and walked to the school from the car I could be half way home again using the bike.
There is a whole network of Sustrans routes near us, so if I have any meetings in Bath or Frome I cycle to those using the Sustrans network of disused railway lines. It helps my credentials too if I arrive to a work meeting for a cycling project by bike!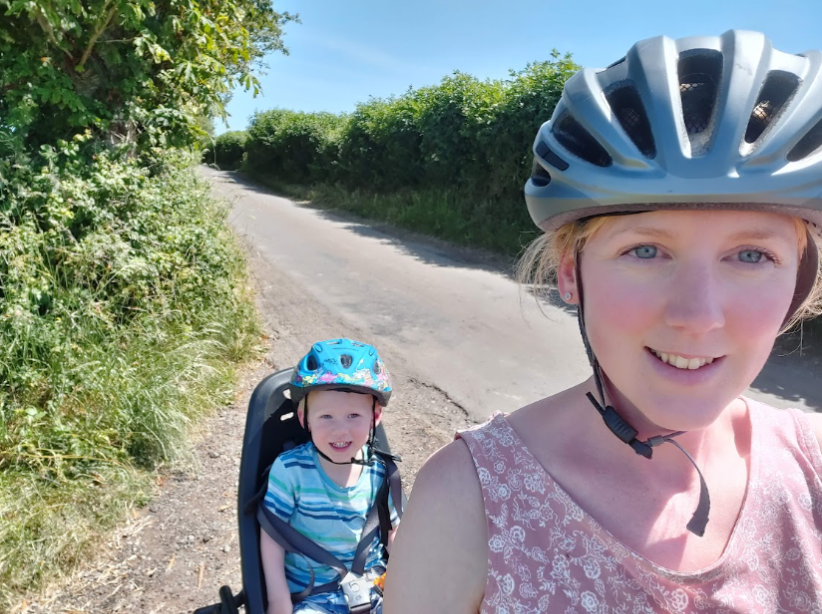 What's a typical trip for you? 
The most frequent journeys for us are the school drop off and pick up. I unlock my bike and take it out of the bike shed. After the boys and their bags are loaded on we head out. The school is 3 miles away down country lanes and a very steep hill! The battery assist is an absolute game changer for hills. No way would I be able to cycle 38kgs of children up a steep hill without any kind of assistance. I can cycle right up to the school gate and drop them off quickly and safely before cycling home. During the day I tend to leave the boys bike helmets fastened to the rear safety rails. It means there is no way I will forget them when I go to collect the boys at school pick up time.
What's one thing you would say to inspire more women to ride an electric bike? 
I would say from my own experience; don't knock it until you try it! I had my reservations before I tried it, but now I wouldn't be without my electric cargo bike for any price. I love it.  Also, don't be put off by helmet hair… there are plenty of ways to get around this issue!!
Make sure to check out Rebecca's wonderful product design business via her website or Instagram!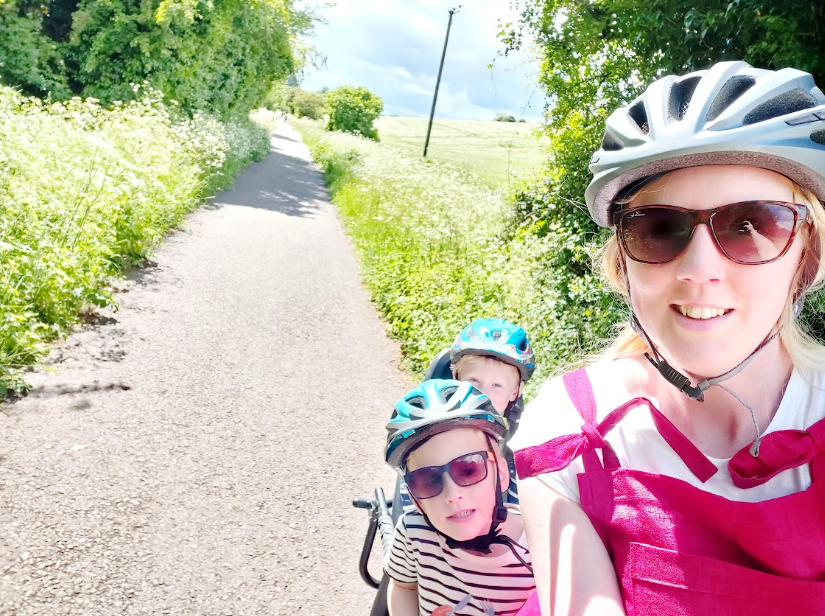 The Tern GSD is now available to purchase through our website. Click here to find out more 🙂
World Mental Health Day is an initiative that raises awareness of mental health across the globe. This annual event campaigns against stigma and discrimination relating to mental health issues. What's more, World Mental Health Day advocates action, guiding people towards the support and assistance they may need. At Varn we believe it's an important date in the calendar.
As a company we recognise mental health is a serious consideration within our workplace and that taking as many steps as we can to help positively manage mental health is beneficial to everybody in our team. As the mental health charity Mind puts it on its website, "If you look after your employees' mental wellbeing, then levels of engagement will rise and so will staff morale and loyalty, innovation, productivity and profits." This is a statement that Varn fully subscribes to.
To mark 2023's World Mental Day, which this year falls on October 10, we have invited Katie from the excellent Noue Yoga to the Varn offices to run a desk yoga session. It's an activity that members of the team are looking forward to with varying degrees of excitement and trepidation. Yoga is acknowledged as being good for relaxation, and research studies also reveal that it is effective both as a stress-buster and a mood-enhancer. Katie has promised to explore a number of mindful movements and breath-work techniques with us that will be sure to give our mental wellbeing a welcome boost. This year Varn has also offered an annual subscription to the mediation app Headspace to all members of the team looking for a mindfulness uplift.
Mental health is clearly an all-year round concern and at Varn we are committed to creating an environment where mental health issues can be openly discussed. As our Managing Director Tom Vaughton explains:
"A full-time employee can spend up to 70% of the day that they are awake either at work, travelling to/from work or thinking about work. It is, therefore, imperative that all managers look at time and money spent on wellbeing and mental health as not only an investment but also the right thing to do. Your work impacts your life for better or for worse. In the past, employees have been lazy and have not wanted to take responsibility for their team's physical and mental health. This shouldn't be the case in 2023!"
To this end, the company possesses a mental health policy that outlines the company's provisions to prevent and address mental health issues within the Varn team. To back this up, if necessary, we will also provide a Reasonable Adjustment Passport for any of our team who are suffering from poor mental health.
On top of those safeguards, we have two members of the Varn team who have completed the Mental Health First Aider qualification, courtesy of the St Johns Ambulance, and are available to colleagues for raising issues and signposting to support. The company also provides an Employee Assistance Program (EAP) that includes confidential health assessments, counselling and a 24-hour hotline for personal crises.
To sum up, we take mental health in the workplace seriously at Varn, and are very happy to find time to celebrate an important initiative as World Mental Health Day. As a company we wish good mental health and wellbeing to all.
How Do Stories Work? Part 5 On myths and Madness?
"I didn't enjoy butchering this magnificent creature, but you apparently need a wake-up call that even you should be able to understand."

Grant Hadwin
Dear Storyteller,
Domicide is the act of destroying one's own home.  It can also be a tendency, carried out through the repetition of thousands of hidden actions, mostly out of sight and out of mind.
I've been wanting to write a post on this subject for a while, but have been holding back, waiting for a triggering moment.  And last Wednesday that moment arrived when the Sycamore Gap came crashing into the cosy living room of our collective imagination.
The loss of a beautiful lone tree fuelled a predictable outcry.  The media fuelled the outrage, baying for the punishment of some 'degenerate youth', before pivoting to turn with less outrage on a 'crazy old man', perhaps a 'former lumberjack'.
What is it about one tree that causes us such outspoken agonies while the destruction of the wider world continues unabated with passive acceptance?  Could this have something to do with the power of the totem, working as symbolic pressure valve to channel and dissipate our collective sense of grief and loss at the destruction of our home, releasing our outrage so we can return to business as usual?
When I heard the news, my first thought was not for the tree but for the person who had chopped it down.  What could have been their motivation?  For this must have been a carefully planned act, and so can't be easily dismissed as some moment of 'madness'.  No, to me, this felt like a howl of pain, a wake-up call that I recognised immediately.
In 2007 I started a 7-year filmed investigation into the motivations of another 'environmental terrorist', who orchestrated another attack on an ancient tree in an apparently mindless 'crime against nature'.  But it was not that simple.
Desperate times call for desperate actions.
On the islands of Haida Gwaii, a remote archipelago off Canada's Pacific coast, stood a giant and genetically unique Sitka Spruce, known to the indigenous Haida people as 'K'iid K'iyass'.  Owing to the unusual yellow pigmentation of its needles, outsiders called it 'The Golden Spruce'.
There it stood on the banks of the Yakoun River for 250 years, protected from the enveloping tide of industrial logging in its own protected reserve, complete with tourist trail and signage.  Until one night in January 1997, when a lone former logger and timber engineer called Grant Hadwin arrived under the cover of darkness to cut it down.
For the Haida, 'The Golden Spruce' was much more than an object of scientific curiosity, a beautiful 'freak' of nature. For them this was a mythical being, a boy transformed into a tree, a sacred elder that stood as a wonderous manifestation of the connectedness of all things- a kin-centric belief system.
And Grant Hadwin, himself an instrument of the system of industrial extraction, had come to destroy it in a self-proclaimed act of protest.  What kind of madness was this?
This is an extract from the letter that Grant wrote to the authorities justifying his actions:
"Dear Sir or Madam,

I don't care much for 'freaks' whether they teach in University classrooms, sit in corporate board rooms, perform in the circus or are put on display as examples of old growth forest.

I mean this action to be an expression of my rage and hatred towards university trained professionals and their supporters whose ideas, ethics, denials, part truths and attitudes appear to be responsible for most of the abominations done towards life on this planet made in the name of 'progress'.

I didn't enjoy butchering this magnificent creature, but you apparently need a wake-up call that even you should be able to understand.

It was challenging to leave this majestic plant in a temporary vertical position.

The next storm will cause this one thousand year old plant to fall into or near The Yakoun River.  Please find enclosed some of the last known photographs of 'The Golden Spruce'. 

Yours truly,

Grant Hadwin."
And this was my film interpretation of the aftermath of what had happened.
What insight might this story give us into the mind of the individual who took down our cherished Sycamore?
And what does this particular choice of totem, the lone tree left standing in a sea of devastation, tell us about the timeless forces of corruption at work on humanity, and about our separation from the land, our natural home?
Two Solitary Trees and The Legacy of Extraction
The Golden Spruce came with its own ancient mythology, with a story that began with the murderous arrival of the Europeans in 1774.  The British came bearing 'gifts' of blankets laced with smallpox, hoping to wipe the indigenous people from the face of their land.  70% of the Haida population died in the enveloping plague, with lone survivors retreating into the sanctuary of the forest.  Among them were a village elder and his grandson.  As they fled the village, the boy ignored his grandfather's advice not to look back, and found himself rooted to the ground, a boy transforming into a tree.
And there K'iid K'iyass stood for 250 years, one tree preserved by the logging company as a living cultural artefact, while the rest of the ancient forest was cut down and hauled to the mill, first as masts for ships of war, and then to build the frames of aircraft that brought death from the skies.
And the Sycamore Gap bears the same legacy.  A lone tree, left in a sea of devastation, the land wiped clean by the civilising forces of Rome as far as the wall of Hadrian, built to keep out the savages who still lived from the land and who resisted agriculture, taxation and wage slavery.  The wall was there to keep the money economy of Rome safe and sound until the empire burned under Nero, incinerated by the flames of its own self-serving corruption and arrogance.
How do stories work? A newsletter for storytellers, changemakers and dreamers:
SUBSCRIBE HERE
Got a story to tell?  Or a purpose to champion? Need some friendly advice?
PLEASE GET IN TOUCH
#Storytelling #Filmmaking #Authenticity #Purpose #Meaning #FilmsToBelieveIn #DocumentaryFilmmaking #FilmProductionBristol #BristolFilmmakers #DocumentaryFilmmakerBristol
Proctor + Stevenson, one of the South West's largest and longest-established marketing and communication agencies, has undergone a management buyout (MBO).
The award-winning agency, which specialises in business-to-business marketing, has a workforce of 60 people and revenue of £6 million. It was established by Roger Proctor MBE in 1979 and after 44 years at the helm, Roger is retiring.
The company will now be owned and managed by a leadership team of longstanding directors, comprising Ailsa Billington, Managing Director, Dan Hardaker, Director of Digital Design, Steve King, Director of Technology, Phil Robinson, Creative Director, and Nikki Hunt, Finance Director.
The transition to management ownership underlines a commitment to continuity and progression from within, with those on the board having contributed significantly to the business' success to date, with almost 90 years' experience at Proctor + Stevenson between them.
The company, whose customers include Panasonic, Rathbones, Daikin, Pure Cremation and the UK Hydrographic Office, has seen substantial growth in recent years. In the past financial year alone, it grew by over 22%, almost 15% above the industry standard.
The agency's global footprint has also expanded significantly, particularly in North America, Asia and the Middle East, where it has achieved notable success over three decades. Today, operations in the Gulf Region contribute 25% of overall revenue
Ailsa Billington, Managing Director, said: "The new board members have all risen through the ranks as employees, which is testament to our culture of reward and recognition. We believe in providing opportunities for team members across the lifetime of their careers
"One of our key goals is to continue Roger's legacy of innovation, with a number of new service launches in the coming year."
One such service will offer SMEs the affordability and flexibility of design-on-demand services, backed by the expertise of a full-service agency.
To support the work of marketers across the B2B world, Proctors' newly developed MarTech solution combines the latest technologies with cutting-edge creative, and enables businesses to gather insights into consumer behaviour, optimise targeting and build data-driven marketing strategies.
The new team will also continue many of the CSR commitments Roger spearheaded.
The company is awaiting final certification for B Corp status, with projects such as making education accessible to women in the Middle East a key part of its social governance strategy, alongside a commitment to the Southwest Net Zero strategy.
Proctor + Stevenson will continue to allocate a percentage of its turnover to pro bono support for local charities including charities such as Caring in Bristol, Housing Matters, and Bristol Business Beats Cancer.
It will also continue to deliver the South West Design + Digital Student Awards, an initiative Roger set up as part of an ongoing campaign to tackle the way institutions approach design education, opening doors for the next generation of design talent.
Funding for the transaction was provided by HSBC and legal advice was given by Michael Clarke and Richard Hopkins at Roxborough Milkins.
The idea of flexible working has been around for decades. Christel Kammerer, a German management consultant, proposed the idea of 'flexiwork' back in 1965 as she identified balancing childcare with work responsibilities as the reason for a lack of women in the workforce.
This concept didn't seem to gain real or widespread traction until the Covid pandemic. I think we can all agree that this period introduced a monumental shift, both in the way we live and the way we work. Social distancing, face masks, and hand sanitiser all became common practice in a matter of months. But so did remote working and the introduction of more flexible working patterns.
Perpetual Guardian, a privately held company in New Zealand, were the first of their kind to successfully trial a 4-day work week in 2018, before Covid. So, this working example, paired with the introduction of widespread flexible working during the pandemic both had a huge role to play in the shift to 4-day weeks becoming more common.
We are really happy to announce that at Proctors, we are trialling the 4-day workweek for 3 months, having commenced on the 3rd of July. We understand the importance of listening to our team and supporting them wherever we can, and this represents an exciting milestone in our ongoing journey.
Corporate Social Responsibility (CSR) is incredibly important to us, and we understand that even though we are on our journey to be the best that we can be for our people, our planet, and our community, we still have more steps to take to get there. Implementing the 4-day workweek is one of the crucial steps we are taking towards fulfilling our commitment to these values.
CSR
If you've visited our CSR page, you'll know that our mission statement is all about putting actions behind our words. We don't just talk the talk; we always try to walk the walk. And as an agency, we're driven by purpose, whether that means doing something as small as recycling our rubbish or as grand as hosting an annual student awards ceremony. If it can be done, we'll strive to do it. This is why we're implementing a 4-day workweek, because we want to further our positive changes and improve the business structure for our team.
So, what are we doing already, you may ask? Well, here's a sample…
The office building itself was salvaged by us, reclaimed from an old printworks. We also added 90 solar panels to the roof, which to date have generated 159,758 kWh of energy.
We're also the only building in the UK coated in CristalACTiV, a coating that reduces atmospheric pollution in the surrounding area.
We have 6 electric car charging points, automatic energy-saving light bulbs, increased insulation, a living wall, compost and recycling, a cycle to work scheme, and that's just some of the environmental initiatives we undertake.
We also have a number of community-focused CSR initiatives, from the South West Design + Digital Student Awards to working with charities to donate our resources and help them raise awareness and money.
Which brings us back to our people-focused CSR: from providing an inclusive workspace and hosting the PrOscars, to offering mental health first aid to our employees and internships for creatives taking their first steps into the creative industry.
These are just a few examples, but now we are proud to add the 4-day workweek to the list of ways we are trying to improve our CSR journey.
Benefits
But we haven't just decided to implement this change for fun. We extensively researched the benefits and implications of this initiative to ensure this was going to be a success.
So, without further ado, here are some of the benefits of a 4-day workweek:
Improved work-life balance
You know that hobby you're always putting off because you just don't have the time? Or that volunteering scheme you were always interested in joining? Or even that extra time you've been meaning to carve out to spend with your loved ones?
With an extra day off work, this gives our employees the chance to make the most of their time, however they may wish to spend it.
Increased productivity
More than 95% of the companies in the 4-day workweek trial saw no decline, or even noticed an improvement in productivity, and nearly 15% said that this had improved "significantly". This is due to the fact that happier, and more content employees are more focused on their jobs than those who are dissatisfied or unfulfilled.
With unhappy employees often being more distracted and, in some cases, distracting others, it makes sense that introducing a 4-day week would cut down on this and boost focus. In addition, employees are likely to have more energy with an additional day away from work, which adds to the improved productivity.
Reduced work stress
Going hand in hand with the above point, the overall mental health of our team members is incredibly important to us. Implementing a 4-day workweek may stand to improve this, with a reduced stress level regarding work due to the additional time off per week. We believe that being able to approach work with a clearer and more refreshed perspective is highly likely to show benefits in this area.
Lower emissions
Around 45% of workers in England and Wales drive to work. Cutting out even one day of commuting for people by introducing a 4-day workweek will build up to have a huge impact on commute-related carbon emissions. With fewer cars on the road, congestion will decrease, and there'll be a reduced environmental impact. In addition, even though our office is remaining open 5 days a week, as fewer people will be in on certain days, the office-based emissions will also decrease.
Interviews
But don't just take our word for it. Let's hear some Proctorians' thoughts on the 4-day workweek.
Chris Harris, our People Partner
Why was the decision made to go ahead with the 4-day week in the first place?
The idea came from a discussion following a review of the feedback we received from our employee engagement survey. We were looking at what we could do that would have the biggest impact on our people.
At the time it was mentioned, I thought we would just do some research and then move on to the next idea. Following the research and looking at different ways we could make this work, the idea started to grow, and the Directors made the decision that a trial would be the next best step.
The key factors that we considered related to the impact we saw in other companies that have taken this approach and how it improved people's wellbeing and productivity.
What are your thoughts on the new initiative? 
I am excited to see what impact it has on how we approach our work. My thoughts are currently focused on making sure we allow people to think through any obstacles they may come across during this trial. Change is tough, and being available to help our people and teams navigate these obstacles will build our capabilities as a group and as individuals.
What do you hope to see from doing this?
I hope to see a group that realises its potential and starts to challenge our previous ways of thinking. Taking us forward and being contributors to how we operate as a group and business.
What do you plan to do on your extra day off work?
I am really looking forward to getting those boring chores done that mean I can have a full weekend with the family and not have to worry about it!
Ailsa Billington, Managing Director
Could you tell us more about the decision behind implementing the 4-day work week?
After conducting one of our regular company engagement surveys, it was clear to see that a good work-life balance was one of the key things members of the P+S team were looking for.
One of our core values is taking care of each other, so prioritising the well-being of our employees and making sure they are heard and supported is really important to us. The responses from the survey were the original catalyst into looking into and ultimately implementing the 4-day work week trial.
We also carried out a lot of research into how this approach has worked for other businesses, and the positive outcomes that resulted. We also gave people the option on a few different working patters to vote on, and the 4-day week was definitely the most popular outcome!
What would you like to see from this change?
We have an incredibly dedicated, talented, and hard-working team, and I believe that by embracing this change and continuing to nurture a positive work culture, it will provide rejuvenation and promote creativity and innovation across the business. I'm already hearing plans that people are making for their extra day off and I can't wait to see what everyone gets up to!
Emily Hawkins, Junior Digital Designer
What are your thoughts regarding the 4 day week?
I'm so excited that we are trialling a 4-day working week! I think this new approach is very refreshing and progressive and shows how the company is adapting to prioritise a better work-life balance for employees. I think that having an extra day off each week will allow me to properly recharge and come back to work feeling more focused and motivated which will increase my productivity and creativity.
What do you plan to do with your extra day off work?
I'm hoping that I can use this time to focus on myself and pick up a hobby, perhaps a fitness class or something creative. I'm planning on trying out something different each week to see what I enjoy! I'd also love to learn a new skill, like photography or a foreign language, or to volunteer for a local organisation.
Spending more time outdoors is also really important to me and I'd love to use some of the extended weekends to explore more of the UK or even take some spontaneous short breaks abroad! I'm particularly looking forward to being able to travel back home and spend more quality time with my family and my dog.
I can't wait to experience the positive impact that this change will have on everyone's well-being and on the agency as a whole. 
Conclusion
We're incredibly excited about this announcement as it signifies real change and innovation within the company. Listening to our employees is so important to us, and making sure their suggestions are valued is something we take seriously.
As previously mentioned, this 4-day working week trial will initially run for 3 months so we can see how well it is received by the team and how effective it is at improving our work lives. During this period, we will review the changes and effects, and discuss the option of continuing with it in the long-term.
If you would like to find out more about our corporate social responsibility initiatives, check out our CSR page here.
Emmaus Bristol Wins Place on Noble Deeds Digital Marketing Programme
Emmaus Bristol, which helps people out of homelessness and poverty, has been declared this year's winner of a place on the coveted 'Noble Deeds' programme. Supporting charities and not-for-profits in the South West to carry out their essential activities, Emmaus Bristol will receive an £18,000 package of digital marketing support over the course of six months through the programme.
Emmaus Bristol provides a home and support to up to thirty formerly homeless men and women (known as companions), who also receive training and work experience by helping to run the charity's shops and its other social enterprises. Enabling them to build the confidence and skills they need to secure future employment.
Funding its vital work, the charity also has three shops across the city and its surrounds, selling pre-loved furniture, clothes and household items. Including its Stokes Croft base which also houses a large warehouse and yard for sorting goods to sell or recycle.
Started in North America twenty years-ago by its sister company, this is the second year Bristol-based digital performance marketing agency Noble Performs has run its Noble Deeds pro bono initiative. The programme, which commits to putting a percentage of annual turnover to dedicated CSR activities, has increased this year's prize fund by over 30% on its 2022 launch amount.
Entry to become a Noble Deeds Programme recipient opens in May each year with the winning not-for-profit announced ahead of the programme start in September, which runs through to February.
Creating a high level of interest this year once again from the local charity sector, Emmaus Bristol was selected due to the long-term impact it has on the community when it comes to supporting people out of poverty and homelessness.
Lorenzo Campbell, Noble Performs and chair of UK Deeds committee explains; "We love what Emmaus is doing in terms of how it equips people with the skills and experiences they need to build life beyond being a companion. In turn, creating a continuous pathway for those facing homelessness and poverty to get back on their feet and create a way forward for themselves. The way Noble Deeds works itself is not dissimilar, our aim is to help charities maximise the impact of their work through digital channels during the six-month programme, while at the same time giving them the skills they need to continue doing so in the long term.
"There is so much potential here with Emmaus Bristol having several elements to what it does – however, knowing where to focus and what activities will have the maximum impact is not easy. That's where we come in, helping the in-house marketing team to get that clarity and to build an effective digital marketing programme that will give them maximum return on their efforts."  
With numerous worthwhile entrants to this years' programme, given the cost-of-living crisis and the increased numbers of families and individuals facing homelessness and financial hardship, Emmaus became a clear winner due to its work in this area.
Talking about how the programme will help Emmaus in its current objectives, Stacey McDevitt, Regional Communications Manager, said: "We are delighted to be working with the Noble team to look at how we can shape our digital marketing efforts further to boost donations and create new revenue streams.  As well as our shops and upcycling operations, we also have our online sales team, house clearance service and two new eco-pods for tourists, all raising vital funds for the accommodation and support we offer to help people rebuild their lives.
"This all needs to be communicated to the right audiences by a small in-house team and we hope the Noble programme can help us improve the way we do this. Like many charities right now, being able to fund our activities and do everything we need to do can be a challenge. Being able to identify and reach the right people who might be able to support us through digital channels is an essential part of this. We're looking forward to drawing on Noble's expertise here so we can be really targeted and make sure our efforts create the maximum impact. There are so many people who need our help right now in such difficult times financially so the more we can do to support them the better."
To find out more about Emmaus Bristol go to https://emmausbristol.org.uk, to find out more about Noble Performs go to https://nobleperforms.co.uk,