The B Corp Certification is a powerful way to build trust and value for your organisation. Being a B Corp means that you are honestly committed to creating real environmental and societal benefits.
Andy Hawkins from Business on Purpose joined us for a recent event to explain how and why you should become a B Corp. He was joined by Bristol Creative Industries members Ryan Webb from Ryan Webb Consultancy and Nick Dean ADLIB who are at different stages of the B Corp process. Dan Martin summarises the advice.
What is a B Corp?
B Corporations, known as B Corps, are businesses that balance purpose and profit. They sit in the middle of the three Ps: people, profit and purpose. "They all have one single unifying goal; they want to use their business as a force for good," Andy said.
The B Corp certification process is very thorough with businesses assessed for their impact on their workers, customers, suppliers, community, and the environment.
As explained on the B Corp website, a company's entire social and environmental performance is measured. "From supply chain and input materials to charitable giving and employee benefits, B Corp Certification verifies that a business is meeting high standards of social and environmental performance, transparency, and accountability."
There are currently over 4,700 companies around the world that are B Corps. They operate in 155 industries and are based in 78 countries. You can find all B Corps in this directory.
Several BCI members are B Corps include ADLIB and Skylark Media which announced it has been certified this month.
Here are some other Bristol-based B Corp businesses: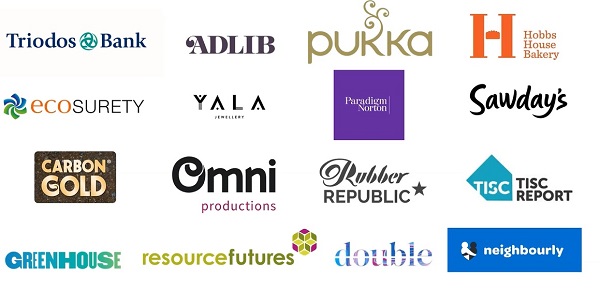 "There is frankly nothing to stop anyone saying on their website that they are absolutely amazing", Andy said, "but when you see 'B Corp' you know the company and its claims have been externally verified.
"Being a B Corp means that you need to be publicly transparent so you have to put out a report every year that says what you have been doing.
"There is also a legal change to your company articles at Companies House. You go from saying 'we are a company and we're in business to solely make a profit' to 'we are in business to make a profit, but we'll also make decisions through the lens of people and planet'. That legal change is hugely important."
What are the benefits of being a B Corp?
Supporting people and the planet is the obvious and major reason, but there are several other business benefits too, including:
People want to work for and buy from a purposeful company.
"Being a B Corp helps you to attract better staff and those who share your vision, values and purpose", Andy said. "It will also help you retain staff. We've heard a number of anecdotes from people who've been approached by non-B Corp businesses offering them a few thousand pounds more pay but they've decided against it because they would rather stay with a B Corp that shares their purpose."
It can help if you're seeking funding or investment. 
"For an investment company or venture capital investor, backing a B Corp means a huge part of their due diligence is already done," Andy said. "It reduces the onboarding, and de-risks the investment."
It can help grow your brand.
A 2021 survey of B Corp businesses in the UK found they had average growth of 25%, compared to just 5% for all businesses.
How do you become a B Corp?
To be certified as a B Corp you are assessed on six areas:
Governnance
Workers
Community
Environment
Customers
Disclosure questionnaire
You are scored points in each of the areas and to be certified as a B Corp you need to score at least 80 points. Andy aims to get his clients to score at least 85 points so there is "a little bit of wiggle room as once you go through the audit process, you might be marked down on a couple of questions".
To assess your own company you can use the B Impact Assessment tool.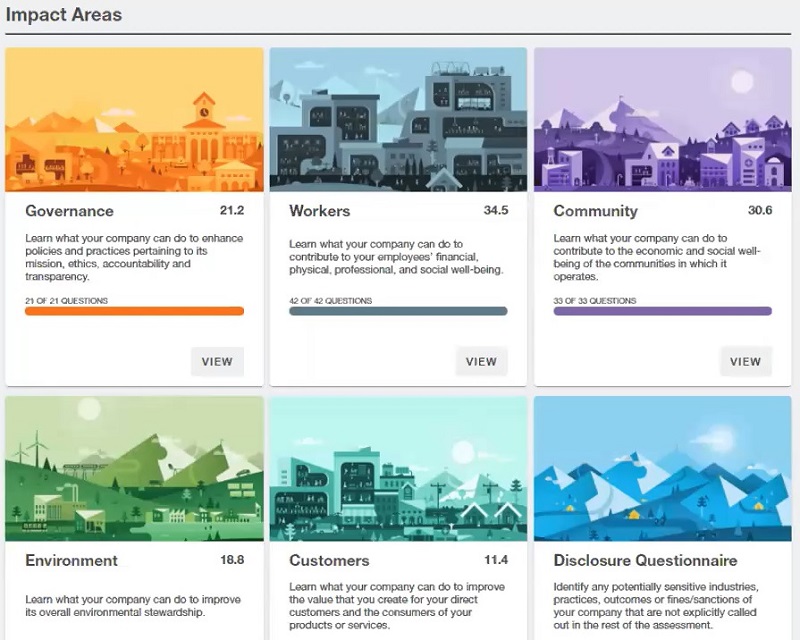 Andy said the B Corp assessment can be "a bit of a forest to navigate" with between 150 and 200 questions to answer, but there is support out there such as that provided by his company, Business on Purpose.
Even if your score is well below 80, the assessment is a useful exercise as it highlights how ethical your business really is and what you can do to improve.
The assessment is free to use but once you submit it, you pay a one off submission fee of £250 (+VAT).
You application will then be audited to check if you meet the requirements and the 80 points minimum score.
Once certified, you pay an annual fee which is calculated based on your company's total revenue. The minimum is £1,000 for businesses turning over up to £149,000.
BCI members share B Corp experiences
Ryan Webb started his conversion optimisation business in July 2021. He is currently a 'Pending B Corp', the status for young start-ups, which shows how new, one-person companies can get involved in the B Corp process.
"There are a whole bunch of policies, processes, measuring energy use etc, that you've got to have in place as a B Corp," Ryan said. "The advantage of having that for any well run organisation is great, but going through it is a great sense check that you've got them in place for the right reasons. Getting started ASAP is the best way to approach it. Just get stuck into it."
"Another key part of the B Corp approach is that it helps to understand what's going on in your supply chain, both from a client and a supplier perspective.
"I've been pleasantly surprised about the positive impact of some of my suppliers, such as accounting software firm Xero. I'm now much more committed to using Xero, more than just because it is a useful accountancy platform but because they are also making an effort to do some good for the world as well.
"Understanding that supply chain is becoming increasingly important from a procurement perspective too. For me as an individual wanting to work with some bigger organisations, the accreditation of B Corp demonstrates that I've gone through that process and my supply chain has been rigorously checked as well."
---
Bristol recruitment company ADLIB became a B Corp in 2019. Managing director Nick Dean shared some of his lessons from going through the certification process:
"We became carbon positive. Many people are very afraid of that and can't get their heads around it. I would say don't worry as there is lots of help out there. There are organisations such as Ecologi or Spherics that will work with you and implement systems to analyse your carbon use and help you offset it effectively.
"Becoming a B Corp was a big component in ADLIB becoming 100% employee owned. If you are considering your future exit model and if you are authentically driven by what B Corp stands for, employee ownership is a very good vehicle to achieving it. B Corp love it. You get around 32 points which is a considerable amount of your worker score. Employees love it and and for you personally, you'll love the tax benefits!
"Employee ownership has played a huge part in helping us attract purpose driven employees. For businesses bringing in B Corp retrospectively, you might go through a level where some people get it and some people don't. It might take a few years until everybody is 100% behind you, but it is incredibly worth it. Three years in, every one of our employees authentically care about people and the planet because they've been hired in or have gone through the journey with us for that reason. It has built an incredible belonging and culture in the business that helps to drive the business' performance.
"We have massively increased our out costs, but that's not a negative. We do a huge amount of charitable giving, we do match donations, we sponsor the Grassroot Activators Programme in Bristol, we've significant increased our maternity leave, we've put a significant bonus in place. That has all driven a far higher performance. The level of employee we've been able to attract has helped to drive the performance. We're in the best position that we've ever been. You can see it come through in the people who we're attracting and who are staying with the business for a long time."
You can read ADLIB's full B Corp impact report here.
If you're a BCI member and you're a B Corp, let Dan know.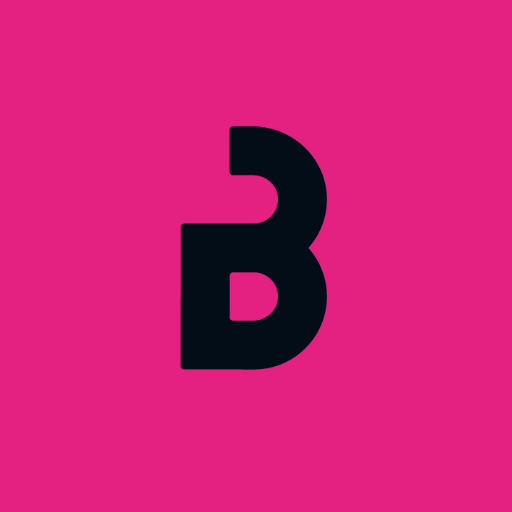 About Bristol Creative Industries
Bristol Creative Industries is the membership network that supports the region's creative sector to learn, grow and connect, driven by the common belief that we can achieve more collectively than alone.