Connecting the creative community
Membership has remained strong with over 560 individuals and organisations from the South-West creative community. We've seen many of our members grow and flourish, plus several forming new partnerships and collaborations which we're delighted to see. We're excited to welcome new members in 2020 and to continue to grow membership.
Our events are an opportunity for members of the creative community to come together to meet their peers, network and learn from some of the most influential figures in industry.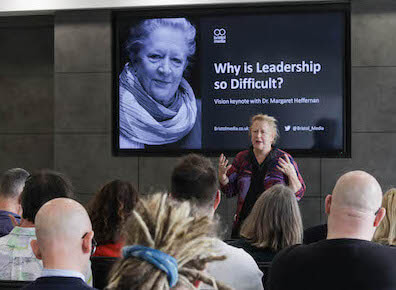 We've hosted a number of world class speakers as part of our Vision Keynote series: We've dreamed the impossibility of indifference with Pentagram's Harry Pearce, got under the skin of why leadership is so difficult with the legendary leadership guru Margaret Heffernan, and discovered how to be joyful at work with Twitter's EMEA Vice President Bruce Daisley (in partnership with our friends at BIMA).
In November we brought back our famous Portfolio Review Night, this time connecting 15 freelance animators, copywriters, designers, photographers, filmmakers and even a voice over artist, with 15 creative directors from member agencies. It was an exhilarating (and exhausting!) evening at Origin Workspace, with lots of business cards exchanged and a couple of potential contracts, too.
The members lunch remains a firm favourite in the calendar. This year we've hosted 9 member lunches where we've had the pleasure of meeting over 250 people from member organisations. New for 2019 was the introduction of 3-minute elevator pitches and it's been brilliant to hear what our members are up to. The pitches have been as entertaining as they have been informative and watching those lightbulb moments when members realise they can collaborate with each other is incredibly rewarding!
Upskilling and facilitating opportunities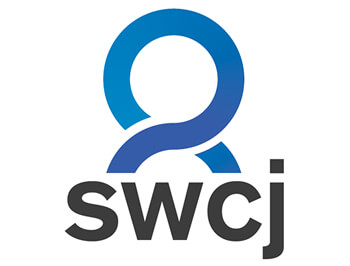 It's important to us to facilitate growth and opportunities in the community, to inspire talented people to work here and encourage business growth. Our member organisations have posted over 670 job roles via South West Creative Jobs, from planners to developers, camera operators to designers, interns to directors, the jobs board remains the go-to site if you're looking to advertise or secure a creative industry role.
Our workshops have proved to be another effective method to support and upskill local professionals. In January we kicked off with Blair Enns and his critically acclaimed workshop: 'Mastering the Value Conversation'. An inspiring and practical session where we saw Blair share his expert pricing knowledge with 26 individuals from local businesses.
Throughout the rest of the year we've worked with some lovely businesses to hold training and workshops on a variety of subjects, including Copyright in Productions, CV & LinkedIn for Freelancers, how to Supercharge your Instagram, plus How to get the Big Idea with Patrick Collister. Watch out for more of these next year!
Supporting emerging talent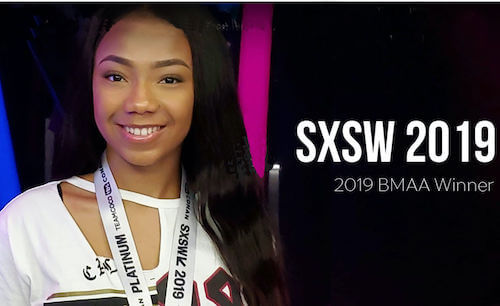 We took our second young person to Austin for SXSW as part of the Ben Martin Apprentice Award (BMAA). On returning, our BMAA winner Marissa Lewis-Peart, had the incredible opportunity of 15 paid work placements in local agencies, gaining a wealth of experience in various disciplines within the industry.
The competition to find our SXSW 2020 winner is underway with the successful candidate due to be announced very soon. In the summer of 2020, we plan to repeat the paid placements not only for the winner but also four of the runners up. If your firm would like to get involved, please contact [email protected]
We also bid farewell to our very own Content Apprentice, Izzy Bryant. Izzy has been a fantastic addition to the team, spearheading the Featured Member series where we've met some incredible businesses and individuals to find out more about what they do. One of our favourite moments from this series was a quote in response to the question 'Describe Bristol in 3 words', to which came the reply "Doing Things Differently". We felt this perfectly summarised the local ecosystem and the uniquely collaborative nature we're so proud of in Bristol.
Our City – our annual film competition in collaboration with the Mayor and local partners – has seen a record number of entries this year. As well as the cash prize of £1000, the young finalists have their film screened on Millennium Square, are offered industry work experience and a marketing workshop with Destination Bristol. The judges have been so impressed with the quality and creativity of the entries once again and are now finalising this year's winner.
Building the National Profile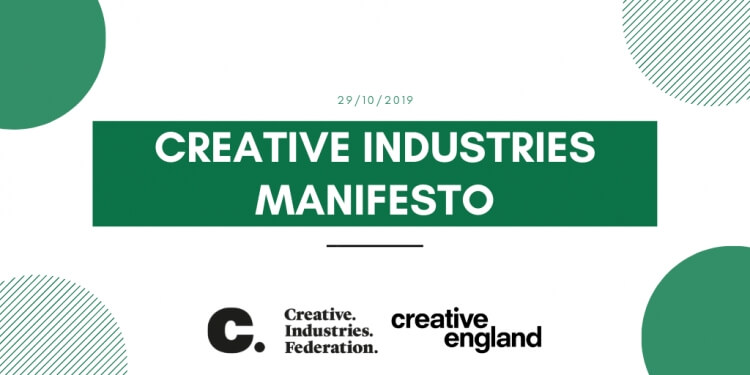 We have continued to fly the flag for Bristol within both the Creative Industries Council cluster group and the Creative Industries Federation (CIF) UK Advisory Council. CIF and Creative England (CE) have announced a merger in Spring 2020, and have published a joint Creative Industries Manifesto, which our board director, Paul Appleby, was involved in drafting. This will combine the London-based lobbying power of CIF with the national coverage of England of CE.
Next year, we're seeing in our 15th year and we've got lots in store for the creative community in Bristol, Bath and the region.
For a taste of what we're planning in 2020:
Bespoke benchmarking report for Bristol Media member agencies – watch out for the survey in January
Training and workshops on presenting creative work, beginners SEO and Instagram essentials
Five lucky young people will benefit from paid internships thanks to the BMAA
Member lunches
Digital Cities 2020: How to get your Dream Job
An inspiring programme of talks and keynotes kicking off with Numbers every Marketer should know on 21st January, swiftly followed by the sold out Alchemy with Rory Sutherland on the 28th
More Portfolio Nights, connecting local talent with creative directors!
It's been quite a year but there is so much to look forward to in 2020, including a very exciting announcement! Thank you so much to all our loyal members and partners who continue to support us to deliver the great work.
Wishing you a very Merry Christmas and a prosperous New Year, from all of us at Bristol Media.
You can stay up to date with news and announcements by signing up to our newsletter here.