Are you a whip-smart, data-driven, digital creative? Do you know your way around Google Ads, love diving into the data, and can't wait to assess conversion rates? Do you know your metadata from your HTML, your Business Manager from your Ad Manager, your PPC from your boosted post? Are you comfortable managing clients, acting as the face of the company and managing a team?
About Us
We are a guerrilla communications business focused on delivering reach for our clients and on our projects, working across tech, lifestyle, and environmental sectors.
We deliver PR, social media, SEO, branding and creative comms to a wealth of clients from start-ups, scale-ups, established businesses and beyond. Each member of our team has skills across these areas but brings a unique specialism to each project. We're a tight-knit team of passionate, outgoing creatives who love to collaborate just as much as we like to take ownership of each project.
Driving up DA scores rapidly, launching brands digitally to critical acclaim, running ad campaigns which deliver above and beyond – and have trackable conversion… this is our norm, and we want you to lead on this as we continue to grow.
Digital Marketing Manager
We'd like you to drive our digital activities both on specific projects, retainers, and for the OggaDoon brand itself, product/report launches, deep dives, analysis with recommendations, creative campaigns, and strategic insight. There is also the exciting element of working with online influencers and the digital world to create reach for our clients and their business, alongside inputting on press, social media, and other strategic brand activities.
Ideally, you have 5+ years experience of delivering impactful digital campaigns, with evidence and results to prove it. You are also adept at handling multiple projects at any one time, and like being part of a small team where your work and impact counts. You'll be confident and comfortable leading teams and projects, getting the best out of people, identifying areas of opportunity internally and externally, and have experience working with a senior team to drive business growth.
For OggaDoon's business development, you'll be expected to deliver on personal KPIs for client retention and new business acquisition, transforming OggaDoon's inbound. Building our reputation for digital marketing will be key, from delivering great work to speaking at events, delivering workshops and demonstrating the impact we're bringing.
You'll have responsibility from day 1: not just delivering projects on time, within budget, and achieving client goals, but also managing client relationships and invoicing.
Training is a key part of our OggaDoon culture. Some will be on the job training (OJT), some will be training we'll pay for, and you'll be expected to further your own career through your passions by attending meetups, doing online training, and more.
You can advance with this role: there is no glass ceiling and no restrictions. You'll be a critical member of the team and it's up to you to create an impactful force, both internally and for our clients, by bringing your expertise.
About You
Our ideal Digital Marketing Manager will have:
5+ years experience in a digital role
2+ years experience in a managerial role
Comprehensive training on PPC, analytics, and CRMs
Experience working in an agency and managing multiple clients
Excellent time management and organisation
Confidence leading on a project/team
A creative spark, bringing new ideas to the table and going above and beyond
Skills in:

SEO, including familiarity with tools like ahrefs, SEMRush, Majestic, Yoast and other plugin tools, and the latest in search best practice
Algorithms, including social platforms and search engines, reach and engagement, and other metrics
PPC, including negative ad words, data analysis, and conversion tracking, and other types of online ads
Affiliate marketing, including online influencers and third party management
Email marketing, including experience with MailChimp, Campaign Monitor, etc
CRM, including WordPress and other website hosts
Content creation, including videos, vlogs, and transforming data into meaningful content
Marketing automation, including lead-flows and sales funnels
Inbound marketing and lead generation

Proven track record and experiences, with case studies/portfolio you can share
Marketing qualifications or equivalent
Nice to haves:
Creative visual skills, from Photoshop to video editing
What we offer:
We offer more than just an opportunity to stand out in a role that allows you to take control, in a team that lives and breathes marketing, tech and creativity.
We have a ton of benefits:
£24,000 – 30,000 per annum (based on experience)
20 days paid holiday
Your birthday off
Discretionary bonus based on performance
Office in the centre of Bristol, 5 mins walk from St Nicholas' food market, with cake Wednesday and drinks trolley Friday
Time off in lieu of early morning and evening events
Monthly lunch on the company
Summer and Christmas party
Pension
To apply, please send us a short slideshow that will bring you to life. This must include:
slides on your experience to date
how you would transition a law firm into the digital marketing space
how you would improve the social media of Exeter City Futures
two skills you have that you think would be particularly beneficial for this role
how you would improve OggaDoon's digital marketing
Our closing date is 30th June 2020.
Please send your application to [email protected]
Note: This is not a new graduate role nor would it suit anyone with less than 2-3 years experience. You do not currently need to be in a management/senior role to apply.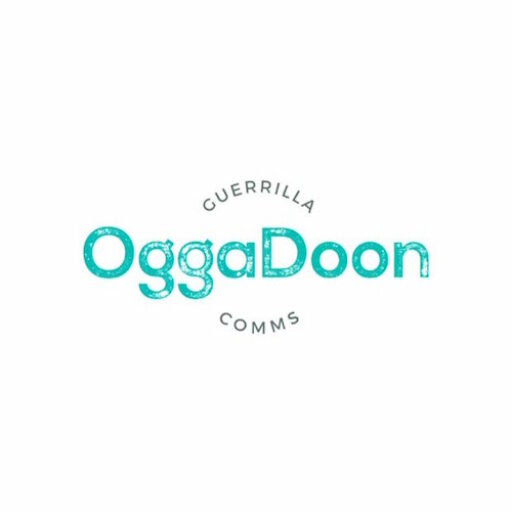 About OggaDoon
OggaDoon specialises in guerrilla communications and marketing to gain you reach.