iO Academy is on a mission to help to address the gender imbalance in the tech industry, and give people the training they need for a career they'll love. 
Based in the South West, iO Academy is tackling this head on with a rebrand that speaks to their core values of inclusivity and accessibility. Working with Bristol-based creative agency, Fiasco Design, they've created a brand that reflects their ambitions of creating a more diverse and inclusive industry, bringing about meaningful change.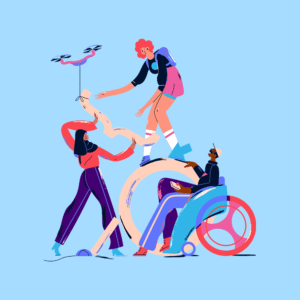 It's no great secret that there is a representation gap for women in tech. More inclusive career pathways in the technology industry have been the focus of various initiatives, such as Tech Talent Charter, Code First Girls, and Tech She Can, along with the Department for Digital, Culture, Media & Sport's Digital Skills Innovation Fund and the Academy's own Diversitech Fund.
Women in tech – key stats
Over a quarter of women students say that they are put off a career in technology as it's too dominated by men. (PWC)

The UK economy would benefit from an extra £2.6 billion each year if the number of women working in tech is increased.

83% of millennial British women stated that they actively seek out employers with a strong record on diversity, equality and inclusion. (PWC)

Women account for 50% of the UK working age population but only 16% of IT professionals are women. (BCS)

The New Brand
iO Academy is an award-winning coding bootcamp based in the South West. In 2015 it was set up by healthtech company Mayden –  not initially as a business, but as a way to solve a problem. Like so many tech companies around the UK, they needed more developers to sustain their own growth. So a team of Mayden developers designed a programme that would train people with no coding experience to be industry-ready developers in just 16 weeks. Their direct  tech experience led them to build a course with a new approach; one that gave students the up to date and practical skills that were needed most. A course that anyone, regardless of their gender, ethnicity or background, could come out of as the sort of developer that tech companies want to hire.
After five years in business, it was time to look at themselves and uncover the ingredients which would make them an innovative, purpose-driven brand.
The Academy reached out to Fiasco Design at the start of 2020 with a view to repositioning the company, reflecting their own growth from an idea to solve a talent shortage, to a company with an international reputation. The aim was for a fresh, future-proof identity that would appeal to a diverse range of prospective students and break down perceptions about the tech industry.
With graduates working in tech companies from Bath to Berlin, a 50:50 ratio of men and women trainers, and a strong work ethic towards diversifying the industry and creating an environment that facilitates opportunities for all, Fiasco Design and Mayden Academy embarked on a full strategic review of the current branding; assessing their DNA and defining their core values and company proposition.
Through a number of workshops conducted by Fiasco and Mayden, a new brand name was formed; iO Academy. On the one hand it's a clear nod to coding language – IO is shorthand for input/output in computer programming. On the other it's also the name of one of Jupiter's moons, which seemed a good metaphor for the brand's innovative, future-focussed outlook.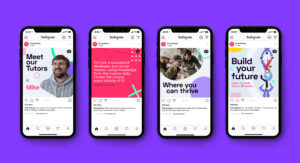 Margaret Davidson, Business Development and Marketing Manager at iO says, "Fiasco saw right to the heart of who we are as a brand and came up with a visual identity to represent us which we would never have thought of ourselves. In particular, what we wanted was to become more attractive and accessible to a wider range of people, with a core focus on diversity and inclusivity. Working as part of a new niche sector within a wider industry that often seems intimidating, this was a challenge. Fiasco came up with an approach where we now feel confident that an underpinning of inspiring inclusivity will be clear in everything we do, and help us to be part of bringing meaningful change."
With the name and proposition came a new visual expression for the brand. The visual language is designed to reflect exploration, harnessing imagination and working towards a better future. The graphic shapes give a sense of wayfinding, collecting badges and new skills following a creative pathway. Verbally the tone is positive, ambitious and empowering, and speaks to the curious and willing.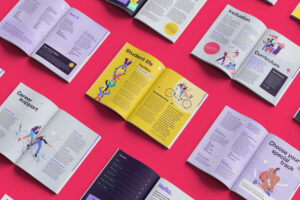 Working with Belgium-based illustrator Soren Selleslagh, the team created a suite of illustrations to depict aspects of the student journey across the course and into their new careers. Soren's human-centred approach evokes joy and empowerment through positive representation of all types of people. With a devoted outlook to making meaningful illustrations, this partnership gave the brand identity the visual storytelling elements that demonstrate openness and inclusivity.
Ben Steers, Creative Director at Fiasco Design says about the project: "It's been fantastic to work with the team at iO and help them towards realising their vision of leveling the playing field within the tech industry by creating a fairer, more diverse community of developers"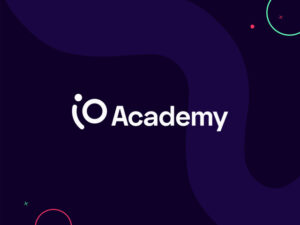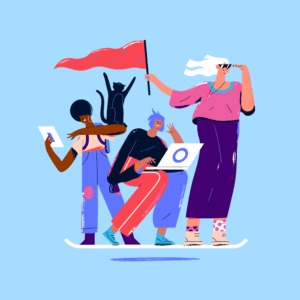 About Fiasco Design
We mix brand and digital to help bring brands to life in new and unexpected ways.