In the current digital era, a successful online presence is essential for any e-commerce business. However, having an online store alone is insufficient. Your e-commerce website needs to be highly ranked in search engine results to draw in potential clients and increase sales. E-commerce SEO can help in this situation. In this article, we'll examine the best methods for optimising your online store for search engines, which will ultimately boost its exposure and boost sales.
Recognising the Value of E-Commerce SEO
E-commerce search engine optimisation (SEO) is the process of improving the website and content of your online store to increase exposure in SERPs (search engine results pages). Your e-commerce website will be more visible to potential clients who are actively looking for the goods or services you provide the higher it ranks in search results. Increased visibility results in more qualified leads, increased organic traffic, and eventually, better sales and revenue.
The cornerstone of SEO for e-commerce is keyword research
Any effective SEO plan for e-commerce must start with rigorous keyword research. When a person searches for a certain good or service on search engines like Google, they enter terms and phrases known as keywords. You may begin optimising your website to rank for these particular search queries by choosing the appropriate keywords that are pertinent to your e-commerce firm.
Make a list of prospective keywords associated with your products or sector to start. To obtain information on search traffic, competition, and related keywords, think about utilising tools like Google Keyword Planner, Moz Keyword Explorer, or SEM Rush. Aim for a mix of broad keywords with bigger search volumes, coupled with extremely relevant and particular long-tail keywords.
Not got the time? Check out our affordable SEO packages.
E-commerce SEO On-Page Element Optimisation
The following stage is to optimise the on-page components of your online store after you've created a list of target keywords. When it comes to user experience and search engine rankings, these factors are crucial. The following are a few key on-page components to pay attention to:
Title Tags: For each page of your online store, create a title tag that is distinct and keyword-rich. Include your main keyword in the title tag, and make sure it appropriately summarises the information on the page.
Meta Descriptions: Create captivating meta descriptions that persuade readers to visit your website. Although meta descriptions do not directly affect rankings, they can greatly affect click-through rates.
URL Structure: Make sure that the URLs on your website are clear, succinct, and contain the right keywords. Use short, clear sequences of numbers or letters, not large, complex ones.
Heading Tags: Use heading tags (H1, H2, etc.) to organise your material and draw attention to the important areas of your website. To let search engines know how important your target keywords are, try to naturally weave them into the headlines whenever you can.
Product Descriptions: For each item in your e-commerce business, create a unique and interesting product description. Concentrate on giving prospective customers useful information while naturally combining pertinent keywords.
Image Optimisation: Make your product photographs as effective as possible by giving them informative file names and include alt tags with pertinent keywords. This not only boosts SEO, but it also makes websites more accessible to visitors who are blind.
Technical SEO for E-commerce Websites
For e-commerce enterprises, it's essential to pay attention to technical SEO aspects in addition to optimising your site's on-page components. Technical SEO makes sure that web crawlers can successfully access, index, and comprehend your website. The following are some important technical SEO issues for online stores:
Website Speed: The speed at which a page loads is important for both SEO and user experience. Compressing pictures, minifying JavaScript and CSS files, and utilising browser caching will all improve the efficiency of your website.
Mobile Responsiveness: It is now crucial to make sure that your e-commerce website is mobile-responsive due to the rise in the number of customers accessing the internet using mobile devices. Make sure your website is mobile-friendly and provides a fluid, user-friendly experience on a variety of devices and screen sizes.
Site Structure and Navigation: Make sure your website has a logical structure that makes it simple for consumers and search engines to browse through your online business. Utilise breadcrumb navigation, give category names that are clear and descriptive, and make sure the menu layout is user-friendly.
XML Sitemap: Create an XML sitemap and submit it to search engines. By assisting search engines in comprehending the organisation and content of your website, a sitemap makes sure that all of your pages are indexed and are simple to find.
SSL Certificate: Ensure that your website has an SSL certificate to protect it. This not only builds confidence with your clients but also helps your website rank higher in search results because secure websites are given priority by search engines.
Canonical Tags: To prevent problems with duplicate content, use canonical tags. A canonical tag will aid search engines in determining which version of a page is preferable for indexing if you have similar product pages or several variations of the same page.
Schema Markup: Implementing structured data will give search engines more context and details, according to schema markup. Schema markup enables search engines to display rich snippets in search results, such as customer reviews, pricing data, and product ratings. This can increase click-through rates.
Content Strategy for E-commerce SEO
When it comes to enhancing e-commerce SEO, content is crucial. High-quality, pertinent, and interesting content not only increases organic traffic to your website but also motivates visitors to browse around and make purchases. To improve e-commerce SEO, some content methods are as follows:
Blogging: Create a blog on your e-commerce website and regularly post educational, interesting content about your goods, market developments, and client problems. Incorporate pertinent keywords naturally into your blog entries to raise their visibility in search results.
Product Reviews and Descriptions: Request reviews from your customers for the goods they have purchased. User-generated content (UGC), like reviews, gives your online store more authority and can raise its position in search results. Additionally, you should make sure that each product description is distinct, thorough, and keyword-optimised.
Video Content: Produce product demonstration films, tutorials, or other educational videos pertaining to your industry using video. Especially on platforms like YouTube, video material is quite engrossing and can increase your website's exposure in search results.
User-Generated Content (UGC): In addition to product reviews, make use of UGC from your customers' social media posts and product images. By doing this, you give your brand more authenticity and raise your search engine rankings.
Link Building and Off-Page SEO
To increase your e-commerce website's authority and search engine rankings, you must build high-quality backlinks to it. But it's crucial to concentrate on obtaining natural, pertinent backlinks from reliable sites. Among the tactics for link building that work well are:
Guest Blogging: Contribute as a guest blogger to well-known blogs and websites in your sector. Include links to your online store in the text of your article or your author profile to increase referral traffic and search engine rankings.
Influencer Partnerships: Work together to produce articles, reviews, or sponsored pieces that include a link to your e-commerce site. Not only can this increase traffic, but it can also raise the authority of your website.
Online Directories and Local Citations: Add your e-commerce website to the appropriate local business listings and internet directories. To increase local search exposure, make sure that the company's details, including name, address, and phone number, are consistent throughout all citations.
Social Media Engagement: Engage your audience on social media channels by being active there. Social media doesn't directly affect SEO, but social signals can have an impact on search engine results. As a result, it's important to encourage social sharing of your products and content.
Monitoring and Analytics
For continued optimisation and improvement, regular monitoring and analysis of the results of your e-commerce SEO activities are crucial. Track critical performance indicators like keyword rankings, conversion rates, organic traffic, and bounce rates using programmes like Google Analytics and Google Search Console. Key areas to think about include:
Organic Traffic: Watch the volume of organic visitors coming to your e-commerce website. Track any changes and look for any patterns or trends that could affect your SEO approach.
Keyword Rankings: Monitor the positions of your desired keywords in search engine results. Determine which keywords are doing well and which may benefit from additional optimisation.
Conversion Rates: Monitoring your e-commerce store's conversion rates will allow you to identify the traffic sources and keywords that result in the highest conversion rates.
Bounce Rates: The percentage of visitors to your website that leave without interacting with it is referred to as the bounce rate. High bounce rates could be a sign of user experience or content relevancy problems.
Backlink Profile: Review your backlink profile frequently to make sure you are gaining high-quality, pertinent backlinks. Track any harmful or spammy links and remove them if necessary.
Competitor Analysis: Competitor research Keep an eye on the SEO tactics that your rivals are employing and their results. Find the areas where they are performing better than you, and look for ways to catch up.
Putting into practise efficient e-commerce SEO methods is essential for improving your online store's exposure, bringing in visitors, and generating sales. We are aware that not every online retailer has the time or knowledge to pull this out. To learn more about how we can help you improve SEO for your e-commerce site, get in touch with us right away.
Want to learn more about SEO? Check out our beginners guide to SEO or sign up for it below!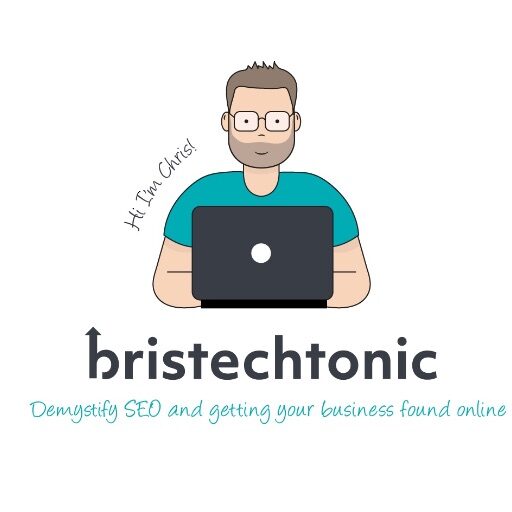 About BrisTechTonic
Leading Bristol SEO Company BrisTechTonic offer affordable and professional SEO services for small businesses. I'm Chris, and SO not an SEO Agency in Bristol. I help small businesses in Bristol and beyond gettting found in search results.