Widely considered the most effective marketing medium, videos bring life to the brands that were once dependent on static and print. And whilst it has been hugely popular for the best part of a century, it has only grown more prevalent in recent years with the widespread uptake in smartphone and social media usage. For marketers, educators, and storytellers alike, video helps to engage with audiences in a far more immersive and memorable way. It can be formatted and stylised to specific guidelines, and most importantly, can simplify complicated messages comprehensively.
Video can be used to suit a wide range of different formats and styles, from short-form social media content to long-form documentaries, making it a highly versatile medium that can be tailored to specific brand objectives. But with video being so widely consumed, we've grown to become connoisseurs of the moving image. Consumers have no time for slow starts, are becoming easily distracted, and can sniff out branded content a mile off. This shift in behaviour directly factors into the way that leading brands now develop their video content and should also factor into how you develop your own.
We've delivered short and long form video for high calibre clients across a variety of global markets. If you're looking to leverage great video content for your brand, drop us a line today and let's talk. No strings.
Discover more industry insights and opinions at saintnicks.uk.com/insights
Originally posted on: www.carnsight.com
B2B PR is often overlooked by those considering a career in PR. B2C always seems so much more creative and alluring. But the truth is, B2B PR is more than just B2C PRs boring sister. In fact, B2B PR can be just as exciting, fast-paced and creative!
If you read our blog on the differences between B2B and B2C PR then you'll know that while B2B public relations typically focuses on technical information and analytical data, emotion is still a key driving force when it comes to B2B campaigns.
In today's blog, we're explaining why that's the case, and why B2B PR can be just as creative and boundary-pushing as B2C.
---
Cutting through the noise requires creativity
B2B audiences are bombarded with information every day, and so creative, emotionally resonant messaging is necessary to help a company stand out. By using unique and innovative PR strategies, businesses can capture the attention of decision-makers who may very well be jaded by the same-old marketing tactics. Fresh thinking is often what gets the best results.
People buy from people
People buy from people, not businesses, and so while yes, B2B PR does often target decision-makers within a company, it's important to remember that those decision-makers are still people. By using emotion in B2B PR, companies humanize their brand and create better connections with their target audience. The result – greater brand loyalty and more meaningful business relationships.
Connect with a broader audience
Similarly, remember that businesses, now matter how big, are made up of lots of individual people. By creating messaging that resonates with individuals on an emotional level, B2B PR campaigns can broaden their reach and connect with a wider audience.
Drive engagement
Emotionally resonant messaging better drives engagement and increase the likelihood of your audience taking action. By creating content that inspires a response, businesses can encourage decision-makers to take the next step and move forward with a purchase or partnership.
---
Even though B2B PR is typically more technical and data-driven, creativity and emotion can play a critical role in creating effective campaigns that stand out, connect with decision-makers, and drive meaningful business outcomes.
To end, here are a couple of examples of B2B PR campaigns that really pushed creatively!
Hectare's Tudder – Tinder for Cows
Octopus Group, in partnership with Hectare, launched Tudder, a dating app designed for cattle, as part of a Valentine's Day-centered PR and social media campaign. The app, which functions similarly to Tinder, allows users to swipe left or right on profiles of cows and bulls. When there is a match, a mooing sound is played, and the interested party is directed to the SellMyLivestock platform for more information. Hectare aimed to raise awareness about "livestock love" through this campaign. Alongside the app, personalized Valentine's Day cards were sent to targeted journalists, and exclusive briefings were held with media contacts. A comprehensive social media campaign was also implemented.
---
Slack – "So yeah, we tried Slack…"
Slack leveraged the popularity of hit sitcoms such as The Office and Parks and Recreation by producing a humorous, mockumentary-style video advertisement to showcase the superiority of its platform over other professional communication tools.
The video linked below features Sandwich Video, an actual Slack customer, as they introduce the platform to their office. The video serves both as a testimonial-packed case study and a funny piece of media that entertains viewers.
Originally posted to: www.carnsight.com
We've written many blogs on press releases and useful tips on when is best to pitch, what to avoid when pitching and crafting a perfect press release. But today we wanted to dive a little deeper into the timeline of a press release. In fact, we're going to share this blog post using the template of a press release to help you visualise the key layout and style, whilst also helping you understand the process involved.
MARSHFIELD, (DATE): Carnsight Communications is pleased to announce the release of its latest blog post detailing the timeline and process of creating and distributing a press release.
A press release is a crucial part of any company's public relations strategy, providing a formal announcement of news, events, or updates to the media and the public. The following is a timeline of the process involved in creating and distributing a press release:
Identify your news:
The first step in creating a press release is to identify the news or event that is newsworthy and relevant to the target audience.
Drafting:
Once the idea has been identified, the next step is to draft the press release. This includes writing a headline, subheading, body, and boilerplate.
Review and approval:
The press release is then reviewed and approved by the relevant team members, including Carnsight Communications, and executives.
Distribution:
Once approved, the press release is distributed to media outlets, journalists, and other relevant parties through email, or other means.
Follow-up:
After the press release is distributed, Carnsight Communications will follow up with journalists and media outlets to gauge interest and secure coverage.
Measurement:
Finally, we will measure the success of the press release through various metrics, such as media coverage, website traffic, and social media engagement.
"Quotes"
"Creating and distributing a press release is a critical part of any successful PR strategy," comments, account manager at Carnsight Communications, Georgia Christley. "We hope this timeline provides valuable insights into the process and helps companies effectively communicate their news and updates to their target audience."
For more information about Carnsight Communications and our PR services, please visit www.carnsight.com
Boiler Plate
About Carnsight Communications 
Carnsight Communications is a PR and communications consultancy based outside of Bath. We specialise in practical, powerful PR for the media and marketing industry, small businesses and entrepreneurs. Carnsight Communications cover everything from social media to SEO optimised web copy, blogs, influencer liaison and award entries. We are straightforward, proven and focussed on results.
Website: https://www.carnsight.com/
Twitter: https://twitter.com/CarnsightComms
Instagram: https://www.instagram.com/carnsightcomms/
Facebook: https://www.facebook.com/carnsightcomms
Georgia Christley
Account Manager 
We hope this helps you to understand the timeline involved with a press release and also how to structure your release. If you need further advice, why not get in touch on [email protected] and one of the team will be in touch?
Nine Tree Studios, a brand new 10,000sq ft film, television and commercial production studio, has opened in Bristol.
The studios are now Bristol's largest independent film and television facility, with the venture being backed by JonesMillbank, Bristol-based video production company.
The studios will support Bristol's creative industries as well as attracting talent and productions from further afield, fuelling Bristol's existing draw for film, television and commercial productions.
The facility is being launched in phases. Phase one encompasses a versatile production space with attached offices, suitable for a range of dry hire and set build requirements, as well as events and photography, with significant parking for cars, vans and trailers.
Phase two will see the build and fit-out of a state-of-the-art production facility encompassing a 2,600sq ft primary soundstage, two smaller 300sq ft studios, grading suites, wardrobe, sound facilities, and expanded office and meeting space, all housed in a Class-A soundproofed facility.
Located in Brislington (BS4), the studios are perched near the centre of Bristol, servicing productions mixing studio and on-location filming in the region.
The facility will also become home to JonesMillbank, allowing productions to be supported by crew and creatives, whilst bolstering their own in-house production capabilities and resources.
"This is an incredibly exciting chapter in our history. We've been based in Bristol for 12 years, steadily growing our team, portfolio and clients, but this represents a huge leap forward and an incredibly exciting development for the region too" said Russell Jones, Co-Founder of Nine Tree Studios and JonesMillbank.
"We've already secured funding to develop and expand the space, helping to support not only our own productions but the wider creative community too".
Adam Millbank, Co-Founder of Nine Tree Studios and JonesMillbank, added that "the continued growth in productions across our region is wonderful. I've been blown away by the diverse talent here. It feels fantastic to know we'll be part of such a dynamic industry, celebrating all the region has to offer."
The expansion will allow for the creation of numerous jobs, including technicians, crew, studio managers and marketeers, whilst allowing for the provision of work experience and placements.
Phase one has launched, with phase two aiming for 2023 Q3, pending existing bookings.
For booking and press enquiries please visit www.ninetreestudios.co.uk, call 0117 3706 372, or email [email protected].
JonesMillbank, Bristol-based video production company, has successfully won a contract with foodora, who are part of Delivery Hero, the world's leading local delivery platform.
The project is focused on the foodora brand, promoting their culture, history and future through the stories of over a dozen long standing employees.
Filming is taking place across eight European countries including Finland, Norway, Slovakia and Austria.
"International travel was off the cards for so long and it's fantastic to be given the opportunity to get back in the air again with a new client, exposing our productions and our team to other cultures" said Adam Millbank, Director at JonesMillbank.
"The project is benefiting from us doing what we do best; telling the individual stories of people from different walks of life, heritages and backgrounds with authenticity."
Russell Jones, Director at JonesMillbank added: "We're conscious of the environmental impact of all our productions, let alone ones that require multiple flights and cross-border trains. The nature of this project needed a travelling crew and we'll be offsetting our impact via our friends at Ecologi."
Delivery Hero operates its service in over 70 countries across Asia, Europe, Latin America, the Middle East and Africa. 
The company started as a food delivery service in 2011 and today runs its own delivery platform on four continents. Additionally, Delivery Hero is pioneering quick commerce, the next generation of e-commerce, aiming to bring groceries and household goods to customers in under one hour and often in 20 to 30 minutes. 
Headquartered in Berlin, Germany, Delivery Hero has been listed on the Frankfurt Stock Exchange since 2017 and is now part of the MDAX stock market index. 
For more information, please visit www.deliveryhero.com.
***
JonesMillbank are a full-service video production company.
They work in-house with a talented team of multi-disciplined creatives, telling authentic stories for a range of clients such as University of Bristol, IDLES, NHS England, The Royal Mint and Battersea.
jonesmillbank.com
01173706372
[email protected]
JonesMillbank, Bristol-based video production company, has successfully won a contract with University of Southampton to produce their flagship undergraduate campaign video.
The multi-channel campaign will launch ahead of the University's 2024 recruitment campaign, bolstering and highlighting their existing reputation and global rankings.
JonesMillbank were invited to a competitive pitch for the opportunity, reflecting their growing experience, insight and reputation in the higher education sector. They join existing clients including the University's of Bristol, Exeter, Winchester and Central Lancashire.
"We've worked in the education sector since day one and we absolutely love working with universities; the challenge of engaging and communicating with an ever-changing, dynamic audience is one our strategists and creatives relish" said Russell Jones, Director at JonesMillbank.
"University of Southampton chose us for our bold, creative and impactful concept, and we're incredibly excited to be given the opportunity to bring it to life."
University of Southampton is one of the world's leading universities, placed in the top 100 universities globally in QS World rankings. They are also a founding member of the Russell Group, an organisation of 24 top UK universities committed to maintaining the highest research and teaching standards.
***
JonesMillbank are a full-service video production company.
They work in-house with a talented team of multi-disciplined creatives, telling authentic stories for a range of clients such as University of Bristol, IDLES, NHS England, The Royal Mint and Battersea.
jonesmillbank.com
01173706372
[email protected]
What is Paid Social
Paid Social is when companies and brands display sponsored advertising content on third-party platforms, such as Instagram and Facebook, targeting audiences that match their brand. Marketing professionals use Paid Social strategies to increase traffic to their website or content, improve or increase marketing efficiency and market to larger audiences to capture new subsets of customers.
After the 2021 pandemic, social media saw a considerable rise in users, and people spent more time online than ever before. As a result, people's activity on platforms such as e-commerce websites and social media stores increased, allowing companies to target audiences more precisely to match their brand. Through Paid Social, companies can post ads to audiences with a higher chance of the users interacting with the content.
Recent changes from 2022
The amount of companies using Paid Social in 2022 has dramatically increased due to the increased global engagement with social media. According to Search Discovery, this number is set to grow even more by 2025 to 4.4 billion users. People also spend much longer on social media platforms, averaging 147 minutes daily for the average person.
Social media strategies have become much more streamlined, and eCommerce websites are becoming one of the most accessible platforms for consumers to purchase products and services. In addition, the ease and simplicity of buying and consuming content through social media has enabled companies to generate traffic and sales much more efficiently. For example, through Paid Social, companies can streamline their advertisement to be seen by more specific audiences who are more likely to interact with the ads—leading to further sales.
Privacy and user safety have moved to the forefront of significant changes in how companies use Paid Social. According to a recent article by Clicky, after Apple updated IOS15 in September, 80% of global respondents chose not to be tracked. Companies will have to look into how they target audiences and how they can make their Paid Social campaigns more effective, reflective of the updated statistics.
Being diverse and authentic has become crucial to running successful ads. According to the same article by Clicky, 75% of Gen Z are more likely to support and use brands that are authentic in the way they advertise products. Companies must use original methods that reflect their message, story, values and overall products to attract their desired audiences. Paid Social can allow companies to do this on a larger scale, targeting audiences more likely to interact with their content. Companies that are more diverse in their advertisement will also see greater impressions and reactions. Diversity in the platforms companies use will also significantly impact the responses they receive to content. Companies that are also diverse in how many social platforms they use for their Paid Social ads could triple their audience reach and subsequently generate higher impression rates and CTR. TikTok is becoming one of the most powerful platforms for marketing, with over 1 billion users each day; utilising new media is a crucial way of reinventing Paid Social strategies and getting the most out of campaigns.
Top trends to take into 2023:
Short and catchy video content.
Short video content has dramatically impacted how we market and advertise products throughout 2022. Going into 2023, this remains the same. The increase in users on platforms such as TikTok and Instagram has seen many ways people use short 1, minute videos to create effective and engaging content while also allowing companies to interact with influencers within their subject audience.
According to Hootsuite, users of TikTok spend 95 minutes a day on the platform, and 78.6% of users use TikTok to find entertainment, making it one of the leading platforms for Paid Social. In addition, according to Hootsuite again, Google Trends' interest in the platform has increased by 1,125% since 2020, meaning you will likely start to generate the most impact on TikTok going into 2023.
User-generated content and new platforms
Influencers and the rise of Influencer culture on many social media platforms have created a unique and powerful influence on Paid Social and advertising on social domains. Despite being around for many years, the amount of organic user-generated content creators has increased rapidly throughout 2022, especially on social platforms such as Instagram and TikTok, where short video and review video logs, or 'Vlogs', are used daily.
According to an article for fbcomms, new social media platforms such as BeReal are set to emerge even more and become more prominent in 2023, hoping to break through into the heavily populated market. However, they pointed out that many new social media platforms tend to be niche sites with limited impact. However, utilising the trends produced by these platforms is useful when considering the design and storyline of companies' advertising.
Interactivity is crucial
We live in a world with a far shorter attention span than generations before. Short videos, animations and interactive aspects of content can be a great way to get and secure audiences' attention and get them to interact faster. Platform algorithms are introducing new ways in which content creators and brands can create two-way dialogues with their audience, rewarding those who produce successful content. For example, Instagram allows viewers to like, comment, share, and add stickers to social posts and stories. Aspects like this are a great way of building and maintaining relationships with followers. It gives audiences more say and enables brands to edit and shape advertisements to get the best results.
Social Commerce will continue to grow into 2023
Since 2020, after the pandemic, we have been talking about the increase of people shopping online compared to the number of people who shop in physical stores. According to fbcomms, people will likely not have to leave their social platform to shop for goods and products advertised through posts. Through media such as Instagram and Facebook, customers will be provided with an even faster route to purchase products without going to another website or a different platform. Ensuring companies keep up to date with the ever-changing world of eCommerce is essential to running successful online businesses and creating an impactful online presence.
Key Takeaways
Paid Social is a fun, creative and highly effective method of finding potential customers and is considered by some to be one of the most effective ways of marketing in the current social image climate. Paid Social allows brands to connect with a target audience specific to their brand and gain a more extensive reach through the size of the platform.  Focusing on diversity, interactivity, video and animated content, and eCommerce performance will help brands get the most out of their advertising going into 2023 and how Fanatic can help you.
Our Paid Social and Digital Marketing experts will consider your audience, competitors and existing online presence and branding to create a Paid Social campaign that is sure to get impressive results. Get in touch today and find out how we can help you on your Paid Social journey.
UWE Bristol has unveiled its new immersive Sound Shower experience at Bristol's Cribbs Causeway and Cabot Circus. Showing a mesmeric snapshot of campus life, the film was created by Skylark Media.
Filming took place at the university's Frenchay campus and city with the support of student contributors. Multiple locations include the Atrium cafe, Centre for Sport, student union, library, as well as at the Arnolfini in the city centre.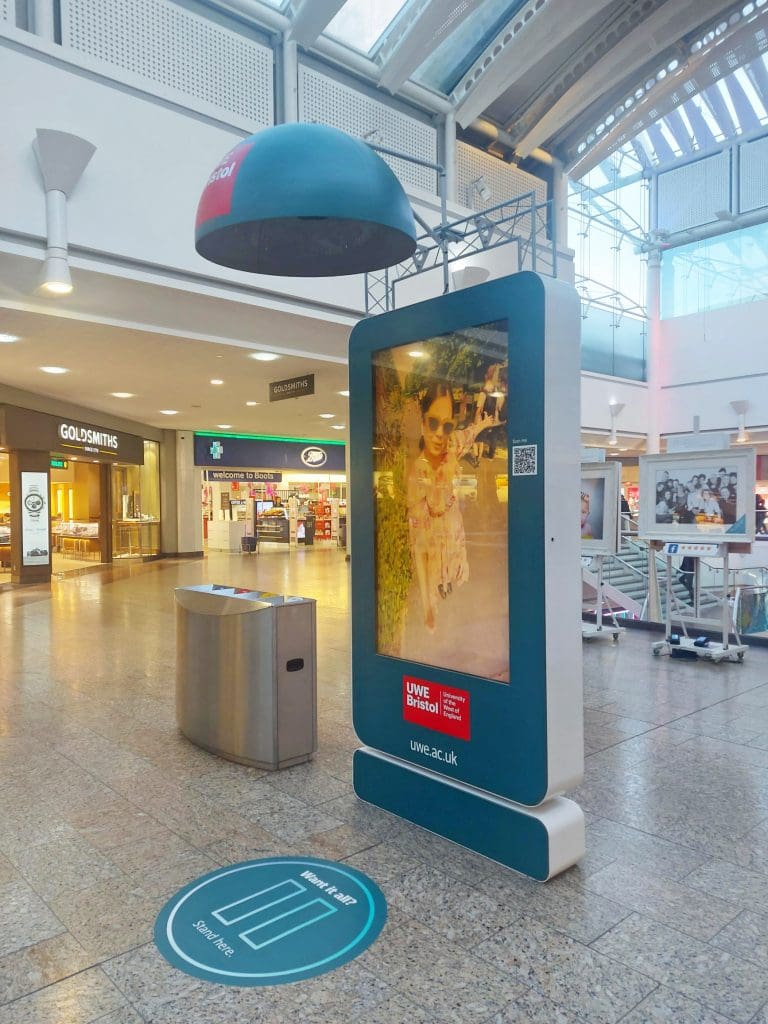 Stephanie Lee, Marketing Communications Manager at UWE Bristol says, 'This is a really exciting film project with Skylark Media where we're creating a film for a specific sound shower unit which will sit in Cabot Circus and Cribbs Causeway shopping centres to promote the university and bring campus life to the people of Bristol, so they can get a real immersive experience and sense of what it's like to study here on our campuses.'
Skylark Media MD Jo Haywood adds, 'For a unique out of home experience, we came up with a fully immersive concept using an Insta 360 camera on an extendable pole. It sits within the stitch line which then becomes invisible in post-production. The result is a fully immersive film that mimics a FPV drone – flying around from location to location or locking into subjects for detail. Diegetic sound is added in so that the viewer can eavesdrop into those private moments.'
You can experience UWE Bristol's immersive Sound Shower at Cribbs Causeway or Cabot Circus this month.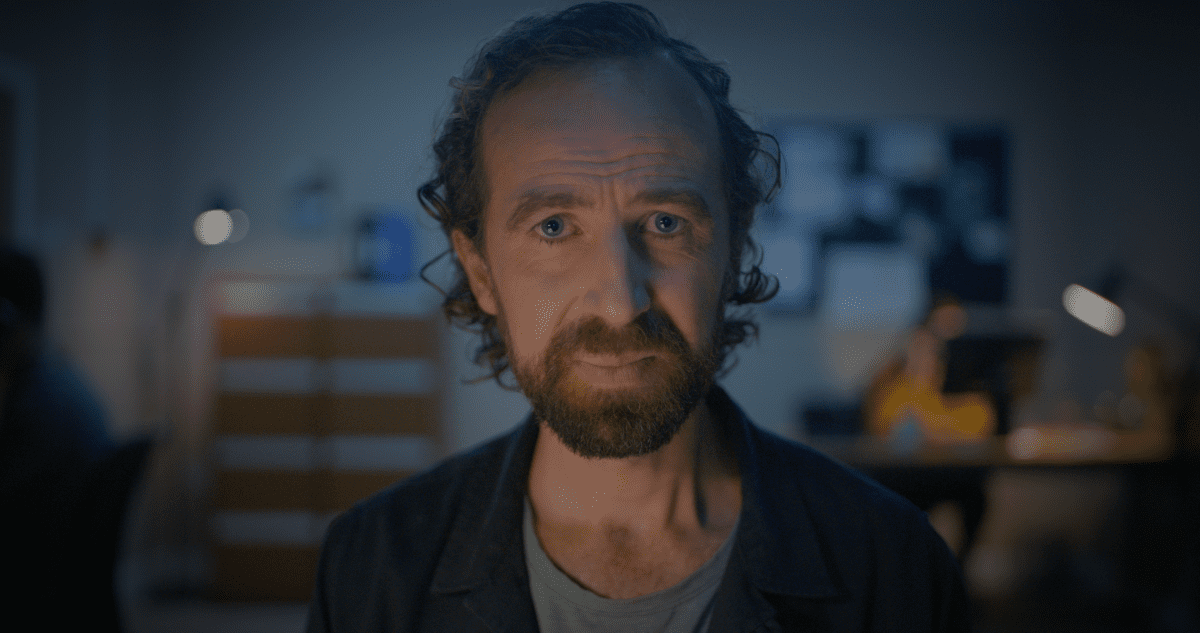 Samaritans is launching an ambitious fundraising campaign to get people talking about the 'S' word. The charity's winter campaign, which runs from November through to January, includes a TV ad created by Skylark Media Bristol and Campfire Agency.
#BreaktheSilence is a fundraising campaign where Samaritans is calling on supporters to donate and share their support with others via their social platforms. The campaign includes a series of short videos featuring callers and listening volunteers and a television advert to run in unison with the campaign. Skylark was appointed to handle creative production which included all live action content and photography for the integrated campaign.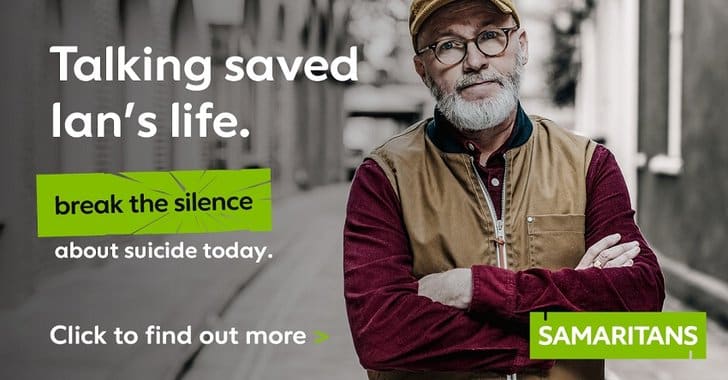 Bristol based Skylark Media MD Jo Haywood says, 'Talking about mental health and supporting each other is important within the Skylark team. So we are delighted when the Samaritans asked us to deliver their winter campaign, #BreaktheSilence. We hope that the impact of the emotional storytelling in the TV ad, 'Silence is painful' and the authenticity of the callers and listeners in our short video series will encourage people who feel isolated to break the silence and reach out to the Samaritans this winter.'
Paul Power, Creative Director at Campfire Agency adds, 'I know that all of us at Campfire Agency are proud to be working with Samaritans on their Break the Silence campaign – because silence really does cost lives. When you think that someone in the UK dies by suicide every 90 minutes, it brings it home how it important this winter campaign is.
With the cost of living crisis, it's going to be a tough few months for so many people, so there couldn't be a better time to launch these powerful communications, from DRTV and direct mail to digital and social.
With distinctive photography, powerful stories and hard-hitting messaging about suicide, we believe this integrated fundraising campaign will create an emotional connection with millions of people across the UK.
If it encourages one person who's reaching crisis point, to start talking about suicide, then all the hard work will have been worth it. If we can raise nationwide awareness and essential funds for Samaritans on top of that, then we know the Break the Silence campaign has been the success we all hope for.'
Samaritans Executive Director of Income, Sonya  Trivedy says, 'The #BreakingtheSilence campaign is an opportunity to drive the conversation in these times of continued uncertainty, with issues such as loneliness, isolation and the cost of living crisis, meaning it could be a challenging winter for many people.
"Hopefully this new campaign will reassure people that Samaritans volunteers are here for people to talk to when they are ready to break their silence. Mental health, wellbeing and suicide are things that affect every one of us. With #BreaktheSilence we want this bolder messaging to encourage people to sit up, take notice and be moved to take action so that we can work towards our vision that fewer people die by suicide.'
'Silence is painful' airs from 9th November on ITV Digital, Sky Media amongst other channels. The campaign runs until January 6th. For more information visit www.samaritans.org.
JonesMillbank, Bristol-based video production company, were commissioned by leading engineering consultancy firm Hoare Lea to celebrate the arrival of the National Satellite Test Facility (NSTF).
As unseen stewards of communication, man-made satellites keep us safe, informed and entertained, and their voyage into space demands phenomenal technical skill at every stage.
World-class science research, expertise and innovative testing transports them from concept to lift-off, and the unique design of the NSTF's 'cathedral-like' facility means the chaos and challenges of space can be recreated here on earth.
Specialist equipment shakes, bakes and blasts satellites in the final phase of their ground development, testing them to their limits and arming them with the best preparation possible before their final journey into the unknowns of the cosmos.
JonesMillbank worked with Dr Jackie Bell, PhD, an aspiring astronaut and theoretical physicist who featured on BBC's Astronauts: Do You Have What It Takes?, whose own journey through the space industry has tested her in every way imaginable.
The film was shot on location at the facility in Oxfordshire with support from RAL Space.
Visit https://jonesmillbank.com/work/hoare-lea/national-satellite-test-facility to view the film and https://hoarelea.com/2022/11/03/the-national-satellite-test-facility to find out more about the project.
***
JonesMillbank are a passionate full-service video production company
They work in-house with a talented team of multi-disciplined creatives, all the while telling authentic stories long before it was cool for a range of clients such as University of Bristol, IDLES, NHS England, The Royal Mint and Battersea.
jonesmillbank.com
01173706372
[email protected]