There are plenty of exciting elements to running your own business – or any business! Many enjoy the freedom of being their own boss and delegating their own tasks (and where they work from). The thought of being paid to do what you love is an exciting and encouraging commodity.
Knowing what numbers are important when it comes to managing the finances of your business can be daunting, to say the least! We're here to help with this handy video, to give you a quick rundown of what you should be tracking – dependant on your business goals.
Before we begin, it's important to understand what your business goals are. The information you will need will change depending on these goals. For example, if you are in a growth stage, you're going to be tracking different numbers to if you are simply in 'survival mode'. This video will cover the 'must have' numbers to start with.
Turnover (Revenue)
Arguably this is the number that most businesses will focus on, yet many will only look at how they did the month previously. It's super important to have an overview of your turnover as a whole. Keeping an eye on the trends can show you quickly whether your numbers are up or down. If you can determine why your sales are fluctuating, you can implement strategies to ensure those numbers stay on an upwards incline. Without this, you may not even realise your revenue travelling on a downward slope. 
Cost of Sales 
These are the costs that directly relate to being able to provide your business's goods and/or services. Having an account of these costs helps you also understand your gross profit. Make sure you routinely assess this number as it is one you have a lot of control over! How can you add value to your business? And how can you ensure that you get the most value out of these costs?
Operating Expenses
These are the expenses that are for running the business. You need to spend money to earn money, so it makes sense to ensure that you are keeping an accurate record of these expenses. Operating expenses include things such as wages and administration costs. When costs need to be reduced, this is the first place you should look. If you have an accurate record of what you're spending to operate your business, you can evaluate whether you really need that subscription service anymore, or even if there are licenses you can afford to boot if you no longer need them. 
Taxation/Corporation Tax 
This is a sneaky one! Corporation Tax is the tax you pay on any profits you make from successfully doing business, selling assets or investments. You won't get a bill for corp tax but you will be expected to pay by your deadline (which is usually 9 months after your year-end/accounting period). There are certain things you must do to work out how much corporation tax you owe and must pay to HMRC. Corp tax is currently 19% of profits within a financial year…however, this goes up on 1st April 2023 to 25% for companies that make over £250,000. Posting a provision based on monthly profit will help take away that end-of-year scare. Top Tip: This is something that we do monthly for our clients here at FD Works, helping to reduce any big shocks at the end of the year!
Operating Profit
This is the main figure that it all comes down to…how much money did your business make or lose? Obviously, a big one to keep track of! In other words, operating profit is the total income a company generates after paying off all operating expenses. The operating profit figure excludes gains or losses from interest, taxes and investments. This number is a highly effective way to distinguish the health of your business. 
Cashflow
An extra number to keep an eye on is cash flow. Cashflow is the amount of money being transferred in and out of the business. Generally, if your outgoings are consistently greater than your ingoings then your business isn't sustainable and you need to look at what can be done to solve this. However, it's not quite that simple!  You may spend £10k on sales in order to make £100k. Yet, if that money isn't paid on time to you, you can't reinvest another £10k into your next batch of sales. If you've been keeping track of the other metrics mentioned previously, you have the tools in place to troubleshoot your issue and react accordingly:
Generate more profit 

Reduce operating expenses
…And there you have it! In this article, we have broken down the metrics that we think are important to keep track of and understand. Now, this isn't a comprehensive list, so make sure you get in touch with us or check out our website if you are ready to take control of your finances and work with our incredible team. We really believe that numbers reveal the opportunities for shaping any business.
Numbers are beautiful, embrace them! 
It's said that what happens in the US, takes 5 years to happen here. Personally, I think its MUCH quicker than that!
90 million Americans will be freelance by 2028. Up from 59 million today (36% of the entire US workforce). For a combination of reasons, the world keeps moving towards a freelance work-style. Even though highly-educated, highly-skilled, better paid than 70% of the entire US workforce (and therefore higher tax-payers) governments everywhere still continue to misunderstand and largely ignore them, despite their estimated $1.6 trillion contribution to the global economy.
Most freelancers have to fend for themselves. 63.6% are under 34 years of age – and have never experienced a recession. This video
https://www.linkedin.com/posts/roysheppard_freelancing-freelance-economy-activity-7015388336827551744-OSXi?utm_source=share&utm_medium=member_desktop
I posted on LinkedIn offers urgent advice for all freelancers. Not just young ones.
Please share with any freelancers who might find this helpful.
(Sources: Forbes, CNBC, Upwork and Edelman Intelligence).
Bristol Academy of Voice Acting (BRAVA) announces partnership with audio production company, Little Monster Media (LMM) today. Due to BRAVA's continued growth, LMM will provide support with audio assets and custom demos moving forward into 2023.
Melissa Thom, Founder & Director of BRAVA said:
'We are thrilled to be joining forces with Adam and his highly experienced team at LMM. I have personally worked with Adam over many years, and have huge respect for LMM and their award-winning work for national radio brands including BBC Radio 1, Radio 2, Radio 1Xtra, Kiss and Asian Network, as well as their work across commercial and podcasts.
BRAVA Talent have been trained to the highest possible standards and their demos and audio assets must reflect this in order to position themsleves in a highly competitive industry. LMM is the perfect partner to help us deliver these assets at scale, focussing on the high quality we always strive for. We look forward to working with such a talented team.'
Adam Venton, Founder of LMM said:
"We're very selective in who we collaborate with, but partnering with BRAVA was a no brainer. I've known Melissa for many years and know anything she's involved with has the highest integrity and standards of professionalism. Creating bespoke audio assets and custom demos is just a part of our stable of services, and to be utilising it to help new emerging talent is both a joy and an opportunity we couldn't let pass us by. I'm excited to see, hear and work with the talent that comes through BRAVA's doors and hope that we can play a small role in elevating them into the industry".
If you'd like to find out more about the BRAVA's work with LMM, please visit our Talent Database at www.brava.uk.com/casting-database or contact us at [email protected]
To find out more about LMM, please visit our website at www.littlemonstermedia.co.uk
Grant Mansfield, CEO and Founder of Plimsoll Productions, an ITV Studios company, has been appointed a Visiting Professor for the College of Arts, Technology and Environment at the University of the West of England (UWE Bristol).
In his new role Mansfield will be working with the University to help inspire the next generation of programme makers.
He said: "UWE Bristol is a wonderful University where it's my privilege to serve as a Board Member and now a Visiting Professor. Under Professor West's leadership, links with employers have been significantly strengthened, benefiting students as they seek employment: in my new role, I hope to highlight pathways, opportunities and the skills required for a career in the creative sector."
Vice-Chancellor of UWE Bristol, Professor Steve West, added: "We're honoured Grant is joining us as a Visiting Professor at UWE Bristol; as a Bristolian who has seen worldwide success within his industry his insight and exceptional talent will be invaluable to our students and staff.
Mansfield founded Plimsoll in 2013 and the company has grown rapidly since with a total workforce of more than 400 across its officers in Los Angeles, Bristol and Cardiff. Plimsoll's BAFTA, Academy and Emmy Award-winning team specialise in wildlife, documentary, live and factual entertainment shows and is a global leader in natural-history programmes.  In 2019, Mansfield led a process to sell a minority stake in Plimsoll to private equity Group LDC and in 2022 he spearheaded a majority stake sale to ITV Studios in a landmark deal, valuing the company at £131 million. 
Plimsoll is behind more than 50 series, 14 live shows and seven films, including the James Cameron-executive produced and Benedict Cumberbatch-narrated Super/Natural for (National Geographic/Disney+), Emmy-nominated Hostile Planet with Bear Grylls (National Geographic), Night on Earth (Netflix), Tiny World (Apple TV+), Handmade: Good with Wood (Channel 4),  Britain's Parking Hell (Channel 5), Life at the Extreme (ITV), as well as the highly anticipated The Ascent with Alex Honnold (Disney+), among many more.
Before launching the company, Mansfield spent three years in Los Angeles as CEO of Zodiak USA. Previously, as Managing Director of RDF and, before that, Director of Programmes at Granada TV, Mansfield was the creative lead for two of the UK's most successful production companies, producing shows as diverse as I'm a Celebrity Get Me Out of Here, Coronation Street, Cold Feet, Ladette to Lady and Secret Millionaire.
Grant Mansfield was also one of one of eleven recipients of Honorary Degrees awarded by UWE Bristol in July 2022.
UWE Bristol has unveiled its new immersive Sound Shower experience at Bristol's Cribbs Causeway and Cabot Circus. Showing a mesmeric snapshot of campus life, the film was created by Skylark Media.
Filming took place at the university's Frenchay campus and city with the support of student contributors. Multiple locations include the Atrium cafe, Centre for Sport, student union, library, as well as at the Arnolfini in the city centre.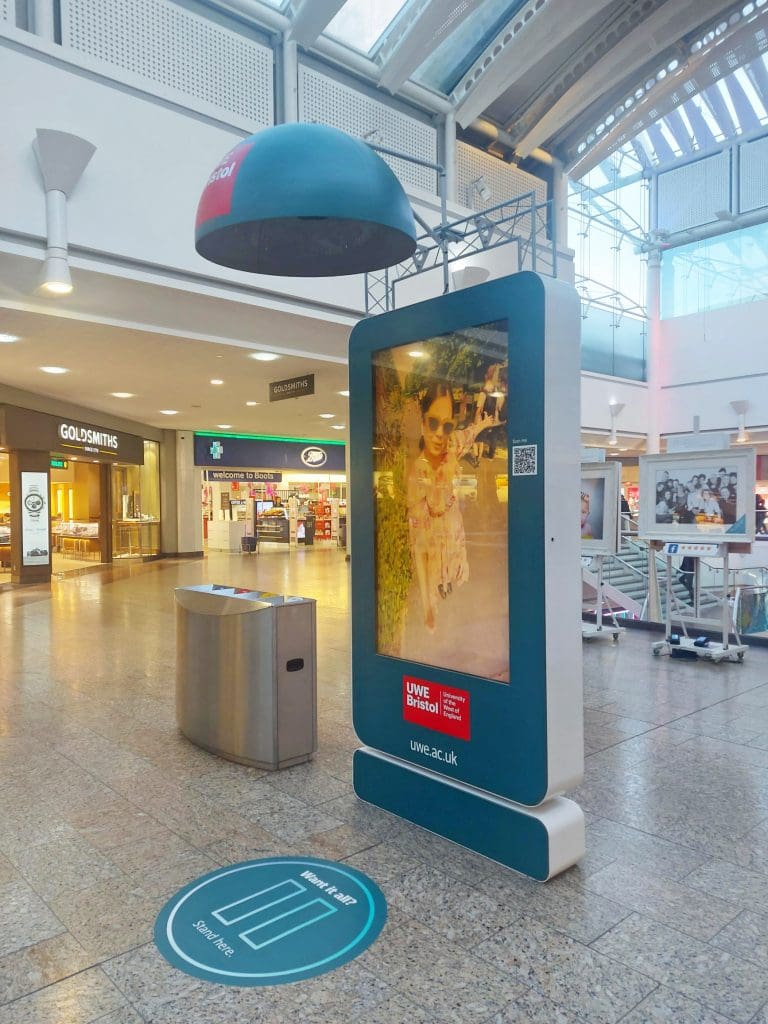 Stephanie Lee, Marketing Communications Manager at UWE Bristol says, 'This is a really exciting film project with Skylark Media where we're creating a film for a specific sound shower unit which will sit in Cabot Circus and Cribbs Causeway shopping centres to promote the university and bring campus life to the people of Bristol, so they can get a real immersive experience and sense of what it's like to study here on our campuses.'
Skylark Media MD Jo Haywood adds, 'For a unique out of home experience, we came up with a fully immersive concept using an Insta 360 camera on an extendable pole. It sits within the stitch line which then becomes invisible in post-production. The result is a fully immersive film that mimics a FPV drone – flying around from location to location or locking into subjects for detail. Diegetic sound is added in so that the viewer can eavesdrop into those private moments.'
You can experience UWE Bristol's immersive Sound Shower at Cribbs Causeway or Cabot Circus this month.
The National Governance Association (NGA) has announced the appointment of Bristol based Mentor Digital as its digital agency partner for a series of upcoming high profile digital projects. Following a highly competitive and extensive procurement process, led by technical procurement experts Hart Square, Mentor Digital was chosen as the winning bidder to deliver a new website, CMS solution, and CRM integration for NGA. Alongside the UX and website build project, Mentor Digital has also been selected by NGA in a separate tender process to deliver a full rebrand of the organisation including a new logo, style guide, and branding guidelines document. These projects will help NGA to deliver their ambitious digital strategy and will develop a solid foundation both creatively and technically for NGA & Mentor Digital to build upon in partnership over the coming years.
The National Governance Association (NGA) is the membership organisation for governors, trustees and clerks of state schools in England. Mentor Digital will design and develop a new CMS and website to support NGA's 75,000 members. The project will include brand new information architecture and website design, along with new UX and user journeys to provide an excellent experience for members as they are onboarded, renew their memberships, and take advantage of the many excellent services that NGA provides.
Mentor Digital's MD Holland Risley said "We are absolutely delighted to have been chosen by NGA for this project. The whole team has been great to work with during the procurement process, and we are really excited to be adding such a prestigious membership organisation to our client portfolio!"
NGA provides members with CPD and training opportunities along with an extensive e-learning offering through their highly popular Learning Link subscriptions. During the tender process NGA was impressed by Mentor Digital's award-winning e-learning work for the National Composite's centre. Integrating e-learning platforms is a large and exciting part of this project, and Mentor Digital presented a strong ability to deliver solutions to NGA's challenging requirements.
As with all major membership organisations NGA has a CRM (Customer Relationship Management) system that needs to be seamlessly integrated with the new website. Mentor Digital's team is highly experienced at integrating 3rd party CRM systems with front end websites and have many high-profile case studies of doing very similar projects with major membership organisations, including Royal Town Planning Institute (RTPI), National Deaf Children's Society (NDCS), Equity (the artists union), and Research in Practice.
To develop a website of this scale requires an in-depth process of stakeholder engagement, user research, design, and prototyping. Mentor Digital will lead an extensive series of discovery workshops with NGA and their members before producing fully mobile responsive prototypes as part of the project process to allow for the new website to be fully user tested using mobile devices and desktops. Mentor's UX testing team carries out mobile device guerrilla testing with specialist cameras for mobile devices and desktop UX testing, with their eye tracking suite, to ensure that all interfaces and journeys are intuitive and clear when used by real world users.
The websites will be developed using the excellent open-source Umbraco CMS platform, which provides highly secure, enterprise level, content management experiences with no ongoing licenses. Mentor Digital is an Umbraco Gold Partner and has implemented Umbraco CMS for many NHS Trusts and CCGs along with a wide range of B2B and B2C clients.
If your organisation is looking for a digital agency to work on a new or existing project, please get in touch with Mentor Digital, they would love to hear about your plans and how they can help you achieve them. You can fill out a contact form here or drop them an email to [email protected].
To see more examples of the work Mentor Digital produces you can visit the 'work' area of their website here.
The West of England's first-ever Good Employment Charter has been launched by Metro Mayor Dan Norris as part of a push to develop good jobs, deliver opportunities for workers to progress and help local and regional employers succeed.
First to sign up is the world famous, four times Academy Award winning animation studio Aardman. Others already pledging their support include Visit West as well as Bristol's Wake the Tiger, Bath's Storm and Stoke Gifford's Service Robotics.
The Charter has been designed by trade unions, employers and employees from across Bristol, Bath and South Gloucestershire.
Local firms big and small will be supported by the West of England Combined Authority, led by the Metro Mayor, to raise standards across a number of areas, including regarding recruitment and worker engagement, with a two-tier approach to help them progress.
Good Employment Charter
The two tiers of the West of England Good Employment Charter are:
Tier 1: Supporters – working with aspiring organisations to help them take steps to improve their own practices, including through a personalised action plan, workshops and other events, raising employment standards across the whole region, to meet the requirements of accreditation.
Tier 2: Membership – requiring employers to demonstrate excellent practice in key characteristics of employment practice. These are:
Secure work
Flexible work
A real living wage
Workplace engagement and voice
Excellent recruitment practices and progression
Excellent people management
A productive and healthy workplace
Businesses receiving funding through the West of England Combined Authority's investment funds will also now be required to become Charter supporters, confirmed the Metro Mayor.
Currently more than 15% of West of England workers take home less pay than the Real Living Wage, while an estimated 111,000 in the wider South West are on zero-hours contracts.
Metro Mayor Dan Norris said: "I'm delighted to see this manifesto pledge fulfilled. No matter what job you do, everyone deserves dignity at work, fair pay and secure work in a safe workplace with clear opportunities to progress and develop. I want to praise the brilliant employers we have in our region such as Aardman.
"Recognising those good employers and seeking to persuade everyone else to do the right thing is what this is all about. We know that employers who are best at properly supporting their employees are usually the most successful. So this a win-win for employers and employees. I welcome the employers ego have started the journey with us today, and I've no doubt that many, many more will join them soon."
Aardman Managing Director Sean Clarke said: "We're really pleased to support the Good Employment Charter and feel that improving employment standards is crucial for staff wellbeing, retention, engagement and productivity. Many policies such as the Real Living Wage and Secure Work have been in place for some time, which has already made a positive impact to the business.
"As an employee-owned business we are always looking to expand and improve engagement with the 'partners' in the studio and have various forums for partners to have a voice on the how the studio is managed and our business planning and priorities. Aardman is committed to providing a workplace where people and their ideas can really thrive.
"We believe that implementing these standards helps us to nurture our most important asset – our people – and ensures we are well placed to attract and retain our talent in an increasingly competitive talent market."
Employers interested in signing up to the West of England Good Employment Charter should email [email protected]
Access Creative College, Condense and LocalGlobe have teamed up to offer Bristol students a Metaverse Development Scholarship to bring more diversity to tech.
Access Creative College, the UK's leading games, music and media college, metaverse specialists Condense and venture capital fund LocalGlobe are offering up to eight fully funded scholarships to start in September.
To coincide with the launch, leading Bristol artists Lebo, Dread MC and Badliana were invited into Condense's cutting edge metaverse environment on 26 July to perform.
Using a state-of-the-art 360-degree camera rig constructed by Condense, the three artists each stepped into a virtual landscape to record their own performance. It is the creation of these virtual landscapes and their live-streaming capabilities which Access Creative College are now offering the chance for students to study.
Jackson Armstrong, executive head of marketing at Access Creative College, commented: "What better way to celebrate the launch of this new scholarship programme than by having some of Bristol's brightest upcoming artists perform in the metaverse, which our scholars will be working to produce."
Kicking off in September, successful scholars will learn how to stream live events into one of the world's most exciting new technologies, the metaverse. The successful applicants will take part in a 12-week programme, full of rich and intensive study, completely funded through the scholarship.
Jackson Armstrong continued: "When it comes to board positions within leading tech companies in the UK, the statistics are deeply concerning with the lack of gender split and those from ethnic minority backgrounds.
"We're excited at the prospect of helping to change that through this new scholarship programme and we're currently on the lookout for applicants to apply online."
Fully-funded intensive metaverse course
Scholars will learn digital graphics, 3D modelling, photogrammetry and textures, realtime VFX, plugin integration, in game/venue scaling and enhancing virtual worlds, enriching virtual worlds, interactions, spatial sound, player movement and networking basics.
James Tong, head of people at Condense, added: "You should apply for this scholarship because while everyone has a story to tell, not everyone has the same opportunities in life.
"This is an incredible opportunity to carve out a career in engineering and metaverse content creation. It's a 12 week fully-funded intensive course, so you will meet other people with similar interests and ambitions, and it could even lead to a permanent job with Condense."
Applications for the course are now open, and can be made through Access Creative College here.
Successful applicants will receive:
College accreditation and certificate
Hands-on experience with the latest technologies and techniques
Real world industry skills to support the next step in your career
High level of exposure to local employers
A potential career with Condense at the end of the 12 weeks
£1,500 bursary (dependent on learner performance)
GYDA is thrilled to announce its repositioning as a Mastermind-centred business. The relaunch which happened in June 2022, sees GYDA increase its focus from being a business consultancy who helped agency leaders through traditional consultancy methods, to one that focuses on peer-to-peer Mastermind groups for agencies leaders all over the world. 
The relaunch was the culmination of a six month project initiated by the managing partners Robert Craven and Janusz Stabik. 
Robert said:
'Our experience of running Mastermind programs spans back over seven years and includes the renowned Google Elevator program. It made sense to pivot the business to focus on the tools that work for agency leaders. We continue to support our clients with additional 1-2-1 coaching and growth centered consulting.'
The project included an in-depth strategy phase where GYDA collaborated with their growth experts and agency clients. Followed by a rebrand project with TinyBrand. 
Janusz said:
'We were so excited to work with Jemma at Tiny Brand again. Helping us to solidify and refine our brand strategy, they went on to create a new visual identity and collateral for GYDA. We are over the moon with the results. Our beautiful new brand fits perfectly with our audience and confirms GYDA's position as market leader for mastermind programs.'
Visit GYDA.co to learn more about GYDA Mastermind
Visit Tiny Brand
An explainer video is a wonderful thing. Done right, it can promote and simplify a complex product or service while dazzling your audience by showcasing your brand in motion.
We're going to tell you a bit about explainer videos and what makes them a compelling tool for brands, as well as showing you some great examples produced by our Video and Motion Graphics team.
What is an explainer video?
Explainers are often confused with tutorials, but they serve a slightly different purpose. A tutorial is purely instructional. It's there, for example, to tell you how to install an Isofix infant car seat when you're running an hour late for an appointment – the importance of which cannot be overstated.
The objective of an effective explainer video is to bring a product or service to life in a way that drives engagement and inspires action.
This can be an especially powerful tool for companies whose offering or story is even harder to grasp. Take one of our more high-tech clients, Prysmian – a world leader in cable manufacturing. While they provide a fascinating range of services, the complicated language and intricate specifications can steal focus. That's why creating an explainer video that gets to the core of what Prysmian does would add real value, cutting through the complexity and highlighting what really matters.
And because shoots on location have – for obvious reasons – become a bit challenging over the last couple of years, brands have begun to branch out and explore other storytelling media such as animation.
Animated explainer videos help to bring impossible stories to life – they can transport us to new worlds and introduce us to new ideas – and all in a way that yields tangible results. Offering up to 300% more traffic and possible leads, animated explainers are one of the best tools available to set you apart from your competitors.
Research shows that viewers are twice as likely to buy a product they've seen in an online video and four times as likely to choose Youtube, over other platforms, for information about a product or service. This gives us a clear indication that users want their product information in more digestible and dynamic formats.
Keep it simple.
Simple animations can pack a serious punch. While many believe animated explainers must involve either big-budget cinema-level CGI or garish cartoon characters Cbeebies would be proud of, that's simply not true. There are various techniques and styles to adopt, and harnessing the power of simplicity may be exactly what your brand needs. Clean, punchy text sequences with elegant shape animations can deliver something really engaging that will resonate with your audience and propel your brand into the beyond. There is also real value in keeping your video short and sweet (ideally two minutes or less) and getting the core message in early.
Atomic Design: What is it and why is it important in 2022? video here.
‍Atomic Design: What is it and why is it important
Our explainer about Atomic Design is a good example of how simple graphics and a well-crafted script can effectively streamline a complex concept. This appropriately named approach to building modern websites, through the use of so-called 'atoms,' 'molecules' and 'organisms,' has countless benefits. But, as you may agree, a written explanation alone isn't compelling or informative enough. Watching this video is much more enjoyable and crucially, more memorable than reading a wall of text. Plus, it's more likely that the viewer will share it.
An Introduction To Bud's Training Management Platform video here.
Bud Systems: Introducing Bud – Powering apprenticeship delivery
We love a good brand-led explainer video. Bud's bold, clean branding meant we could use some technicolour flair to design an equally vivid video. We started by extending Bud's multi-coloured logo form into a visual suite of colourful geometric shapes and key lines which capture the simplicity of the platform in an eye-catching yet understated way. We then brought these shapes to life with various motion techniques and sound editing, interspersed with shots of the platform in action. The resulting video echoes the vibrancy and enthusiasm Bud's users rediscover in their work with the help of this all-in-one platform.
Motion: Breathe life into your website with motion design (2022) video here.
Motion: Breathe life into your website with motion design
Our explainer video about motion design on the web is a perfect example of the power of simplicity. Through the use of geometric shapes and clean, playful movements we demonstrate not only the practical examples and best practices but communicate the benefits of doing so in an effective, captivating way.
So, how do we approach explainer videos?
Concept
Every successful video starts with a great idea. We take your brief on board – or work with you to create one – and use it to craft a compelling concept with your brand, mission and audience in mind.
Script
Our talented copywriters will transform that idea or content into a script that's fit for video. We can craft your entire script from scratch, or simply recommend amendments to an existing one.
Storyboard
Our team of creatives can begin to bring the finalised script to life. After choosing a style that fits the brand and concept, the video is mapped out scene by scene. This is an exciting stage where you get to see your story take shape, review the content and give feedback.
Production
Once we get to work putting all the magic pieces together, you can sit back and relax. Behind the scenes we'll be taking care of everything, from tweaking keyframes, ensuring smooth transitions and sculpting audio to enrich the experience through to sourcing and directing voiceovers until we're finally ready to export and review.
You finally have your explainer video and you've shared it with the world. Now what?
Well, it doesn't have to stop there! You can repurpose, reuse and re-share that lovely content across a whole host of different platforms. Switch up the voiceover, translate it to different languages, make it vertical for Instagram reels – the options are endless, and you'll have a suite of assets ready to wow.
What are you waiting for? Let's get together to craft your message and make it stand out.