As we announced earlier this year, Bristol Creative Industries has teamed up with Bristol-based social enterprise Babbasa and 14 creative businesses to launch a city-wide internship programme.
The programme is aimed at Bristol-based young people aged 18-24 from an ethnic minority and/or from a low-income background who want to gain insight and experience in the creative industry.
The scheme sees many of the city's most well-known creative companies offering six-month full time paid placements to applicants in roles covering advertising, marketing, design, animation and digital.
We held interviews last month (see image above) and we were so impressed by the talent and skills on display from the young people who applied. It was a very hard decision but we are delighted to announced the successful interns.
Watch the videos below for some insights from three of the agencies about why they are involved in the programme and the need to improve diversity in the creative industries.
Paula Newport, Aardman Animations
See Aardman Animations' Bristol Creative Industries profile here.
See Halo's Bristol Creative Industries profile here.
See Newicon's Bristol Creative Industries profile here.
We are delighted to announce the 14 young people from across the city who have been selected as the initial cohort for the Bristol Creative Industries Internship Programme, in partnership with Babbasa and 14 creative businesses from the BCI membership community. 
Launched earlier this year, the programme is aimed at young people aged 18-24 from underrepresented backgrounds wanting to gain more insight and real experience in the creative industries.
Two of the biggest challenges facing the sector are a long-term skills shortage and a lack of workforce diversity. This programme has been designed specifically to tackle those issues.
The BCI-commissoned A Creative Force to Be Reckoned With report found that increasing diversity and inclusion is a significant priority for six in 10 (59%) creative firms in Bristol, but almost half (48%) said they want help finding diverse talent from underrepresented groups.
As part of the Bristol Creative Industries Internship Programme, many of the city's most well-known creative companies have offered six-month full time paid placements to applicants in roles covering advertising, marketing, design, animation and digital.
Sara Foley, senior designer at Mr B & Friends, commented on her agency's reason for participating in the programme:
"At Mr B & Friends, we're on our own journey for better representation and inclusivity within our agency and the industry as a whole. Our DE&I team (in its fifth year) understand that there are barriers to getting into the creative industry for those who are in underrepresented groups.

"Whether that be lack of education, lack of opportunities or lack of awareness that this is a career path for them, we were looking to be able to provide an opportunity for young people and this internship programme has helped give us that."
Over the past few months, applicants met participating agencies for an informal interview and meet & greet session at The Watershed, where they had the chance to chat directly with the participating agencies to learn more about the businesses and remit of the available roles.
Rob Pellow, executive technical Director at Armadillo, commented on the recruitment process:
"Meeting the potential interns and working with them in the workshop was an unbelievably eye-opening experience. Nothing had prepared me for the level of passion, curiosity, and dedication to finding work that energises them."
The successful applicants will now work for six months, during which time they will undergo two placements at two different agencies, both lasting three months each.
The programme will provide a mix of professional skills training, creative skills training, inspirational talks, networking events, mentoring and opportunities for future employment.
Zoe Lynes, head of services at Babbasa, said: 
"This is an amazing opportunity we are creating for young people across Bristol and our collaboration on this scheme has been a real passion piece for all of us here at Babbasa.

"This project has allowed us to foster a strong collaborative relationship with Bristol Creative Industries, aligning our mutual goals of raising up those young people who have been disadvantaged, to work together to build opportunity, excitement, and progression for those young people who need it most in Bristol."
Chris Thurling, chair of Bristol Creative Industries, commented:
"We are delighted to welcome our first cohort for the internship programme. Just the recruitment process itself has been incredibly rewarding for all involved and has only reinforced the reasons as to why we set up this initiative.

"We are incredibly excited to see the new recruits take the next step in their journey and kick off their roles with some of the very best creative businesses not just in the city of Bristol, but in the UK."
Bristol Creative Industries Internship Programme interns
The businesses and Bristol Creative Industries members participating in the programme are:
The full list of interns and the companies they are working their first placement at: 
Abdifatah Kheyre – Six
Abdur-Rahman Shafi – Noble Digital Performance
Ahmed Ismail – Newicon
Amy Smith – Halo
Kayjay McDonald-Ferguson – saintnicks
Laurel Beckford – ThirtyThree
Mohd Wani – Atomic Smash
Omar Ibrahim  – Aer Studios
Priscilla Kodjo – Diva
Sara Matloob – Mr B & Friends
Seren Spooner – Armadillo
Sophie Kirk  – TMW Unlimited
Touka Mostafa – McCann Bristol
Yasmina El Khatib – Aardman Animations
Read more information about the Bristol Creative Industries Internship Programme here. 
Top image credit: Eljay Briss [website] [Instagram]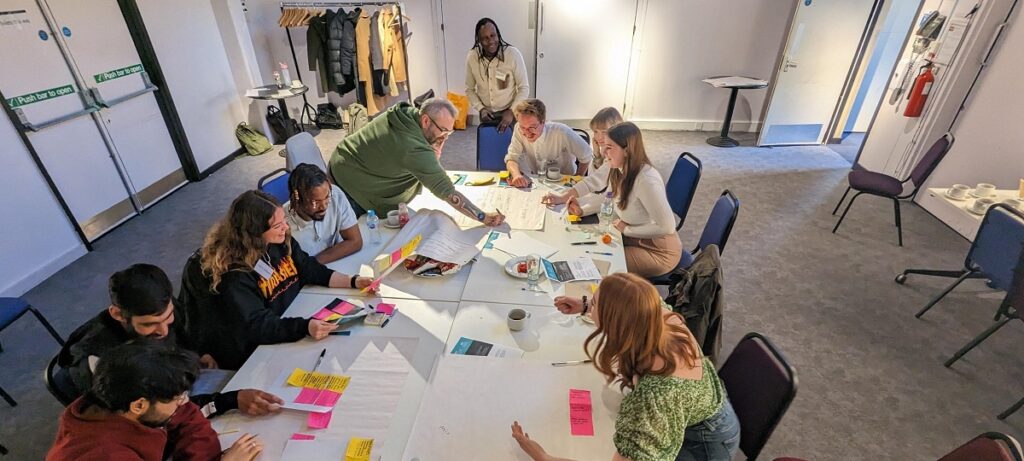 Quotes from other participating agencies:
Paul Bailey, brand strategy director, Halo:
"We are three days in to our internship and I've been amazed at the impact our intern has had. A super smart, super tuned-in, super vibrant personality, she has been a breath of fresh air to the agency. Her youthful energy and her lack of limits has inspired our agency already. Imagine what she will do in week two!"
Matt Woodman, UX/UI designer, Atomic Smash: 
"Our first placement, Mohd, has been an absolute pleasure to work with. He's keen, curious and engaged to a level that I could only have imagined. We can see exactly why he's been matched with our agency and are excited for the coming weeks working together."
Phill Lane, head of brand and insight, ThirtyThree:
"As an agency that works with employers on recruitment marketing, culture, and DE&I comms, it's vital that we have an employee base ourselves that represents the whole of society, and benefits from the diversity of thought and experience that that brings.

"For us, the Bristol Creative Industries Internship Programme is a tool to help address the fact that there are underrepresented groups who don't have access to, of understanding of, the creative industries – and that, without a dedicated programme of outreach, education and access to opportunity, we'll never change that." 
Lucy Rees, people and culture manager, Newicon: 
"The creative industry has needed a disruption for quite some time, this internship is just that, with diversity comes innovation and I cannot wait to see the impact the interns will have in all of our business over the coming months."
Paula Newport, director of people and culture, Aardman Animations:
Bristol-based web design and branding agency, Squarebird, have modernised the online presence of GLOBIS University, a leading business school in Japan, to better appeal to international audiences.
Combining Functionality with Creativity.
With practicality, entrepreneurship, and a strong global network at the core of the GLOBIS offering, it was crucial that the new website reflected these strengths alongside the wider benefits of joining University. Following a period of extensive market and user research by the GLOBIS team, Squarebird was briefed, and the discovery phase of the project began, starting with functionality, sitemap, and user journeys before moving onto the creatives.
The new English-speaking GLOBIS website needed to align with the global brand and Japanese-speaking site, yet still have its own identity. To encapsulate this, the team designed a number of brand exploration style tiles to ensure all stakeholders were aligned on the overall look and feel before moving on to the more functional desktop and mobile page designs.
Driving Impact Through Leadership.
With designs approved, the website development began. The Squarebird team worked closely with GLOBIS stakeholders to ensure the functionality matched their requirements, feeding courses, faculty members, events and more throughout the site to provide users with a constant stream of information and networking opportunities. Bespoke landing pages were an incredibly imperative element in this project given GLOBIS' extensive marketing campaigns, and a flexible template enables GLOBIS to be able to create bespoke pages for future campaigns, with tracking established to record performance.
''The design brief was to include current brand styles and functionality but with a modern edge. The Squarebird design team had to adhere to GLOBIS' brand colours and graphic shapes but incorporate new typography, photography, iconography and new forward-thinking UI. Working closely with GLOBIS throughout the design stage, the project team were able to produce a new website design that delivered the creative brief and more.''
– Alec Herrington, Design Lead at Squarebird

"We're extremely proud of our work with GLOBIS University. For me, the success of a website development project that involves international collaboration is not just measured by the end product, but by two teams working seamlessly in unison towards a shared objective from different corners of the world.
A large part of the project was to ensure we empowered the GLOBIS team with the ability to effortlessly update and manage their website, ensuring the project's long-term success and value. I feel we achieved this, and more, building a website filled with client-centric functionality. 
The GLOBIS team were a pleasure to work with, and we look forward to future projects with the organisation."
-Nick Bird, Managing Partner at Squarebird
An Ecosystem of People, Capital and Knowledge.
The new website provides a present, informative, and visually engaging website that embodies the GLOBIS difference and presents their offering to talented international prospective students, giving them an insight into what life could look like at the GLOBIS business school.
"Before partnering with Squarebird, our University's website faced challenges like limited organic traffic, outdated design, and unintuitive user experience. After evaluating over 20 agencies worldwide, we chose Squarebird for their expertise in design, development, SEO strategy, and excellent communication style. The outcome of our 9-month collaboration was a revamped website with enhanced UX/UI, compelling brand messaging, fresh visuals, and improved information architecture. The new site has attracted positive feedback from stakeholders and successfully showcases our brand values and personality. We're proud of the results and highly recommend Squarebird's high-quality services to others seeking an impactful web transformation."
-Cristiana Celli, Digital Marketing Specialist at GLOBIS University
View the full case study here. 

World-renowned, Bristol-based product development consultancy Kinneir Dufort are proud to be running the Ethnic Diversity Excellence Programme (EDE) for a third year running.
To tackle the visible lack of diversity within the UK design industry, Kinneir Dufort's EDE Programme offers an opportunity for three students from minority ethnic and heritage communities entering their third year of university to take part in a funded 8-week internship. 
Supported by an industry-wide EDE Council, with distinguished council members of minoritised ethnic backgrounds from AstraZeneca, LettUs Grow, No7 Company, FluoretiQ, Unilever and Reckitt, the programme offers three students in their final year an immersive opportunity to learn and develop within an industry environment. The successful applicants will also take part in school outreach programmes to help increase awareness of the design sector to help boost diversity in future generations of designers.
Along with 8 weeks of hands-on experience, mentoring and advice, the individuals will receive a £2,000 sponsorship along with £1,000 travel and accommodation expenses. This opportunity is open to all universities in the UK.
The driving force behind the programme, Sunny Panesar, Head of Portfolio Management at KD, is driven by the lack of ethnic diversity in the product development industry, and the need for change. Sunny says: "Having often been the only person of colour in the room throughout my career, the lack of ethnic diversity is striking, if we're truly going to design a better world, we need to reflect the people we're designing for.
"I understand how important it is for ethnic minority students to have this opportunity, firstly to make them aware of this incredible industry as a career option and then to help them overcome complex systemic barriers holding them back when trying to break into industry. Our goal is to level-up and give minoritised ethnic students an equal playing field. We want to offer interns a high-quality experience which is immersive and potentially life-changing; they will learn and develop within an exciting and unique environment with external mentoring from industry experts.
"The last two years have been a resounding success for KD, we have taken on full-time employees from the scheme and have a seen a vast improvement in all areas of diversity throughout the team. This year, we're excited to launch the programme again and encourage students from around the UK to watch our webinar and submit their applications."
Kinneir Dufort believe that they, and the wider innovation, design and product development industry need to do more to mirror the diversity of who we are designing for within the UK, and beyond.
Learn more about the application criteria, how to apply and the deadline here. If you would still like to learn more and see if this programme is for you, you can watch our recorded live Q&A with our EDE Council.
We're thrilled to announce the return of the Torchbox Academy! An opportunity for you to kick-start a career in tech or digital marketing with a paid, full-time position here at Torchbox.
So, what's the Torchbox Academy all about?
A place on our academy programme provides hands-on experience in our tech or digital marketing team. It's a fully paid role that provides full training throughout, leading to a permanent position upon completion of the programme.
Learn everything you need to know about your chosen profession from our expert team.
Work alongside a dedicated mentor who will support your growth and development.
Contribute to compelling projects for our incredible nonprofit clients such as Mind, Oxfam, and Samaritans.
Help to shape our awesome employee-owned agency by contributing to our Voice Groups and joining events, talks, and socials.
The digital marketing programme runs for one year and the tech programme runs for two years, both starting from September/October 2023.
New to 2023, we've introduced an SEO-specialist position!
Who can apply to the Torchbox Academy?
Anyone in the UK who is passionate about a career in tech or digital marketing can apply. This could be your first job, a career change or a return to work.
Whilst it's possible to work from home, we'd love you to be able to pop into the office to meet with your mentor from time to time. We're a friendly bunch with a vibrant atmosphere in both our Oxfordshire and Bristol offices. Plus, you'll get to enjoy all of the perks of visiting the office:
Free tasty lunches from our favourite local eateries on Tuesdays and Thursdays.
Regular socials range from movie nights to laser tag and coffee mornings.
Plus unlimited free snacks and drinks.
Our city-centre Bristol office is great for a spot of lunchtime mooching around the shops. We'll be able to show you all the best coffee spots too! Our Oxfordshire office is set amongst a beautiful landscape of open space and rolling hills. We often head out for lunchtime walks to spot the herd of deer that roam the fields. We'd love you to join us!
How does the application process work?
You can submit your application here. The first stage is to complete a series of short tasks. We won't ask for your C.V at this stage, so don't worry about updating that quite yet!
Applications are open from Thursday 6th April and close on Monday 24th April. So, be sure to submit your application in time!
If your application is approved, the next step is to join our Academy Day in Bristol, which includes exciting talks, workshops and a 1-2-1 interview.
The Tech Academy day will be on Tuesday 6th June.
The Digital Marketing Academy day will be on Friday 14th June for both paid media and SEO roles.
We'll plant a tree in the Torchbox Grove for everybody who joins one of our Academy Days.
Why Torchbox?
We've always been a values-driven company, and that's reflected in our amazing clients-roster. Now, we've helped to pioneer a socially-responsible business model too, causing a bit of a stir back in 2019 when we became the first digital agency to become 100% employee-owned!
We were proud to be recognised as a World Class place to work in the Best Companies Survey 2022 along with a number of other industry accolades that showcase our dedication to our people and the planet.
You'll also get our full benefits package that includes:
The chance to work with our brilliant clients, making the world a better place
Competitive salary with annual review with annual employee owners and performance bonus
Training and conference budget to accelerate your development.
Flexible working hours; the option to work fully remotely, split your time between office and home, or choose to be in one of our offices fulltime, enabling you to work in a flexible way that best suits your needs.
Free eye tests, flu jabs & shopping discounts
Private health scheme and access to mental health support
Ethical pension scheme, with a 5% contribution from Torchbox
Electric car salary sacrifice scheme (UK only)
Wellness programme and cycle to work scheme, alongside other Torchbox offerings, good for both you and the environment.
Regular virtual and in-person events, weekly veggie team lunch (when we're in the office) & parties including our famous Torchfest
27 days holiday, plus public holidays
How do I apply?
Join us on the 9th June via our  Virtual Classroom
As only one of three national Centres for Excellence in SEND, our award winning and worldwide recognised team deliver this incredibly informative workshop, delivered by our highly skilled and experienced neurodivergent employment specialists.
This workshop will give you an introduction to becoming an inclusive employer; providing you with the knowledge and skills required to support neurodiverse employees and customers.
This dynamic and innovative workshop will allow you to access untapped talent through an inclusive recruitment process. As a result, making reasonable adjustments in the workplace can lead to greater productivity, higher staff retention and increased income.
Making reasonable adjustments in the workplace will lead to a more productive workforce, which will result in a higher retention of diverse employees.
For a small investment of only £99 per participant (free funded spaces are available for SME's so do reach out)). You will benefit from the 1-day workshop, as well as a follow up consultation with our experienced team. We can also offer Lunch and Learns or bespoke full training options for your business.
There are plenty of exciting elements to running your own business – or any business! Many enjoy the freedom of being their own boss and delegating their own tasks (and where they work from). The thought of being paid to do what you love is an exciting and encouraging commodity.
Knowing what numbers are important when it comes to managing the finances of your business can be daunting, to say the least! We're here to help with this handy video, to give you a quick rundown of what you should be tracking – dependant on your business goals.
Before we begin, it's important to understand what your business goals are. The information you will need will change depending on these goals. For example, if you are in a growth stage, you're going to be tracking different numbers to if you are simply in 'survival mode'. This video will cover the 'must have' numbers to start with.
Turnover (Revenue)
Arguably this is the number that most businesses will focus on, yet many will only look at how they did the month previously. It's super important to have an overview of your turnover as a whole. Keeping an eye on the trends can show you quickly whether your numbers are up or down. If you can determine why your sales are fluctuating, you can implement strategies to ensure those numbers stay on an upwards incline. Without this, you may not even realise your revenue travelling on a downward slope. 
Cost of Sales 
These are the costs that directly relate to being able to provide your business's goods and/or services. Having an account of these costs helps you also understand your gross profit. Make sure you routinely assess this number as it is one you have a lot of control over! How can you add value to your business? And how can you ensure that you get the most value out of these costs?
Operating Expenses
These are the expenses that are for running the business. You need to spend money to earn money, so it makes sense to ensure that you are keeping an accurate record of these expenses. Operating expenses include things such as wages and administration costs. When costs need to be reduced, this is the first place you should look. If you have an accurate record of what you're spending to operate your business, you can evaluate whether you really need that subscription service anymore, or even if there are licenses you can afford to boot if you no longer need them. 
Taxation/Corporation Tax 
This is a sneaky one! Corporation Tax is the tax you pay on any profits you make from successfully doing business, selling assets or investments. You won't get a bill for corp tax but you will be expected to pay by your deadline (which is usually 9 months after your year-end/accounting period). There are certain things you must do to work out how much corporation tax you owe and must pay to HMRC. Corp tax is currently 19% of profits within a financial year…however, this goes up on 1st April 2023 to 25% for companies that make over £250,000. Posting a provision based on monthly profit will help take away that end-of-year scare. Top Tip: This is something that we do monthly for our clients here at FD Works, helping to reduce any big shocks at the end of the year!
Operating Profit
This is the main figure that it all comes down to…how much money did your business make or lose? Obviously, a big one to keep track of! In other words, operating profit is the total income a company generates after paying off all operating expenses. The operating profit figure excludes gains or losses from interest, taxes and investments. This number is a highly effective way to distinguish the health of your business. 
Cashflow
An extra number to keep an eye on is cash flow. Cashflow is the amount of money being transferred in and out of the business. Generally, if your outgoings are consistently greater than your ingoings then your business isn't sustainable and you need to look at what can be done to solve this. However, it's not quite that simple!  You may spend £10k on sales in order to make £100k. Yet, if that money isn't paid on time to you, you can't reinvest another £10k into your next batch of sales. If you've been keeping track of the other metrics mentioned previously, you have the tools in place to troubleshoot your issue and react accordingly:
Generate more profit 

Reduce operating expenses
…And there you have it! In this article, we have broken down the metrics that we think are important to keep track of and understand. Now, this isn't a comprehensive list, so make sure you get in touch with us or check out our website if you are ready to take control of your finances and work with our incredible team. We really believe that numbers reveal the opportunities for shaping any business.
Numbers are beautiful, embrace them! 
It's said that what happens in the US, takes 5 years to happen here. Personally, I think its MUCH quicker than that!
90 million Americans will be freelance by 2028. Up from 59 million today (36% of the entire US workforce). For a combination of reasons, the world keeps moving towards a freelance work-style. Even though highly-educated, highly-skilled, better paid than 70% of the entire US workforce (and therefore higher tax-payers) governments everywhere still continue to misunderstand and largely ignore them, despite their estimated $1.6 trillion contribution to the global economy.
Most freelancers have to fend for themselves. 63.6% are under 34 years of age – and have never experienced a recession. This video
https://www.linkedin.com/posts/roysheppard_freelancing-freelance-economy-activity-7015388336827551744-OSXi?utm_source=share&utm_medium=member_desktop
I posted on LinkedIn offers urgent advice for all freelancers. Not just young ones.
Please share with any freelancers who might find this helpful.
(Sources: Forbes, CNBC, Upwork and Edelman Intelligence).
Bristol Academy of Voice Acting (BRAVA) announces partnership with audio production company, Little Monster Media (LMM) today. Due to BRAVA's continued growth, LMM will provide support with audio assets and custom demos moving forward into 2023.
Melissa Thom, Founder & Director of BRAVA said:
'We are thrilled to be joining forces with Adam and his highly experienced team at LMM. I have personally worked with Adam over many years, and have huge respect for LMM and their award-winning work for national radio brands including BBC Radio 1, Radio 2, Radio 1Xtra, Kiss and Asian Network, as well as their work across commercial and podcasts.
BRAVA Talent have been trained to the highest possible standards and their demos and audio assets must reflect this in order to position themsleves in a highly competitive industry. LMM is the perfect partner to help us deliver these assets at scale, focussing on the high quality we always strive for. We look forward to working with such a talented team.'
Adam Venton, Founder of LMM said:
"We're very selective in who we collaborate with, but partnering with BRAVA was a no brainer. I've known Melissa for many years and know anything she's involved with has the highest integrity and standards of professionalism. Creating bespoke audio assets and custom demos is just a part of our stable of services, and to be utilising it to help new emerging talent is both a joy and an opportunity we couldn't let pass us by. I'm excited to see, hear and work with the talent that comes through BRAVA's doors and hope that we can play a small role in elevating them into the industry".
If you'd like to find out more about the BRAVA's work with LMM, please visit our Talent Database at www.brava.uk.com/casting-database or contact us at [email protected]
To find out more about LMM, please visit our website at www.littlemonstermedia.co.uk
Grant Mansfield, CEO and Founder of Plimsoll Productions, an ITV Studios company, has been appointed a Visiting Professor for the College of Arts, Technology and Environment at the University of the West of England (UWE Bristol).
In his new role Mansfield will be working with the University to help inspire the next generation of programme makers.
He said: "UWE Bristol is a wonderful University where it's my privilege to serve as a Board Member and now a Visiting Professor. Under Professor West's leadership, links with employers have been significantly strengthened, benefiting students as they seek employment: in my new role, I hope to highlight pathways, opportunities and the skills required for a career in the creative sector."
Vice-Chancellor of UWE Bristol, Professor Steve West, added: "We're honoured Grant is joining us as a Visiting Professor at UWE Bristol; as a Bristolian who has seen worldwide success within his industry his insight and exceptional talent will be invaluable to our students and staff.
Mansfield founded Plimsoll in 2013 and the company has grown rapidly since with a total workforce of more than 400 across its officers in Los Angeles, Bristol and Cardiff. Plimsoll's BAFTA, Academy and Emmy Award-winning team specialise in wildlife, documentary, live and factual entertainment shows and is a global leader in natural-history programmes.  In 2019, Mansfield led a process to sell a minority stake in Plimsoll to private equity Group LDC and in 2022 he spearheaded a majority stake sale to ITV Studios in a landmark deal, valuing the company at £131 million. 
Plimsoll is behind more than 50 series, 14 live shows and seven films, including the James Cameron-executive produced and Benedict Cumberbatch-narrated Super/Natural for (National Geographic/Disney+), Emmy-nominated Hostile Planet with Bear Grylls (National Geographic), Night on Earth (Netflix), Tiny World (Apple TV+), Handmade: Good with Wood (Channel 4),  Britain's Parking Hell (Channel 5), Life at the Extreme (ITV), as well as the highly anticipated The Ascent with Alex Honnold (Disney+), among many more.
Before launching the company, Mansfield spent three years in Los Angeles as CEO of Zodiak USA. Previously, as Managing Director of RDF and, before that, Director of Programmes at Granada TV, Mansfield was the creative lead for two of the UK's most successful production companies, producing shows as diverse as I'm a Celebrity Get Me Out of Here, Coronation Street, Cold Feet, Ladette to Lady and Secret Millionaire.
Grant Mansfield was also one of one of eleven recipients of Honorary Degrees awarded by UWE Bristol in July 2022.