We're delighted that our hospitality design of Apprentice Winner, Harpreet Kaur's Oh So Yum! dessert parlour has been recognised by the London Design Awards.
Phoenix Wharf created a candy-coloured fantasia at the Bradford site. The hospitality outlet was funded by investment from the show's host, Lord Sugar, now also a partner in the business. The 144 sq m, 55-cover, sit-down 'Oh So Yum!' dessert parlour is the flagship for the brand, set to 'take over the dessert world'. The immersive, 'wow factor' space, is inspired by Harpreet's desire for a clean-lined, Willy Wonka-style interior experience.
Until recently, the menopause was something that was not understood and not talked about in equal measure. But after several celebs spoke about their experiences, it became something of a hot topic, with many 'experts' appearing to offer help, like tips for a 'menopause diet'.
We needed to cut through this noise when we created the Hartwell brand. This was different: its founder Natasha Hartwell was a nutritional therapist who based her work on science and evidence-based results, and made real-world, practical suggestions. This was a real expert who could actually help with the symptoms of menopause, and help people feel like themselves.
Hartwell's approach was a fantastic differentiator and a great place to start, so we began the process of building the brand around this strong core idea.
Hartwell Nutrition vs menopause diet
As with any branding, whether we're creating a brand or refreshing one, we need to understand what makes it unique, what makes it tick and what makes other people care.
We started a deep dive into Hartwell's way of working, including how it does it, what it values and its ambitions. The answers to these big questions would help define the new brand's values and personality, which would lead us towards how the brand should look and feel.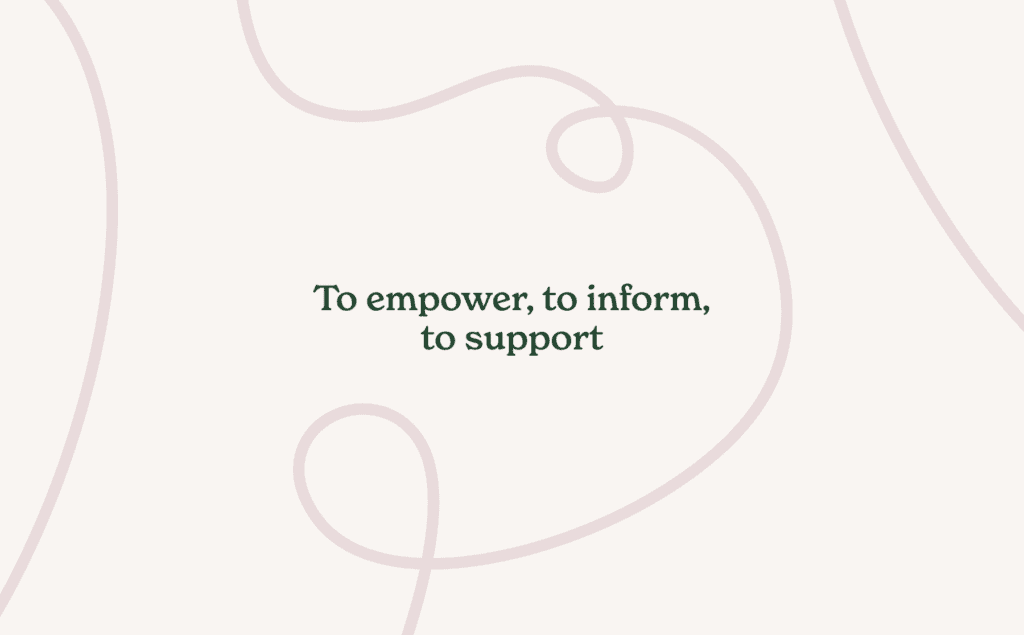 Understanding the menopause landscape
Hand in hand with that, we also carried out an audit of the busy world Hartwell would be entering, specifically focusing on the menopause diet market. What were existing competitors doing? And was any of it working? We discovered an ocean of word salad, bland imagery and 'mumsiness', with very few examples of brands who really knew how to communicate what they were doing.
We held a focus group for people going through menopause, to find out about their general experience and if they had tried menopause diets. It was clear that they felt unseen and unsupported, and were suffering emotionally as well as physically.
Bringing the brand together
Our research showed us that to reach as many people as possible, Hartwell had to be very clear with its messaging, putting its unique science-based approach front and centre. But to connect emotionally, this clarity had to feel personal. As a result, we made the decision that the voice of Hartwell would be Natasha, so it would be all written in first person, and talking directly to the target audience – just as it would be in a one-to-one consultation.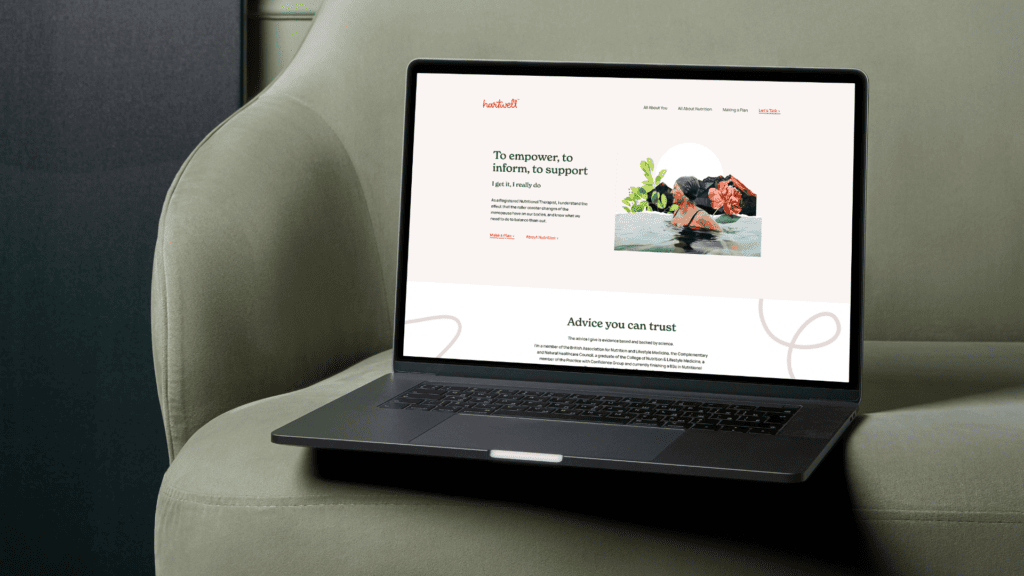 Visual identity – logo
This connected perfectly with the decision to use Natasha's surname as the name of the brand (her name, her voice) and also helped to complete the circle with the logo, which feels like a signature.
This hand-drawn logotype not only gives the brand a personal, human appeal, it also shows that Natasha is not afraid to sign her name to her work. The brand's confident because its work is based on evidence – Natasha knows that she can genuinely help her clients.
We created a stacked version of the logo too, primarily to work with social media and smaller spaces, but also with one eye on the future, where 'Eat well', 'Live well' and other variations could be used.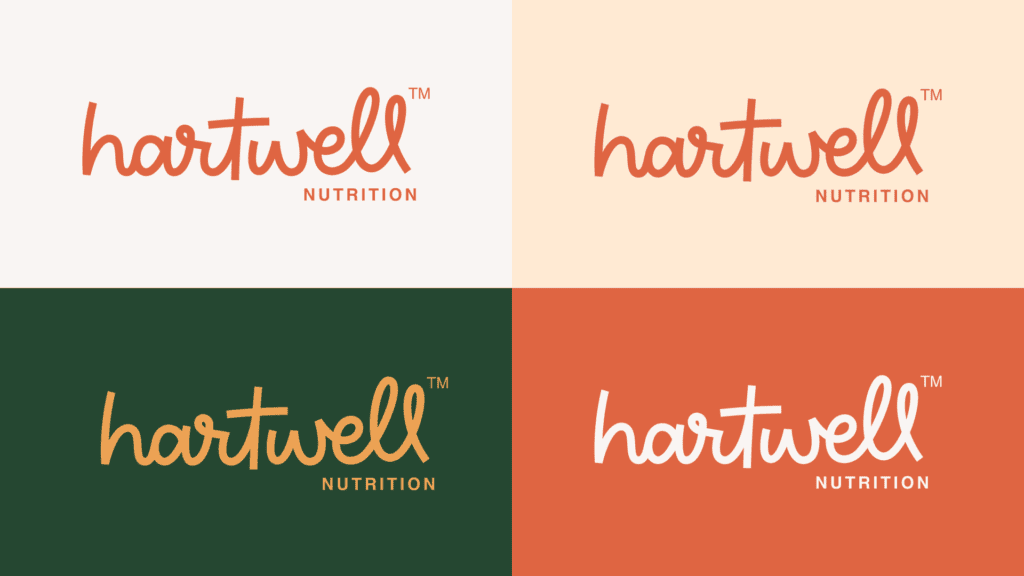 Brand elements
The logo had been developed as part of a stylescape. These are visual explorations of a brand driven by a core thought, and include everything from brand palettes and imagery through to typefaces. They're a great way to ensure everything is designed as a family, not in isolation, and to see the entire brand working together.
This particular stylescape was based on the idea of empowering clients, factual information, non-judgemental advice and friendly support. Those building blocks led us to a colour palette that was vibrant and earthy, warm and dignified. We purposefully kept away from a palette that was overtly feminine.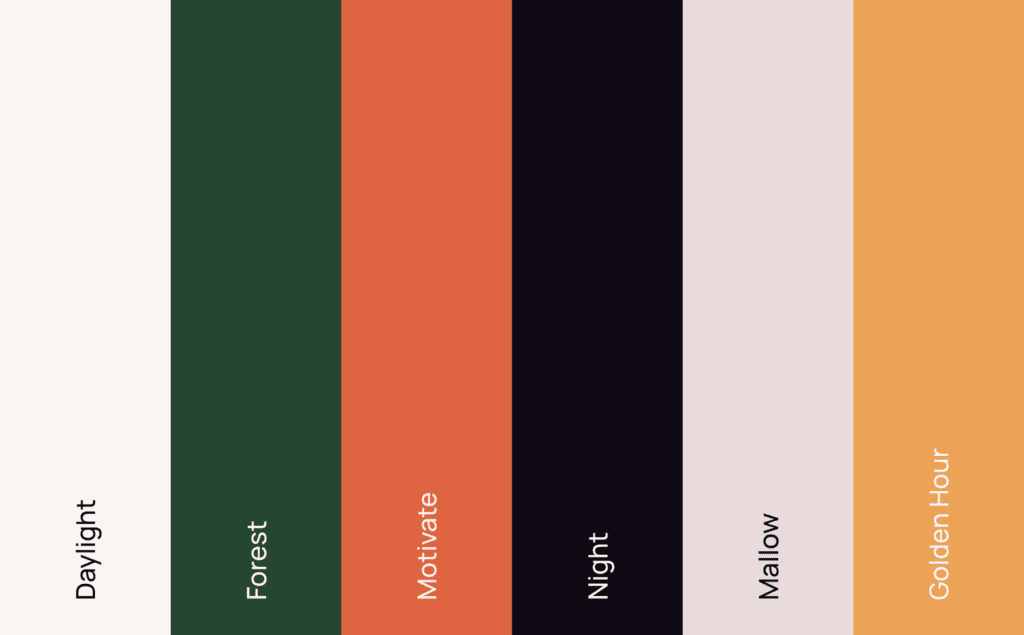 Brand imagery centred on collages which connected the way of life our audience wanted to get back to, with nature. The collage construction gave us the scope to tell infinite stories, while the connection to nature was a common theme throughout the work, coming both from Natasha's understanding of nutrition, and people's connection to cycles.
Finally, and developed from the hand-drawn logo, we introduced the squiggle. This graphical motif doesn't have a defined form, and instead is unique each time it's used, just like Hartwell's clients and the advice Natasha gives them. The squiggle device can be used  to frame text, create direction or simply bring some visual interest to a design, and helps to bring the whole visual identity together.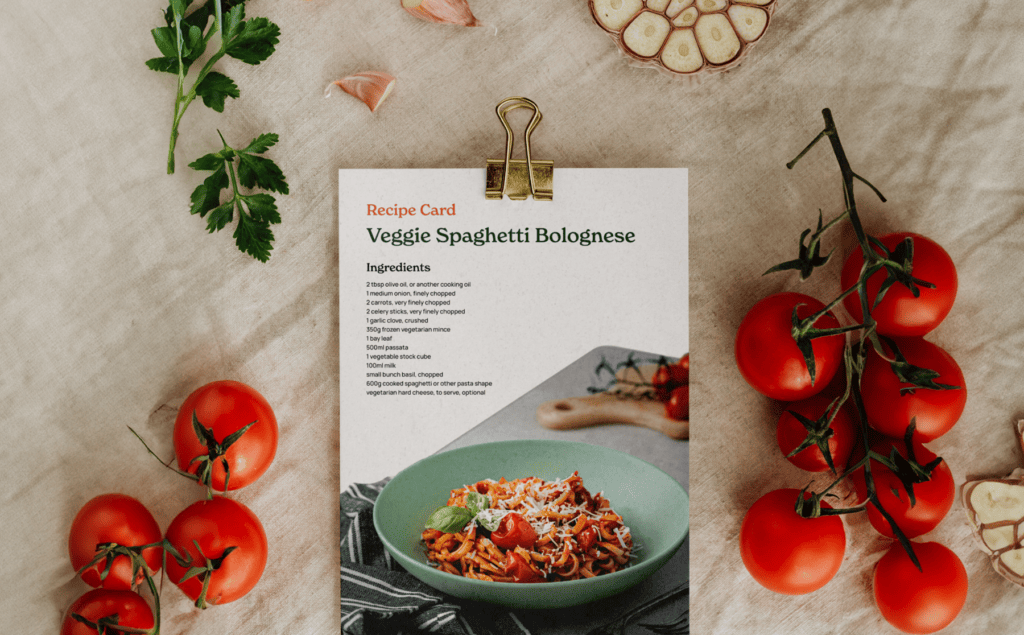 Not just another menopause diet website
As part of the brand launch, we designed and wrote the Hartwell website. We initially mapped out a number of user journeys so we could design the perfect UX for the busy audience. Our goal was to show enough to prove Hartwell's credentials, and then invite the audience to take the next step by getting in touch. Copy was therefore kept to a minimum, with the approach being to balance the warm, personal tone with the science that backed it up. This was helped by the brand fonts, the soft and warm New Spirit, paired with the strong and steady Elza Text.
The look of the site mirrored this balance, with a clean look punctuated with lifestyle/nature combination images that brought energy to every page. With minimal copy, the space in the design really helped to deliver a fresh experience, in contrast with nearly every one of Hartwell's competitors.
The finished brand feels like a modern lifestyle/health brand (not a faddy menopause diet plan), which has the confidence to show what it can do, without having to tell its audience everything it can do.
Find out more about Hartwell Nutrition here
We've won a few awards to date but this is the biggest one so far, our first gold! "The Third Angle,", a podcast we make for industrial software company PTC won the Gold for Best Business Podcast at the British Podcast Awards in September. In all honesty I was shocked, not that I think it's not worthy, I'm hugely proud of it and the team who make it, but, the competition was heavyweight! It beat podcasts from the likes of the FT, The Economist, and the BBC.
The judges said some kind things: "This is how to do a corporate podcast, I love the fact that they get more from the guests than just a simple interview. The tours and interactive parts bring this to a different level. It's a blend of geeky and clever – but also really accessible."
A bit about the podcast
"The Third Angle" provides a refreshing dive into the design and engineering world. It's not just a corporate message board for PTC. Instead, it offers listeners an intimate tour behind the curtain of innovation. By avoiding the cliché Zoom chats and taking the listener into real-life settings – whether that's a Danish lab, an Essex workshop, or a Nairobi production line.
Setting out to be stand-out
I really do think our Bristol roots inspire us to think differently, to be authentic, and we always try where we can to harness the rich tapestry of creative talent that we have here.
Every detail of "The Third Angle," from its visual identity to the futuristic and playful soundtrack (created by a Bristol-based composer), is curated to make the podcast memorable and stand out, something that listeners would eagerly share with friends and colleagues, which is vital when the business podcast space is so competitive.
Not Just Another Corporate Podcast
The win I think reaffirms our belief that corporate podcasts, when produced with flair, can compete with anything out there. A big part of the success is also down to our client PTC who have really got behind the creative vision.
For anyone contemplating stepping into the branded or corporate podcast world we're always happy to chat about how to make sure you get cut through. In this vibrant Bristol community, standing out is what we do best!
Claire Ladkin, founder of All About The Cooks – a Bristol-born online marketplace for home-cooks to sell their food – has been nominated as a "Community Food Champion" finalist at the BBC Food & Farming Awards. The category, sponsored by BBC Morning Live, celebrates those working in food who are making a difference to their community. 
 Driven by the belief that food acts as a catalyst to bring people together, Claire wanted to create a platform where talented home-cooks could make money selling their food to local people. And so, late in 2021, All About The Cooks was born. 
Food is usually ordered through the platform about 24 hours in advance and cooks and buyers arrange collection or delivery between them. This 'doorstep interaction' is a place where food, cultures and stories are shared, and enriches the whole experience. Through All About The Cooks, buyers can discover home-cooks living near them who they would never have known about. 
Following the nomination for the award, Claire said: "I'm over the moon to have been shortlisted. I have a vision of a future where the sharing of home-cooked food within and between communities is commonplace. Where it is perfectly normal to order from a neighbour, pop around to collect your food and stop for a chat on the doorstep. I think that would be a nice world to live in. It's great to see that others seem to agree too!"   
The marketplace is proud that diversity and inclusion is at the heart of what they do, with 75% of home-cooks being women and 80% from ethnically diverse backgrounds. As of August 2023, operating in Bristol and Bath with over 70 cooks, All About The Cooks has supported local home-cooks by putting £80k into their pockets. 
Only three finalists have been shortlisted as "Community Food Champions" for the BBC Food & Farming Awards and the winner will be announced on 25 October, in a ceremony broadcast on TV and radio. Keep your fingers crossed that Claire Ladkin brings the trophy home and makes Bristol proud. In the meantime, you can find out who cooks near you or apply to sell your home-cooked food at allaboutthecooks.co.uk.    
As a BCI member, enjoy 25% your first online order on All About The Cooks with the code BCI25. 
We are so please to announce that we won three awards at the UK Agency Awards 2023, held in London on September 21.
We were named Best Large PPC Agency in the UK, and also won Innovative Agency of the Year and Best Campaign for our work to drive revenue for our lovely client, David Salisbury.
The UK Agency Awards celebrate the best agencies working across all verticals, from creativity and design to digital and technology, from marketing and advertising to public relations and media.
The judges praised Launch for its focus on our people; "It is great to see that this agency's focus extends beyond just tracking performance, with a genuine emphasis on the happiness and well-being of employees, which is truly commendable, and it is clear to see the positive impact this has has on the agency and the results the team have achieved."
Our fab founder, Jaye, was delighted with the awards; "Our mission is to be the happiest performance agency. I believe that happy people do great work, and by empowering our team to do their best, we can get great results for our clients. So, I am absolutely thrilled that as we enter the final quarter of the year the whole team is recognised for their hard work."
The inaugural Tim Marsh Memorial Award has been announced by Bristol-based creative business Istoria Group. The award was set up in memory of former team member Tim Marsh, who sadly passed away after a short illness in 2022.
About Tim Marsh:
Tim Marsh was formerly a Co-Founder of and the Head of Technical at Solverboard – an Istoria Group Incubator Hub business. Istoria Group's Incubator Hub supports fledgling businesses based on great ideas in their earliest stages, helping them develop and explore their potential until they become independent.
Management innovation platform Solverboard was a great success for all concerned, going on to be purchased in 2022 by AIM-listed global software and services company Sopheon, where the innovation product was re-branded as Acclaim Ideas. Tim led the programming team on the platform's entire development, drawing on expertise from his impressive background in large-scale technical projects for the Royal Mail, the Post Office and the RNLI.
'Tim was an exceptionally talented person' Istoria Group CEO Sam Rowe commented. 'He was highly regarded by his peers in the tech world and also hugely appreciated on a personal level by all who came across him because of his kindness and constant readiness to offer support and mentorship. Tim was a born educator and never happier than when sharing his expertise and helping bring people of all ages and backgrounds forward to realise their potential.'
About the Award:
The award is intended to further Tim's legacy of 'using tech for good'. When creating the logo for the new award, the design team at Istoria Group referenced Tim's love of birdwatching, incorporating a bird icon into the identity.
The award will encompass an intense six-month programme of mentorship, aimed at helping an incipient tech business become market-ready. The mentorship is offered at Director level by Istoria Group's in-house experts and will cover every aspect of developing a tech business, along with marketing expertise and a web and brand refresh by sister agencies Tiny Spark and Phoenix Wharf respectively. Half a dozen 'Ask Me Anything' sessions with Tim's Co-founders at Acclaim Ideas – Phil Atherton and Charlie Widdows – are included, ensuring the recipient gets the very best real-world business advice.
The First Recipient:
The first recipient of the Award for 2023 is Bristol tech company Founder Angela Loveridge, whose initiative, Better Together, supports parents in keeping their children safe online by signposting them towards practical tools, techniques and resources, as well as by facilitating safe spaces for those awkward safety conversations and coaching parents so they are empowered to respond, not react, in a way that will keep channels of communication open with their kids and encourage constructive conversations.
Angela's innovation is to recognise that people have very different parenting styles, meaning that safety guidelines need to be approached without judgement and adapted to and aligned with the unique needs of the child or children in any household.
'We first met Angela as a finalist in our women-led Micro Business Incubator Hub Competition', Sam Rowe explained, 'and were all very impressed by her as a person and also by her vision for her business. We knew at once Angela was someone we wanted to support, to help 'Better Together' reach its full potential. When we launched the Tim Marsh Memorial Award, Angela immediately came to mind as the perfect fit.'
Angela Loveridge commented 'I am absolutely delighted and truly honoured to be the first recipient of the Tim Marsh Memorial Award. Although I didn't have the pleasure of meeting Tim myself, I can already sense that he was clearly a remarkable individual, both in terms of his talent and his commitment to using technology for good. The award is a wonderful initiative and the incredible benefits that come with it are very exciting. I look forward to working with the team so that Better Together can empower more parents to keep their children safe online.'

JonesMillbank, Bristol-based video production company, is now a Certified B Corp.
They join a growing community who are leading a global movement that makes business a force for good.
And Bristol is gaining pace, with over 70 companies from Ecologi to Triodos Bank, Too Good To Go, Psychopomp and Sawday's inspiring change.
JonesMillbank have achieved a score of 94.7, but like all B Corps, certification is just the start of the journey.
"We're incredibly proud to be a Certified B Corp, which recognises our ethos and all the work we've done to date. But we're excited about how the certification will inspire us and our team to do more" said Russell Jones, Co-Founder at JonesMillbank.
"And there's a huge opportunity for improvement. With the opening of our new TV and film studio, Nine Tree Studios, we'll have more space and resources to support Bristol's community, from internships to pro-bono hire, creative industry support, and event hosting."
Nine Tree Studios will host this month's Purpose in Practice event, run by Assembly, featuring Adam Millbank, Co-Founder of JonesMillbank, as guest speaker.
Of the B Corp Certification, Adam said "We've always aspired to leave a positive lasting impression on everyone we encounter. It's been part of our culture throughout our journey. Being part of the B Corp community further amplifies this goal and will ensure the company will always balance its financial goals with true positive purpose".
JonesMillbank commenced their B Corp journey in November 2019, and part of their certification recognises their support for impactful businesses, including over 50 education institutions and numerous charities and public sector organisations.
For more information and to start your own B Corp journey, visit www.bcorporation.net.
***
JonesMillbank are a full-service video production company.
They work in-house with a talented team of multi-disciplined creatives, telling authentic stories for a range of clients such as University of Bristol, IDLES, NHS England, The Royal Mint and Battersea.
jonesmillbank.com
01173706372
[email protected]
Performance marketing agency Launch, based in Exeter and Bristol, won two accolades at the European Search Awards in Portugal last night (25 May).
The awards included Most Innovative PPC Campaign for Launch's forward-thinking work with orangery designer and manufacturer, David Salisbury, and Best Small PPC Agency. The latter represents an especially significant achievement – not only for outdoing the stiff competition to take home the coveted prize, but doing so for a second consecutive year.
The event, held at the Pátio da Galé in Lisbon, represented a gathering of some of the biggest and brightest names in search marketing, with categories spanning sectors, campaigns and companies. To win on an international stage is no mean feat, but Launch stood out for its people-centric approach, which benefits both employees and clients alike.
The judges said of Launch: "We were impressed by Launch's focus on the wellbeing of their team, which is a refreshing approach in this industry. Their commitment to creating a positive work culture, while also delivering great results for their clients, is truly impressive. Their results speak for themselves, and we are thrilled to see their hard work pay off."
Jaye Cowle, Managing Director and Founder of Launch, said: "These award wins represent our team's hard work and dedication to our clients. I'm so proud of each of them for the way they work, day in day out, to push the boundaries and find new and exciting ways to get our clients great results. Happy people do great work, and I hope to see more businesses making happiness a key metric of success."
Istoria Group has today revealed the winner of its inaugural Micro Business Incubator Hub Competition – Self Agency, which was founded by Devon Lowndes with the aim of improving the lives of neurodivergent people in the Bristol area.
The idea behind the competition, launched in March 2023 on International Women's Day, was to find a women-led micro business in the Bristol region to support by offering free office space over a six-month period at Istoria Group's Paintworks offices; mentoring from the creative business group's leadership team in business, financial management, PR and marketing, along with a raft of creative services, including a brand review by the group's design agency Phoenix Wharf and a website build by its digital transformation experts Tiny Spark.
The competition was also supported by local organisations Babbasa and Black South West Network, ensuring news of the competition would reach groups who have traditionally been under-represented in business, whether because of class, gender, ethnicity, age or a participation-limiting condition.
'We received a fantastic set of entries', Sam Rowe, CEO of Istoria Group commented 'and were inspired by the number of amazing women out there fighting for social progress and to diminish inequality. We picked four finalists, all of whom were highly deserving, but in the end it was Devon Lowndes who stood out because of the clarity of her vision, her commitment and ambition. I am quite sure that as well as helping Devon move forward, we will also learn a great deal ourselves in the process, with that knowledge also going on to benefit our agencies and our work across the board.'
'I'm absolutely thrilled to have won' Devon Lowndes commented, 'especially having met the other great finalists at the announcement ceremony! For me, one of the best things about Istoria Group's Incubator Hub programme is how accessible it was to apply for as a person with ADHD. I could tell at once it was a friendly and accessible organisation with a really open outlook. I know it'll be an environment that offers trust and flexibility, as well as creative and business expertise. I can't wait to be part of it!'
The competition was judged by:
Cecilia Thirlway, Senior Lecturer in Entrepreneurship at the Centre for Innovation and Entrepreneurship at the University of Bristol   
Matt Rogers, Head of Development at Babbasa      
Istoria Group CEO Sam Rowe and Istoria Group Chief Marketing Officer Lindie Kramers.
The four finalist companies and initiatives were:
Better Together (Online Safety)
Better Together's Founder Angela Loveridge helps parents keep children safe online by signposting them towards practical tools, techniques and resources, facilitating safe spaces for those awkward safety conversations and coaching parents so they are empowered to respond, not react, in a way that will keep channels of communication open and permit constructive conversations. Angela's innovation is to recognise that people have very different parenting styles, meaning safety guidelines need to be approached without judgment and aligned with the unique needs of their child or children.
https://btogether.org.uk/
Bristol Achieve
Bristol Achieve, founded by Hetty Brown, recognises that one of the biggest problems facing British schools is the gap between rich and poor and its subsequent effects on educational attainment and social mobility. This action-based business aims to increase the educational attainment and life opportunities of young adults with academic potential, so that they thrive in whichever life path they choose. Hetty and her team's innovation is to promote peer mentoring and focus on essential life skills, as well as encouraging reading for pleasure, proven to improve academic achievement.
https://bristolachieve.com/
Sassy Sisters Studio
Nicoleta Moldovan and Begumhan Girgin of Sassy Sisters Studio have founded a new creative agency offering graphic design services, advertising and marketing, motion graphics, packaging design, publications and typographic design. They are two hardworking women/mothers with diverse creative backgrounds, who switched careers, went back to university, and completed their education in order to follow their vision. At their studio, they produce meaningful designs for businesses, charities, and non-profits while prioritising sustainability and women's empowerment.
http://www.sassysistersstudio.com/
Self Agency
Self Agency was founded by Devon Lowndes to improve the lives of neurodivergent people in the Bristol area. The CIC-registered (Community Interest Company) agency offers organisational neurodiversity cultural development and neurodivergent community building. Devon is on a mission to educate people about neurodiversity and to further her vision of everyone embracing every mind equally and realising the positive impact an all-inclusive environment can have on individuals, communities and businesses. Devon advises organisations on best practice and is working with Bristol City Council as their sole neurodiversity champion. Her vision is to make Bristol THE neurodiversity city in the UK.
https://www.self-agency.org/
Each year P+S hosts the South West Design + Digital Student Awards.
The Design Awards were launched by Roger Proctor MBE, Founder and Chairman of Proctor + Stevenson, as part of an ongoing campaign to tackle the way institutions approach design education. Roger wanted to give students the opportunity to stretch their creative talents beyond academia. He recognised the need for hands-on industry experience and commercial briefs. But he also noticed a frustrating lack of creative recognition outside of London, which is why he chose to celebrate talent specifically in the South West of England.
For final-year university students, the SWDDS Awards offer unparalleled opportunities – industry exposure, advice from an expert panel of judges, and valuable creative connections.
Last year Jessica Stiddard, a graphic design student from the University of Gloucestershire, was one of our top 10 finalists with 24 Karat Coffee – a sustainable and ethically sourced coffee branding project.
Jess has gone on to become Junior Creative at Dyson. We sat down with Jess to find out what she's been up to since the South West Design + Digital Student Awards 2022.
So, how did you find out about the South West Design + Digital Student Awards?
As part of our course, one module included submitting our work to a design award. Our lecturer presented a selection of opportunities to choose from, and she had mentioned the South West Design + Digital Student Awards.
I had also heard about a previous graphic design student from the University of Gloucestershire who had won the SWDDS Awards and the opportunities that followed for her.
What project did you enter, and what category did that fall under?
I entered my third-year brand identity and packaging project for an ethical coffee brand 24 Karat Coffee, which was on a mission to make coffee better. The brief was set by Bulletproof – a design agency in London.
I entered it into the Graphic Design category, and the fact there is no brief meant I was able to enter work I had already completed, which made it a lot easier for me to enter the Design Awards alongside my university deadlines.
Since entering the Design Awards, what have you been up to?
After the awards, I graduated with a First Class Honours and had a one-month apprenticeship with Bristol agency Outlaw, where I worked alongside Emma Proven, winner of the 2019 South West Design + Digital Student Awards.
"…I have now been working at Dyson in Malmesbury for 4 months and I'm loving every minute…"
I then went on to work at Dyson as a Junior Creative. I had been in contact with Chris Roberts, Creative Director at Dyson and judge at the SWDDS Awards, who offered me the role. I have now been working at Dyson in Malmesbury for 4 months and I'm loving every minute.
That's fantastic! Knowing what you know now, do you have any advice for people thinking about entering the South West Design + Digital Student Awards themselves?
My advice to someone entering the awards would be: just throw yourself into every opportunity you're given. It can lead to amazing opportunities and achievements! If I hadn't entered the awards, I wouldn't be where I am today. It has opened many doors for me, including my internship with Outlaw and my full-time role at Dyson.
"…if I hadn't entered the awards, I wouldn't be where I am today…"
What was your overall experience with the Design Awards like?
My experience at the awards was great. I had an interview where I had to present my project and my portfolio to a judging panel, which meant my work was seen by some utterly amazing judges. Even though it could have been a nerve-wracking experience, they made me feel so comfortable.
The ceremony was also great. I got the opportunity to meet other creative students who had entered their work, as well as industry professionals that Proctor + Stevenson had invited. They gave me good advice for my first steps into the creative industry.
The South West Design + Digital Student Awards is back for 2023
Think you could be one of this year's finalists?
If Jessica's experience has inspired you to enter, what are you waiting for?
If you're a third-year university student in the South West of England, get your best projects in Graphic Design, Digital Design and Motion and AR (Augmented Reality) ready.
Whether it is a bold new app, a dynamic branding campaign, or an artistic animation, we want to see it.
Find out more and enter now.