Team Varn was pleased to be attending Brighton SEO this year, one of the biggest search conferences in the world. It was a great opportunity to learn new ways we can do our jobs better, as well as keep up to date on new trends in our industry that we can take forward in our client work.
We were very proud of our MD Tom Vaughton, who took to the main auditorium 1 this year to share a talk on 'How & why the history of SEO will help us plan for the future of search'. You can see Tom's slides here.
Tom shared what 24 years of up and downs, success and failures in SEO has taught him about what we need to focus on for the next decade if we want to be successful as agencies and for inhouse SEO. Tom set the scene of why it's vital to look back at the past to help us plan for the future and shared an insightful quote by Jeff Bezos:
"I very frequently get the question 
'What's going to change in the next 10 years?'
I almost never get the question
'What's not going to change in the next 10 years?'
Tom highlighted to the Brighton SEO audience that he has identified 8 principles of effective long term SEO that he believes will not change and we need to be aware of these constants…
The point of search engines was to make information easy to find – that's still the same today
Over time you WILL make more profit with organic search over paid.
Relevant high quality content still rules.
Always align with Google's roadmap. Don't try to trick it – you won't be able to.
There is no silver bullet.
Never stop learning.
Link building is irrelevant unless you build your brand. Work on building a brand for the long term with your clients.
Understand your competition and ensure you are monitoring them closely as if you don't stay ahead your competition will win.
Tom also noted six trends that he is keeping an eye on that will impact the world of SEO in the near future…
Predictive SEO analytics. Big data & AI algorithms will be increasingly important and if you don't have a specialist analytics team then build one.
AI & machine learning. AI will be disruptive but not fatal – it's about strategy, and how to use it.
Ways of searching are always changing.  Having multiple ways to search means your content needs to be good and in multiple formats.
Local SEO. With the rise of mobile devices and local search queries, local SEO will become increasingly important for businesses with a physical location.
Search engines are becoming more personalised. Quality content and a brand identity will play a vital role to help you stand out in the SERPs.
How Google understands content..Keep an eye on Google evolving it's understanding and how that impacts how you write content and structure your website
Tom ended by noting that SEO may suffer from imposter syndrome, but actually search is very much here to stay, so always plan for the long term…
"in the early 2000's people said SEO was a fad, a dark art and wouldn't last. It seems a lot of the time we still treat it in the same short-term way. Like imposter syndrome it seems that as an industry we subconsciously worry that we may get found out. When in fact search optimisation, in whatever form, is here to stay and people that fake it or don't plan ahead won't be around in 10 years. So whether you work in ecommerce, healthcare or B2b be proud of what you do, be confident and plan for the long term. Please go set those big hairy audacious goals."
Keep on reading to explore some of the key takeaways from a selection of the brilliant talks we heard this year.
Katy Powell – Ideation: Thinking beyond the first idea
During this talk Katy shared tips on how to up your game in Digital PR campaigns and create reactive PR stories. She focused on the idea of thinking bigger and better to grab the spotlight in crowded industries.
Key takeaways:
It's important to spend time on the ideation process and look at what the consumers will want to read. Do more than one ideation session, and use popular industry apps like TikTok to look at what people are searching for.
Creating an ideation graph can be great for brainstorming potential ideas for Digital PR. You can mention off-brand and on-brand on one axis, and low press interest vs. high press interest on another. The graph could be useful for the idea analysis stage of ideation and can be presentable to a client.
Andrei Tit – 10 quick wins to improve your rankings (using Ahrefs)
Andrei spoke about 10 low-hanging fruits of SEO use cases that enable you to increase your rankings, via Ahrefs.
Key Takeaway:
If you look up a search query you want to target a featured snippet for, using a minus search operation (-example.com) for the top-ranking site can help you understand who the next eligible competitor is and the kind of content that is pulling through. This can help you better target content for a client and better understand what will likely pull through to a featured snippet.
Andrew Holland – The new SEO metric that makes SEO 10 x more valuable (and 10 x more effective)
In this talk, Andrew presented a new SEO reporting metric called "Share of Search". This metric changes the approach and places SEO at the centre of all marketing.
Key Takeaway:
'Share of Search' is a useful metric to track for clients instead of ROI as it won't be impacted by market forces. Share of Search both gives a more accountable impression of the impact of search engine optimisation, as well as actively helping to inform and improve SEO strategies.
Azahara Corrales – Unlock the power of AI: harness AI to create your winning marketing strategy
Azahara explored the immense potential that AI can have in a winning marketing strategy.
Key Takeaways:
The power of AI saves time, use it to test and find the right data.
Invest in people and invest in training.
Feed the right data to the algorithm.
Michel van Luijtelaar – Apple, Bing & Google platforms for multi-location local SEO Optimisation
In this talk, Michel explained the latest local SEO strategies with a focus on the latest developments in ABC and Bing.
Key takeaways:
Assess how many reviews local competitors have and target more than that. This is a strategic way to get enough reviews to rank higher than the local competitor.
6/10 business listings are not claimed on Apple Business Connect (ABC), and 59% of businesses are not aware of its features.
ABC is showing strong growth. Most of the impressions come from Apple Maps.
Use Google My Business for a keyword list – what are your potential customers searching for?
Ellie Connor – How to measure SEO sustainability
Ellie spoke about how to measure SEO sustainably and why it matters. She covered Google's commitment to sustainability, and the rising interest of consumers and financial markets in this area and gave actionable insights on how to create a more sustainable website.
Key Takeaways:
ChatGPT already emits 8 tonnes of carbon p/y, and uses 700,000 litres of water. Every chat is 20 bottles of water.
Good SEO equates to a sustainable website – there is a lot of commonality in aims. For example, more efficient page loading and fewer pages per user to get to the information they need.
Meg Sharma – Level up your content by REALLY knowing your audience
Meg discussed how you can really level up your content strategy by going beyond keyword research tools to find content ideas, and really understand your audience and the topics they are interested in.
Key takeaways:
Explore your market on Reddit to see what the community is talking about and how they are talking to each other.
See what questions are being asked in Reddit – they're asking in a niche community so these are the questions that aren't being answered when they search in Google.
Aleyda Solis – Embracing AI in SEO: how to 10x your SEO leveraging AI bots
In this talk, Solis explores a variety of practical methods you can use in SEO. This ranged from conducting keyword research and competitor analysis to performing audits and generating reports.
Key Takeaways:
A balanced approach is needed with AI. Don't assume these tools are always correct, ensure you properly fact check.
The prompts we use are critical to gaining rich outputs, e.g. ensure you use prompts like 'without copying' and compare your content with the Google Helpful Guidelines.
Margaret explored what content tends to go viral and what content rarely does. She focused primarily on TikTok but also touched on other relevant platforms including the up-and-coming platform Lemon8.
Key takeaways:
Don't bore your viewer. Gen Z has an attention span of 8 seconds. Say what you need to say as quickly as you can. For Ads, it is only 1.3 seconds.
TikTok trends end by day 3. This can be vital for coming up with Digital PR ideas to gain traction, as well as reactive posting on social media.
Ryan Jones – Mastering mental health in digital marketing's always-on world
Ryan talked about his personal experiences navigating his mental health while working in digital marketing and he shared the valuable insights that he had learned along the way.
Key Takeaways
Have a shutdown ritual at the end of the day.
Make sure to take your lunch breaks and holidays.
Remember that little things can go a long way, Ryan noted that having a free half-day to watch the football final was great for morale.
Why we attend Brighton SEO 
As the world's largest search marketing conference, Brighton SEO is a must for our calendars at Varn. Every year the team come back having learnt new things, met inspiring people and are energised to make an even bigger impact in search for our clients.
If you want to learn more about SEO and the different areas and talks covered above, get in touch with a member of the Varn team today.
Proctor + Stevenson, one of the South West's largest and longest-established marketing and communication agencies, has undergone a management buyout (MBO).
The award-winning agency, which specialises in business-to-business marketing, has a workforce of 60 people and revenue of £6 million. It was established by Roger Proctor MBE in 1979 and after 44 years at the helm, Roger is retiring.
The company will now be owned and managed by a leadership team of longstanding directors, comprising Ailsa Billington, Managing Director, Dan Hardaker, Director of Digital Design, Steve King, Director of Technology, Phil Robinson, Creative Director, and Nikki Hunt, Finance Director.
The transition to management ownership underlines a commitment to continuity and progression from within, with those on the board having contributed significantly to the business' success to date, with almost 90 years' experience at Proctor + Stevenson between them.
The company, whose customers include Panasonic, Rathbones, Daikin, Pure Cremation and the UK Hydrographic Office, has seen substantial growth in recent years. In the past financial year alone, it grew by over 22%, almost 15% above the industry standard.
The agency's global footprint has also expanded significantly, particularly in North America, Asia and the Middle East, where it has achieved notable success over three decades. Today, operations in the Gulf Region contribute 25% of overall revenue
Ailsa Billington, Managing Director, said: "The new board members have all risen through the ranks as employees, which is testament to our culture of reward and recognition. We believe in providing opportunities for team members across the lifetime of their careers
"One of our key goals is to continue Roger's legacy of innovation, with a number of new service launches in the coming year."
One such service will offer SMEs the affordability and flexibility of design-on-demand services, backed by the expertise of a full-service agency.
To support the work of marketers across the B2B world, Proctors' newly developed MarTech solution combines the latest technologies with cutting-edge creative, and enables businesses to gather insights into consumer behaviour, optimise targeting and build data-driven marketing strategies.
The new team will also continue many of the CSR commitments Roger spearheaded.
The company is awaiting final certification for B Corp status, with projects such as making education accessible to women in the Middle East a key part of its social governance strategy, alongside a commitment to the Southwest Net Zero strategy.
Proctor + Stevenson will continue to allocate a percentage of its turnover to pro bono support for local charities including charities such as Caring in Bristol, Housing Matters, and Bristol Business Beats Cancer.
It will also continue to deliver the South West Design + Digital Student Awards, an initiative Roger set up as part of an ongoing campaign to tackle the way institutions approach design education, opening doors for the next generation of design talent.
Funding for the transaction was provided by HSBC and legal advice was given by Michael Clarke and Richard Hopkins at Roxborough Milkins.
The idea of flexible working has been around for decades. Christel Kammerer, a German management consultant, proposed the idea of 'flexiwork' back in 1965 as she identified balancing childcare with work responsibilities as the reason for a lack of women in the workforce.
This concept didn't seem to gain real or widespread traction until the Covid pandemic. I think we can all agree that this period introduced a monumental shift, both in the way we live and the way we work. Social distancing, face masks, and hand sanitiser all became common practice in a matter of months. But so did remote working and the introduction of more flexible working patterns.
Perpetual Guardian, a privately held company in New Zealand, were the first of their kind to successfully trial a 4-day work week in 2018, before Covid. So, this working example, paired with the introduction of widespread flexible working during the pandemic both had a huge role to play in the shift to 4-day weeks becoming more common.
We are really happy to announce that at Proctors, we are trialling the 4-day workweek for 3 months, having commenced on the 3rd of July. We understand the importance of listening to our team and supporting them wherever we can, and this represents an exciting milestone in our ongoing journey.
Corporate Social Responsibility (CSR) is incredibly important to us, and we understand that even though we are on our journey to be the best that we can be for our people, our planet, and our community, we still have more steps to take to get there. Implementing the 4-day workweek is one of the crucial steps we are taking towards fulfilling our commitment to these values.
CSR
If you've visited our CSR page, you'll know that our mission statement is all about putting actions behind our words. We don't just talk the talk; we always try to walk the walk. And as an agency, we're driven by purpose, whether that means doing something as small as recycling our rubbish or as grand as hosting an annual student awards ceremony. If it can be done, we'll strive to do it. This is why we're implementing a 4-day workweek, because we want to further our positive changes and improve the business structure for our team.
So, what are we doing already, you may ask? Well, here's a sample…
The office building itself was salvaged by us, reclaimed from an old printworks. We also added 90 solar panels to the roof, which to date have generated 159,758 kWh of energy.
We're also the only building in the UK coated in CristalACTiV, a coating that reduces atmospheric pollution in the surrounding area.
We have 6 electric car charging points, automatic energy-saving light bulbs, increased insulation, a living wall, compost and recycling, a cycle to work scheme, and that's just some of the environmental initiatives we undertake.
We also have a number of community-focused CSR initiatives, from the South West Design + Digital Student Awards to working with charities to donate our resources and help them raise awareness and money.
Which brings us back to our people-focused CSR: from providing an inclusive workspace and hosting the PrOscars, to offering mental health first aid to our employees and internships for creatives taking their first steps into the creative industry.
These are just a few examples, but now we are proud to add the 4-day workweek to the list of ways we are trying to improve our CSR journey.
Benefits
But we haven't just decided to implement this change for fun. We extensively researched the benefits and implications of this initiative to ensure this was going to be a success.
So, without further ado, here are some of the benefits of a 4-day workweek:
Improved work-life balance
You know that hobby you're always putting off because you just don't have the time? Or that volunteering scheme you were always interested in joining? Or even that extra time you've been meaning to carve out to spend with your loved ones?
With an extra day off work, this gives our employees the chance to make the most of their time, however they may wish to spend it.
Increased productivity
More than 95% of the companies in the 4-day workweek trial saw no decline, or even noticed an improvement in productivity, and nearly 15% said that this had improved "significantly". This is due to the fact that happier, and more content employees are more focused on their jobs than those who are dissatisfied or unfulfilled.
With unhappy employees often being more distracted and, in some cases, distracting others, it makes sense that introducing a 4-day week would cut down on this and boost focus. In addition, employees are likely to have more energy with an additional day away from work, which adds to the improved productivity.
Reduced work stress
Going hand in hand with the above point, the overall mental health of our team members is incredibly important to us. Implementing a 4-day workweek may stand to improve this, with a reduced stress level regarding work due to the additional time off per week. We believe that being able to approach work with a clearer and more refreshed perspective is highly likely to show benefits in this area.
Lower emissions
Around 45% of workers in England and Wales drive to work. Cutting out even one day of commuting for people by introducing a 4-day workweek will build up to have a huge impact on commute-related carbon emissions. With fewer cars on the road, congestion will decrease, and there'll be a reduced environmental impact. In addition, even though our office is remaining open 5 days a week, as fewer people will be in on certain days, the office-based emissions will also decrease.
Interviews
But don't just take our word for it. Let's hear some Proctorians' thoughts on the 4-day workweek.
Chris Harris, our People Partner
Why was the decision made to go ahead with the 4-day week in the first place?
The idea came from a discussion following a review of the feedback we received from our employee engagement survey. We were looking at what we could do that would have the biggest impact on our people.
At the time it was mentioned, I thought we would just do some research and then move on to the next idea. Following the research and looking at different ways we could make this work, the idea started to grow, and the Directors made the decision that a trial would be the next best step.
The key factors that we considered related to the impact we saw in other companies that have taken this approach and how it improved people's wellbeing and productivity.
What are your thoughts on the new initiative? 
I am excited to see what impact it has on how we approach our work. My thoughts are currently focused on making sure we allow people to think through any obstacles they may come across during this trial. Change is tough, and being available to help our people and teams navigate these obstacles will build our capabilities as a group and as individuals.
What do you hope to see from doing this?
I hope to see a group that realises its potential and starts to challenge our previous ways of thinking. Taking us forward and being contributors to how we operate as a group and business.
What do you plan to do on your extra day off work?
I am really looking forward to getting those boring chores done that mean I can have a full weekend with the family and not have to worry about it!
Ailsa Billington, Managing Director
Could you tell us more about the decision behind implementing the 4-day work week?
After conducting one of our regular company engagement surveys, it was clear to see that a good work-life balance was one of the key things members of the P+S team were looking for.
One of our core values is taking care of each other, so prioritising the well-being of our employees and making sure they are heard and supported is really important to us. The responses from the survey were the original catalyst into looking into and ultimately implementing the 4-day work week trial.
We also carried out a lot of research into how this approach has worked for other businesses, and the positive outcomes that resulted. We also gave people the option on a few different working patters to vote on, and the 4-day week was definitely the most popular outcome!
What would you like to see from this change?
We have an incredibly dedicated, talented, and hard-working team, and I believe that by embracing this change and continuing to nurture a positive work culture, it will provide rejuvenation and promote creativity and innovation across the business. I'm already hearing plans that people are making for their extra day off and I can't wait to see what everyone gets up to!
Emily Hawkins, Junior Digital Designer
What are your thoughts regarding the 4 day week?
I'm so excited that we are trialling a 4-day working week! I think this new approach is very refreshing and progressive and shows how the company is adapting to prioritise a better work-life balance for employees. I think that having an extra day off each week will allow me to properly recharge and come back to work feeling more focused and motivated which will increase my productivity and creativity.
What do you plan to do with your extra day off work?
I'm hoping that I can use this time to focus on myself and pick up a hobby, perhaps a fitness class or something creative. I'm planning on trying out something different each week to see what I enjoy! I'd also love to learn a new skill, like photography or a foreign language, or to volunteer for a local organisation.
Spending more time outdoors is also really important to me and I'd love to use some of the extended weekends to explore more of the UK or even take some spontaneous short breaks abroad! I'm particularly looking forward to being able to travel back home and spend more quality time with my family and my dog.
I can't wait to experience the positive impact that this change will have on everyone's well-being and on the agency as a whole. 
Conclusion
We're incredibly excited about this announcement as it signifies real change and innovation within the company. Listening to our employees is so important to us, and making sure their suggestions are valued is something we take seriously.
As previously mentioned, this 4-day working week trial will initially run for 3 months so we can see how well it is received by the team and how effective it is at improving our work lives. During this period, we will review the changes and effects, and discuss the option of continuing with it in the long-term.
If you would like to find out more about our corporate social responsibility initiatives, check out our CSR page here.
Both the prevalence and effectiveness of video marketing have been on the rise since 2015. According to Wyzowl's State of Video Marketing Survey 2023– 92% of marketers reported a positive ROI from video content.
So creating videos that are consistent with your brand and look professional is very important for marketers. But, without your own in-house production team, this can prove challenging – and expensive.
Why choose Video Toolkits?
Usually businesses choose to outsource video editing – bringing in the big guns (like the P+S Video and Motion Graphics team) to craft something on-brief and on-budget, before smashing it into the stratosphere.
However, we understand that sometimes you just want to do it yourself, whether it's a quick interview-style vid, a vlog, or a simple success story. So, how do you make it look consistent with the rest of your brand, without breaking the bank?
P+S Video Toolkits for in-house marketing teams
Fully customised to your brand (or sub-brand) specification, our Video Toolkits are the easiest way to produce brilliant content on a tight deadline or budget. Not only will your content look great, but you'll also significantly reduce the cost of producing further content.
The toolkit includes a variety of custom-made assets, each designed to suit the type of content you're producing. So whether it's interviews, self-shot 'talking to camera' vids, or even event and webinar footage, you can use the toolkit with minimal knowledge of Adobe After Effects or Premiere Pro to insert and customise your brand elements.
What goes into our Video Toolkits? So glad you asked
But it's probably better to show than tell, right?
In the following short videos, we've broken down the elements that can be included in the toolkit package. This example was produced for Thrio – one of our fantastic clients – using their brand colours, fonts and adhering to their motion guidelines.
Not all of the assets featured may be required in your toolkit, and equally this isn't the extent of what we can produce for you – it's all dependent on the style/purpose of video content you're likely to need in the future. We'll make something bespoke and fit for purpose.
Logo sting for intro and transition
Custom-made animation of your logo for the start of your video.
Watch video here.
Lower-third caption
An easily updated lower-third caption that can feature speaker name, job title and company name.
Watch video here.
Divider screen title
Custom-made title slide animation with easily editable text and optional imagery.
Watch video 1 here.
Watch video 2 here.
Subtitles
Perfectly legible subtitles in your brand font, ready for editing. You'll also notice the 'bug' in the top right of this example – a semi-transparent logo overlay that features in the top corner of your video.
Watch the video here.
Quote screen
Have a question, quote or fact worth highlighting? Showing it on screen will really anchor it in the viewer's mind.
Watch the video here.
Social links
A custom scene for just before the end of the video that features your social handles for quick reference.
Watch the video here.
Transition and logo sting outro
Custom-made animation of your logo to feature at the end of your video.
Watch the video here.
So, how does this all look together? Here are a few example toolkits for you to check out:
Watch video 1 here.
Watch video 2 here.
Whatever story you want to tell, we'll help you share it with the world, on-brand and within budget. Talk to Proctors today.
Two of the Mr B & Friends Senior Leadership Team have been promoted and appointed to the agency's Board level as the independent brand consultancy forges ahead with expansion plans.
Effective immediately, Kate Gorringe will become Executive Creative Director, and Strategy Director Adam Partridge will step up to become Executive Strategy Director. They will take up places on the agency Board alongside CEO Simon Barbato, Chairman Peter Gandolfi and Managing Partner Ellie Wilson.
Kate Gorringe has been with Mr B & Friends for almost a decade. In her capacity as Creative Director she has led large-scale projects for Principality Building Society, Persimmon and Canada Life among others. Leading the team of 13 creatives based in the Bristol office, Kate inspires the team to deliver truly extraordinary work to clients across a range of sectors.
Adam Partridge has led the agency Strategy and Planning department for the last seven years counting Bristol Bears, Bristol City Football Club and Hoare Lea among his successes. His ability to identify and articulate a distinctive brand positioning is highly valued by both existing and prospective clients. His new role has a broader strategic mandate to include the agency brand and marketing operation, product and service innovation and development
and overseeing the strategic output of the Bristol and soon to be opened London office.
The promotions will enable Mr B & Friends CEO, Simon Barbato, more time to concentrate on the company's expansion plans including the imminent opening of London. Once Mr B & Friends London is up and running in autumn, he'll be exploring options for a US base, having already scoped out opportunities in the market over the last couple of years.
Barbato says, "The appointment of Kate and Adam to Board level is testament to the skill and commitment they have shown over the years that I've worked with them. They're both hugely talented and the best qualified people to drive the vision for Mr B & Friends forward. It also provides some much-needed headroom for other ambitious staff within the ranks. With
such an array of talent on our Board now, I'm excited to be able to forge ahead with expanding our presence in new markets as we look to challenge the ordinary for brands on a global scale."
Bristol Digital Agency, Mentor Digital has announced the launch of the new National Governance Association (NGA) website, which has been launched alongside their new logo and brand also designed by Mentor Digital.
Mentor Digital has successfully completed a major contract to design and develop a cutting-edge CMS and website to effectively assist NGA's vast community of 75,000 members. This comprehensive project encompasses a fresh information architecture and website design, accompanied by enhanced user experience (UX) and optimised user journeys throughout the site.
The primary objective was to ensure an exceptional experience for members throughout the site as well as encouraging membership renewal and the utilisation of the wide array of excellent services provided by NGA.
The website was designed by Mentor's award-winning creative team, and includes immaculate attention to detail throughout the site, incorporating micro-animations and a seamless user experience. The site includes a complex tagging, search and filtering system which is all powered by the CMS (Umbraco V10).
In addition to developing the new website, Mentor Digital completely re-branded NGA, including a new logo, brand guidelines, and on and offline materials, all whilst creating a visual identity that effectively embodies their distinctive approach. To gain valuable insights, Mentor conducted a series of interviews with key members of NGA, as well as the board members, to gauge their perspectives on the existing branding and the envisioned direction.
Additionally, Mentor organised workshops with the project team, to assess their current standing and identify their desired future positioning. These collaborative sessions served as the foundation for generating multiple concepts to further evolve the new brand.
Click here to view a case study on the NGA re-brand.
Collaborating closely with NGA, Mentor Digital facilitated the commissioning of copywriting services to enhance the communication of their core brand and services. NGA were presented with a range of options for descriptors, statements, and straplines for the main NGA brand to aid the launch of a more confident brand positioning.
If your organisation is looking for a digital agency to work on a new or existing project, you get in touch with the team at Mentor Digital, who would love to hear about your plans.
To see more of Mentor Digital's case studies, you can visit the website here.
To find out more about Mentor Digital's web design and development work for Membership Organisations, click here.
In a world of increasingly sophisticated wrongdoing, investigative platforms need to do more than just keep pace. They need to keep investigators ahead.
Built on ever-evolving technology, Clue Software makes connections and shapes cases to help shift momentum in the favour of investigators. Forever moving safeguarding operations forward.
Clue Software was created to enable continuous progress in one place. From data analysis and reporting to referrals and outcome management, it provides a single application to manage knowledge.
Supporting their team.
Initially trusted by Frog Capital to conduct due diligence, as part of the Series A investment round our role then transferred into that of an interim CMO post-investment. During this time we conducted a thorough repositioning of the brand to support the growth ambitions of the business and new investors, whilst helping to build the team and recruit a permanent CMO.
Support included:
Brand Strategy
Stakeholder Engagement
Brand Identity
Brand Guidelines
Collateral Development
Marketing Strategy
For more information, visit Talisman Sparro.
When it comes to optimising websites for organic search traffic, each industry has its own specific needs, challenges and conventions to consider. In healthcare and medicine, for example, SEO strategies need to bear in mind relevant regulations across different markets, the specific language-use and search intent of HCP audiences, and how to ensure research papers, infographics and other kinds of content abide by Google's best-practice guidelines.
At Varn, we have many years of experience working with pharmaceutical companies on organic search projects. We have learnt that there are some key areas that particularly impact the SEO landscape around healthcare and medical websites. Here are six things to think about when optimising pharma websites for organic search, in addition to general SEO best-practices, which every website should follow.
1. Geographic Regulations for Pharmaceutical Companies
Because different countries have different laws about how pharmaceutical companies can promote their products, anyone who works on healthcare websites will be familiar with the need to abide by these regulations. This often means creating new content or even whole websites for each geographical market. But did you know that it is possible to let search engines know which version of a page is intended for which location before the visitor even lands on the website? This can be achieved through a piece of coding called hreflang, and can help to ensure that the right pages are found by searchers in the right countries. Ideal for instances when you have multiple versions of a healthcare website targeting different locations, each slightly different in order to abide by the specific regulations in each region.
2. Duplicated Content
We often see duplicate content on the websites of our pharmaceutical, medical and healthcare clients – generally when scientific papers have been published within a journal as well as elsewhere on the internet. In this instance, you might find yourself competing with your own content elsewhere on the web. SEO strategists looking after pharma websites may need to strategically determine which version of a piece of content they want to display in Search Engine Results Pages, and then help to demonstrate this intent to Google using consistent canonical tags supported by an offsite backlink strategy.
3. Keyword Research for Highly-Specialised Healthcare Language
As search engines have become more sophisticated, they have evolved an impressive understanding of how language is used, and the intent behind individual search terms. However, when it comes to niche topics with highly-specialised language, search engines may not be able to keep up. HealthCare Professionals (HCPs) may use language differently to the general public, which means that keyword strategies for pharmaceutical websites have to dive deep into user intent and understand the precise ways in which search terms are audience-specific.
Here's a simple example: If a pharma website refers to a drug, disease, medicine or molecule by an abbreviation, this abbreviation may have one or more alternative meanings beyond the medical industry. This could lead to your pages getting lost amongst content related to entirely different topics. A clever keyword strategy would therefore need to use contextual on-page information, as well as alternative longtail versions of the relevant keyword(s), to make clear to Google which term your page actually refers to, helping you to rank for the most relevant searches.
4. YMYL Healthcare Content
When Google and other search engines decide which websites and web pages to place at the top of their listings, they are trying to determine which piece of content will be most useful for the searcher. Helpfully, Google has a set of content guidelines detailing the kinds of things that they are looking for. All web content should endeavour to follow the search engine's E-E-A-T guidelines (demonstrating Experience, Expertise, Authoritativeness and Trustworthiness) but pharmaceutical websites need to go one step further and follow Google's YMYL guidelines as well.
YMYL stands for "Your Money or Your Life" and refers to any content which has the potential to impact people's happiness, health, finances or safety. Google has much stricter standards for content which relates to these topics, which is why websites relating to healthcare and medicine must understand and carefully abide by their best practices, including clearly demonstrating expertise and professional accreditation. Most pharma websites will need a YMYL content strategy which incorporates everything from expert content creation to targeting backlinks from reputable professional bodies.
5. Log-In Walls for HCPs
Sometimes a pharmaceutical website may place content behind a registration wall. In order to read the content, HealthCare Professionals will need to register and log in to the website. This can be a useful way to ensure the traffic reaching your content is reflective of the most relevant audiences. However, pages which live behind a wall of this sort – sometimes called gated content – can be hard for search engines to find, read and understand. In turn, this could mean that they choose not to index and rank your pages. Luckily, there are ways of coding your website to make sure that search engines can read all hidden content, even if human visitors to your site need to log in to be able to do so. This is a key item to check when considering the SEO strategy for your healthcare website.
6. Data-heavy Medical Content
Pharmaceutical websites host a range of content, from papers detailing the results of clinical trials to easy-to-digest, condensed summaries of diseases and treatments. The way these different types of information are presented is important for Search Engine Optimisation.
Imagine you have a graph which demonstrates the seasonality of a specific disease. This could be added to your website as a simple image – but will search engines be able to understand this content? Only if you give the image a suitable name, describe it within the alt text, and add useful contextual information elsewhere on the page.
Perhaps elsewhere you are considering hosting a medical paper in pdf form. Whilst pdf pages can rank in search engines, they will likely not perform as well as html website pages. This is because they are less mobile-friendly, unlikely to use proper heading formatting, and cannot be enhanced with Schema markup or structured data.
The list goes on – there are specific considerations to bear in mind when hosting videos, detailed scientific papers, or infographics on websites. The nature of medical and healthcare websites is that they will likely contain lots of data-heavy content in many different formats, all of which need to be considered and optimised from an SEO stand-point.
Need help with a Pharma SEO Strategy?
Need help creating and/or implementing an SEO strategy for your pharmaceutical, medical or healthcare website? The experts at Varn can offer support with everything from keyword research and content planning to coding optimisations and paid media advertising, as well as developing offsite backlink strategies. We have many years experience working with healthcare and medical publishing clients including Roche, Wiley, Pfizer and more, so you can be sure we understand the nuanced intersections between the pharmaceutical industry and search marketing. Get in touch to find out more.
From dealing with demanding clients and tight deadlines to managing complex projects and constrained resources, running a successful agency is a tough business.
In fact, the latest Benchpress – Profit & Growth report 2023 by the WOW agency – found that the average gross profit of £1m+ agencies has dropped to 40%. According to the report, a healthy agency should aim for a gross profit above 50%.
We've pulled out the top six lessons you can learn from the top-performing agencies.
1. Work out what's making money (and what's not)
Those agencies which measure gross profit by project are likely to be the most profitable.
To calculate gross profit, first, you need to track time and costs against your projects, clients, and services. Then, you can analyse your revenue by project/client/service vs. the cost to deliver the project/client/service.
Gross profit = revenue – direct expenses – cost to deliver
Understanding which projects, clients and services are most profitable can help you make better decisions for growth.
2. Track projects in real time
The most successful agencies track their projects in real time. This way, they can spot if things are starting to overrun and get things back on track.
If you're just ploughing on, you will lose money – and may as well not have taken on the job. Monitoring in real time will keep you within timings and budget.
3. Achieve operating profit above 20%
Aiming for an operating profit above 20% (once you've paid yourself) will put you in a strong position, giving you a platform to invest in your growth strategy.
Agencies often cite 'if it wasn't for that one job' or 'if only we hadn't taken on that one client' as reasons for not reaching their target profits. This is when they then start normalising single-figure operating profit.
4. Track your utilisation
The familiar bane of creatives is completing their timesheets. But time is what you're selling, so it stands to reason you need to understand what this is costing.
And the most successful agencies were those where the directors did less client work – demonstrating the impact of working on the business rather than in the business.
Read Agency utilisation rates: everything you need to know
5. Look to your tech
Agencies that use spreadsheets for project management had an average utilisation rate for non-director roles of 66%. Those using software had an average rate of 75%. That's a big difference. For a team of 10 chargeable staff at £100ph, that would be an extra £174k of profit per year!
And the most popular software used by these agencies? Synergist  🙂
6. Focus on planning for growth
Agency life is fast paced and it can often be easy to get caught up in the whirl of day-to-day activities. But adding in some structure, strategy, and planning will help your agency move from surviving to thriving, keeping workloads manageable, jobs on time and on budget, and profits where you want them to be… growing.
It has never been more crucial to keep ahead of the curve with the constantly changing world of search engines. Google's highlighted snippets are one such leading edge in the SEO industry. These bite-sized chunks of information are prominently shown in search results, meeting the demand of users for timely, pertinent information.
Given the great visibility and authority of featured snippets, it is understandable why both companies and bloggers are striving for attention. Let's examine some best practises for content optimisation before delving into the nuances of Google's highlighted snippets.
Table of Contents
What Exactly are Google's Featured Snippets?
Many search results have a box at the top with a succinct response or summary, especially those that ask a question. The infamous "featured snippet" appears in this box. Instead of requiring consumers to read through the results and go through to a website, as is the case with standard organic search results, the snippet seeks to give them an immediate and conclusive response to their query.
The Evolution of Featured Snippets
The digital world has experienced significant changes over time, with search engines fine-tuning their algorithms to provide the most accurate results. An important factor in this evolution has been Google's highlighted snippets.
Before Google introduced this feature, customers had to trawl through numerous links to find the information they needed. This conventional search strategy wasn't always user-friendly, especially for people looking for prompt responses to simple queries. Google introduced highlighted snippets because there was an apparent need for an effective, direct-response strategy.
Advantages of Snippet Real Estate
There are various benefits to being first in Google's search results, including:
Increased visibility: When a user searches, snippets are shown prominently and frequently receive the majority of their attention.
Boosted authority: Getting a snippet slot can increase the credibility of your brand. It's similar to getting Google's approval that your material is trustworthy and relevant.
Increased click-through rates: Featured snippets can greatly increase the click-through rates for your site, resulting in an increase in organic traffic.
The Three Types of Featured Snippets
There are three primary types of featured snippets:
Paragraph type: These offer concise answers in text format. They are ideal for direct questions, such as 'what is a featured snippet?'

List type: Ideal for how-to guides, 'top X' lists, or recipes. They present content in either a bulleted or numbered list.
Table type: Perfect for presenting data, these display information in a structured table layout.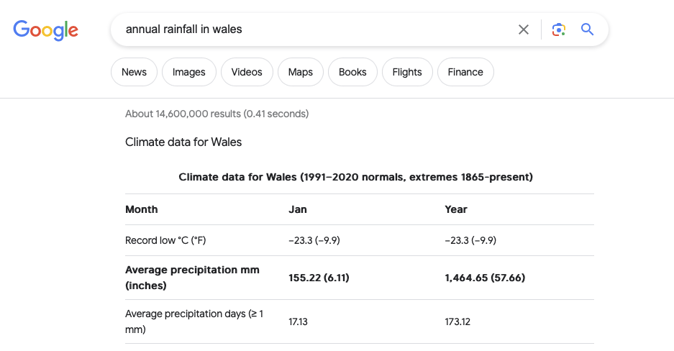 Getting Your Content Featured in a Snippet
To optimise your content for Google's featured snippets, it's crucial to implement a few tried-and-tested strategies. These are:
Research and Target the Right Queries
Start by identifying the queries that your audience is posing. Here, tools like SEMrush or Answer The Public can be really helpful. Understanding the questions that people in your area are asking can help you organise your content such that it offers clear solutions.
Understanding your audience—not just what questions they are asking—is crucial to accomplishing this effectively. Create in-depth personalities for your target audience. What are their concerns, inquiries, or enquires? Your content may become more snippet worthy if you customise it for these personalities.
Incorporate the 'What is' Heading
Start your content optimisation by adding a headline that asks, "What is [keyword]?" This gives Google a clear indication of the content's potential relevancy for a highlighted snippet. Usually, you should place this heading just after your introduction, making sure that it melds in with the rest of the text.
Prioritise High-Quality Content
Google gives authoritative and reliable content priority. Concentrate on writing well-researched, original content that benefits readers directly. While a wide range of topics must be covered, depth is necessary for snippet optimisation. Don't create information that only scratches the surface. Investigate the subtleties of a subject when speaking about it. Comprehensive how-to articles or in-depth how-to instructions can stand out and are frequently highlighted in snippets.
Additionally, it may be worthwhile to concentrate on disseminating knowledge about less-discussed sub-topics in your industry. These specialised articles frequently have less competition and are suitable for featured snippets.
Implement the 'is' Sentence Structure
Make use of the '[Keyword] is…' phrase structure to optimise featured snippets. This pattern, which can be seen in many successful featured snippets, helps Google identify content that is pertinent. Using this approach as your introduction can improve your snippet possibilities.
Optimise for Voice Search
Many people ask questions in a conversational tone as smart speakers and voice-activated assistants gain popularity. By framing your responses in a natural, conversational style, you can make sure that your material can accommodate this trend.
Summarise the Subject in 2-3 Sentences
Make sure your material concisely summarises the subject in two to three phrases. Clarity is key here:
Start with a definition of the subject.
Then give a couple of key facts.
Eliminate superfluous wording.
Align with the Snippet's Format
Aim to replicate the format of the featured snippet that currently appears for your query on the search engine results page (SERP). Include a related paragraph or two of text in your article if the sample is in paragraph form, for instance. If it's a list, though, be sure your content matches that.
Exclude Brand Names
Brand names may exclude your work from being included in snippets. Snippets drive voice search, thus information must be comprehensible to everyone. To increase your likelihood of being included, swap out brand-specific phrases for generic ones.
Avoid First-Person References
First-person language can be difficult, just like brand names can be, especially when taking voice search functionality into account. For clarity and general relevance, second-person language is preferable.
Focus on High-Ranking Opportunities
In general, pages with higher rankings are more likely to get a featured snippet. Focus your strategy on keywords where your page already has a top-five position.
Advanced Snippet Optimisation Techniques
While the basics provide a solid foundation, exploring more advanced tactics can further enhance your chances of snagging that snippet spot.
Semantic Search and Snippets
For featured snippets, Google's transition to semantic search—understanding user intent rather than just keywords—has major ramifications. To address this, you ought to:
Describe the "why" and "how": Beyond the "what," make sure your material explains the context of the inquiry and offers thorough answers.
Internal linking: Internal links that are pertinent can assist Google comprehend the scope and depth of your content by demonstrating how completely you cover each topic.
Leveraging Schema Markup
A type of microdata known as schema markup gives search engines a better understanding of the context of your content. Including this allows you to:
Enhance SERP presentation: Schema can make your material look better and more appealing for a snippet by enhancing how it is displayed in SERPs.
Clarify the type of content: To ensure that Google displays your content correctly, indicate whether it is a product review, how-to manual, recipe, event, or another type of content.
Capitalise on Snippet Scalability
According to observations, Google extracts heading tag data periodically for featured snippets.
The Myths and Misconceptions
The world of SEO is no stranger to myths and misconceptions, and featured snippets have certainly attracted their fair share. Some common myths are:
Only Top-Ranking Pages Get Featured
Although it's true that many featured snippets come from pages with high rankings, this is not an exclusive group. Google's main focus is finding the most accurate and succinct response to a question. It has a chance if your content, even if it comes from a page with a lower rating.
Snippets Reduce Organic Traffic
Many people worry that because snippets give straightforward responses, users won't click through. In reality, though, featured snippets frequently boost brand authority and visibility, resulting in better click-through rates all around.
Only Certain Content Types are Eligible
Despite their popularity, lists, tables, and Q&A forms aren't the only content categories that are featured. Step-by-step instructions and other types of material that successfully respond to user queries may have snippet value.
The Bigger Picture
While obtaining a featured snippet spot might improve your site's exposure and authority, it's equally crucial to take a comprehensive approach to your SEO strategy. It can be detrimental to focus only on the snippet position without taking other important SEO factors into account. Instead, keep your attention continually on the more general objective of giving your users value and enhancing their overall user experience.
The Future of Featured Snippets
The use of highlighted snippets is anticipated to increase as voice search usage grows and AI-powered digital assistants become more pervasive in our daily lives. For instance, well-known gadgets like Google Home and Amazon Alexa frequently use information from featured snippets to respond to voice searches.
The format of snippets is expected to change along with technology. In the not-too-distant future, we might start to see more interactive snippets or those including multimedia components.
Although appearing in Google's highlighted snippets is an admirable accomplishment, it's critical to see it as a part of an all-encompassing SEO and content strategy. Need assistance with this? For any of your SEO needs, get in touch with Bristechtonic SEO immediately.